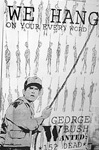 The Poster Police: student harrassed by Secret Service

World News

AntiWar Movement
McCarthyism Watch, The Progressive
Security for Activists:
Overcoming Repression: invaluable collection of information
BOOKSELLERS THREATENED BY FOREIGN INTELLIGENCE SURVEILLANCE ACT, 11/15/01

The Hartford 18

Afghan Genocide
Saudi Arabia
Bin Laden, Narcoterrorism, the CIA,
and the House of Saud
Suppressing Dissent Archives:
7/02-11/02
Suppressing Dissent in the US
Resurgent McCarthyism
Archive: 3/03 - 12/03
Leiva v. Ranch Rescue 12/24/03 Southern Poverty Law Center: "Ranch Rescue is a group of vigilantes dedicated to patrolling the U.S.-Mexico border region in an effort to deter and repel border crossers and trespassers. They conduct paramilitary operations and equip themselves with high-powered assault rifles, handguns, night-vision devices, two-way radios, observation posts, flares, machetes, all-terrain vehicles, and trained attack dogs."

Tapes Show Abuse of 9/11 Detainees 12/19/03 Washington Post: "One focus of the report was an American flag T-shirt that hung from a wall at the MDC with the slogan, "These colors don't run." Four corrections employees told investigators that the shirt, which hung in a prisoner receiving area for months, was covered with bloodstains, including some that appeared to have come from detainees being slammed into the wall."

US fires Guantanamo defence team 12/3/03 Guardian, UK: "A team of military lawyers recruited to defend alleged terrorists held by the US at Guantanamo Bay was dismissed by the Pentagon after some of its members rebelled against the unfair way the trials have been designed, the Guardian has learned."

Gap in Cincinnati Beating Video is Suspect 12/2/03 Black America Web: ""The video starts at 5:58 [a.m.]. You see Mr. Jones in the corner bothering no one. Then at 6- something, it doesn't go to black, but there is snow as if something has been erased," she said. "Why did the video conveniently come back on when Mr. Jones lunges at police?" Frierson said she has spoken to several people who witnessed the beating. Some said that the police initiated the attacks, others told her that the police started "saying things" to Jones in a harsh or derogatory manner."

Information Warfare in Miami 12/1/03 Alternet: "What became clear in the lead up to the FTAA was that the "Miami Model" – as law enforcement enthusiasts are calling it – has goals that go way beyond merely keeping the peace. The bigger agenda of the Miami policing operation was to control the public perception of mass protest and grassroots movements. Only days after that FTAA protests on Nov. 23, the New York Times broke a story on the FBI's ongoing policy of infiltrating and spying on the anti-war and global justice movements. Miami was the mainstreaming of overt information warfare against non-violent protest."

How British charity was silenced on Iraq 11/28/03 Guardian, UK: "One of Britain's most high-profile charities was ordered to end criticism of military action in Iraq by its powerful US wing to avoid jeopardising financial support from Washington and corporate donors, a Guardian investigation has discovered. Internal emails reveal how Save the Children UK came under enormous pressure after it accused coalition forces of breaching the Geneva convention by blocking humanitarian aid."

Mission Creep Hits Home 11/23/03 LA Times: "Preoccupied with the war in Iraq and still traumatized by Sept. 11, 2001, the American public has paid little attention to some of what is being done inside the United States in the name of anti-terrorism. Under the banner of "homeland security," the military and intelligence communities are implementing far-reaching changes that blur the lines between terrorism and other kinds of crises and will break down long-established barriers to military action and surveillance within the U.S." Kind of like what they did with MLK and others during the Viet Nam war.

FBI Collecting Data on Anti-War Groups -NYT 11/22/03 Reuters

Gen. Franks Doubts Constitution Will Survive WMD Attack 11/21/03 NewsMax: "He is the first high-ranking official to openly speculate that the Constitution could be scrapped in favor of a military form of government… "As I look at President Bush, I think he will ultimately be judged as a man of extremely high character. A very thoughtful man, not having been appraised properly by those who would say he's not very smart. I find the contrary. I think he's very, very bright. And I suspect that he'll be judged as a man who led this country through a crease in history effectively. Probably we'll think of him in years to come as an American hero." "

Police break Oakland man's neck 11/12/03 SF Bay View: "This isn't just a rare case of police terrorism. This is becoming more and more common as this war on Black young people continues under the names of "the war on gangs," "the war on drugs" and "the war on guns." It's Randy today, and you, your son or daughter tomorrow."

FBI to Website Owner - "We Are Watching You" 11/7/03 Counterpunch: "Cryptome is a web site dedicated to investigating and publishing accounts of government improprieties, particularly as they relate to secrecy and First Amendment violations. On November 4, FBI agents visited the website's New York City office and met with site owner John Young."

Free Sundiata Acoli - Sundiata needs you to send a letter to the parole board now! 11/7/03 SF Bay View: "Nancy Jacot-Bell, wife of U.S. political prisoner Herman Bell, sent the Bay View this urgent message: We've just learned that Sundiata Acoli's parole board appearance has been moved forward. He will go before the board 30-60 days from now, or no later than Jan. 2, 2004. His support group MUST have letters of support no later than Nov. 15! " Actually, one of Sundiata's attorneys tells us letters can be sent until December 15, 2003.

Peltier loses appeal - Federal judges reject parole hearing for Indian activist 11/5/03 Rocky Mountain News: "Much of the government's behavior at the Pine Ridge Reservation and in prosecution of Mr. Peltier is to be condemned," the judges wrote in a 13-page ruling. "The government withheld evidence. It intimidated witnesses. These facts are not disputed." But the judges said their only role in the case was to decide whether parole officials' interpretation of evidence was rational. They concluded it was."

FBI Visits Cryptome 11/4/03 Cryptome

Arsonist Burns Peace Activists' Home 10/29/03 Progressive

Statement of Congressman John Conyers Jr. Condemning Religiously Insensitive Remarks of Lt. General William Boykin 10/28/03 US Congress: "Today, 16 of my colleagues and I have introduced a resolution calling on the President to censure and reassign Lt. General Boykin for his religiously intolerant remarks against people of the Islamic faith."

Students, Nuns and Sailor-Mongers, Beware 10/16/03 LA Times: "It has lain dormant in the darkest recesses of American law for 125 years, but this month Atty. Gen. John Ashcroft introduced critics of the administration to his latest weapon in law enforcement. In a Miami federal court, the attorney general charged the environmental group Greenpeace under an obscure 1872 law originally intended to end the practice of "sailor-mongering," or the luring of sailors with liquor and prostitutes from their ships. Ashcroft plucked the law from obscurity to punish Greenpeace for boarding a vessel near port in Miami. Not only is the law being used to prosecute one of the administration's most vocal critics in an unprecedented attack on the 1st Amendment, but it appears to be part of a broader campaign by Ashcroft to protect the nation against free speech, a campaign that has converted environmentalists into "sailor-mongers" and nuns into terrorists."

U.S. policy on undermining Black leaders, the Black community and Afrika 10/15/03 SF Bay View: "Sundiata is a political prisoner, a brilliant mathematician, artist and committed freedom fighter for the New Afrikan Nation. Keep your eyes and ears open for updated information on Sundiata's most recent parole efforts, as we must answer the call and support! Sundiata submitted the following document for Black August. It was not received at the Bay View in time for publication in August, and so, in honor of Sundiata's legendary service in the Black Panther Party, we saved it for Black Panther History Month. Here is National Security Council Memorandum-46, an official policy statement issued in 1978 during the Carter administration of U.S. policy on undermining Black leaders, the Black community and Afrika:"

David Person: Hoover's Ghost Hovers over Philadelphia Politics 10/13/03 Black America Web

Government Information Awareness 10/13/03 MIT: "Mission: To empower citizens by providing a single, comprehensive, easy-to-use repository of information on individuals, organizations, and corporations related to the government of the United States of America. To allow citizens to submit intelligence about government-related issues, while maintaining their anonymity. To allow members of the government a chance to participate in the process."

Citizens strike back in intelligence war 10/13/03 New Scientist: "With the recent demise of the Bush administration's controversial Terrorist Information Awareness (TIA) programme to monitor everyone in the US, citizens now have a chance to get their own back. A website to be launched later in 2003 will allow people to post information about the activities of government organisations, officials and the judiciary. The two MIT researchers behind the project face one serious problem: how to protect themselves against legal action should any of the postings prove false. The answer, they say, is to borrow a technique from the underground music-swapping community."

Narco News to Suspend Publishing Indefinitely on October 18 10/10/03 NarcoNews: "A related factor - and I say this with August 17th assassination of my friend Carlos Sánchez López still an open wound - is that to resume doing this kind of work as independent Authentic Journalists, we would first need to construct a better safety net for all of our reporters."

FBI Steps Up Probe 10/9/03 Philadelphia Inquirer: "In several searches across the city, federal agents rushed to preserve possible evidence the day after Philadelphia police found a listening device that the FBI had planted in the ceiling of Street's City Hall office."

White supremacists make death threats against imprisoned webmaster 10/8/03 SF Bay View: "The young man who authored the website with the bomb-making instructions has not been charged with anything, but Sherman is now in federal prison. The other young man is white and the son of wealthy Orange County Republicans; Sherman is African American and the son of a single mother with no property… The key element in the case against Sherman hinged on the question of "intent," and because Sherman's site espouses anarchism and is critical of U.S. government policy, police brutality, globalization and racism, the prosecution and judge maintained that his politics provided grounds for intent. Sen. Dianne Feinstein is not only defending this application of the law she sponsored, but she is encouraging prosecutors to use it more aggressively. This law has not been used against the white supremacist and anti-choice groups that host websites with more explicit information on how to build bombs and carry out acts of violence. Sherman, someone with no history of violence and who did NOT author the website with the illegal information, is the first person to be prosecuted under this law."

US anti-war activists hit by secret airport ban 8/3/03 Independent, UK: "After more than a year of complaints by some US anti-war activists that they were being unfairly targeted by airport security, Washington has admitted the existence of a list, possibly hundreds or even thousands of names long, of people it deems worthy of special scrutiny at airports. The list had been kept secret until its disclosure last week by the new US agency in charge of aviation safety, the Transportation Security Administration (TSA). And it is entirely separate from the relatively well-publicised "no-fly" list, which covers about 1,000 people believed to have criminal or terrorist ties that could endanger the safety of their fellow passengers. The strong suspicion of such groups as the American Civil Liberties Union (ACLU), which is suing the government to try to learn more, is that the second list has been used to target political activists who challenge the government in entirely legal ways. The TSA acknowledged the existence of the list in response to a Freedom of Information Act request concerning two anti-war activists from San Francisco who were stopped and briefly detained at the airport last autumn and told they were on an FBI no-fly list."

Foreign visits to US drop sharply 7/30/03 CS Monitor: "With visa scrutiny to be stepped up Friday, some foresee a still bigger falloff in students, researchers, au pairs, and others."

Bush faces domestic revolt over Patriot Act 'sneaks' 7/27/03 Sunday Herald, UK

In the Spirit of Leonard Peltier 7/23/03 Alternet

Ashcroft Rebuked - Lynne Stewart's Big Win 7/23/03 Counterpunch

Who's Unpatriotic Now? 7/22/03 NYT

Columnist Names CIA Iraq Operative 7/21/03 Newsday: "Wilson, while refusing to confirm his wife's employment, said the release to the press of her relationship to him and even her maiden name was an attempt to intimidate others like him from talking about Bush administration intelligence failures. "It's a shot across the bow to these people, that if you talk we'll take your family and drag them through the mud as well," he said in an interview."

Website turns tables on government officials 7/4/03 Boston Globe: "Annoyed by the prospect of a massive new federal surveillance system, two researchers at the Massachusetts Institute of Technology are celebrating the Fourth of July with a new Internet service that will let citizens create dossiers on government officials." -- see http://opengov.media.mit.edu/

Enemies of the State 7/3/03 Color Lines

THE NEW THOUGHT POLICE The campaign to criminalize criticism of Israel 6/23/03 Antiwar

A Fate Sealed Under Secrecy 6/22/03 Newsday: "On March 1, give or take a day, in Columbus, Ohio, the FBI arrested an American citizen they say is Iyman Faris. There wasn't a word uttered. He vanished. No lawyer was notified. He made no phone calls and wrote no postcards or letters. He was a United States citizen who disappeared without a trace into a secret metal world."

Victory in Tulia, But Not in Drug War 6/20/03 Altnet: "Texas authorities claimed that the release of the 12 blacks jailed on trumped up drug charges was proof that justice can and will prevail even in the most blatant racial-tinged drug cases. But don't uncork the champagne yet. The Tulia case was unique in two appalling ways. With one exception, all those swept up in the drug busts were black. They were arrested solely on the dubious, and unsupported word of a tainted white undercover cop. Authorities cavalierly ignored testimony and evidence that could have proved the innocence of many of the black defendants. Even though the case drew national attention and outrage, it still took nearly four years before a retired Texas judge recommended that their convictions be tossed out and that the 12 be released."

The Screwing of Cynthia McKinney 6/18/03 Alternet: "The New York Times' Lynette Clemetson revealed her comments went even further over the edge: "Ms. McKinney suggest[ed] that President Bush might have known about the September 11 attacks but did nothing so his supporters could make money in a war." That's loony, all right. As an editor of the highly respected Atlanta Journal Constitution told NPR, McKinney's "practically accused the President of murder!" Problem is, McKinney never said it. That's right. The "quote" from McKinney is a complete fabrication. A whopper, a fabulous fib, a fake, a flim-flam. Just freakin' made up.'

Patriot Act II, and Means to Weigh It, Emerge in Bits - Devil in the Details 6/18/03 Village Voice

2 Americans are seriously wounded in 2d day of operation 6/15/03 AP

US threatens mass expulsions 6/9/03 BBC: "More than 13,000 Arab and Muslim men in the US are facing deportation after co-operating with post-11 September anti-terror measures, it has been revealed."

Danny Glover: Still standing 6/9/03 Final Call: "Mr. Glover and TransAfrica President Bill Fletcher are cautious in victory, however, warning that their opponents are relentless, and will try again to try to wear them down… "When Paul was attacked, there wasn't the kind of technology that we have now. Bill Fletcher, the President of TransAfrica, just got on the phone and got on the Internet, and all of a sudden we had a response for Dial-in for Democracy, which was very, very important in terms of mobilizing people and getting people out, and getting people to call MCI, creating a major response, almost immediately. But that kind of technology did not exist" at the time Mr. Robeson was persecuted, he continued."

Your Rights: Use 'Em or Lose 'Em 5/30/03 Alternet

Make your city or town a Civil Liberties Safe Zone. Visit our Tools page to find out how! 5/30/03 Bill of Rights Defense Committee

100th Civil Liberties Safe Zone! Hawaii Is the First State to Defy Ashcroft 5/30/03 Village Voice: "In the spirit of Jefferson, on the same day that Broward County became part of the Resistance, it was joined by San Mateo, Marin, and Sausalito counties, all in California. On April 25, Hawaii's legislature passed the first statewide resolution to preserve and protect the Bill of Rights. Alaska followed on May 22. On May 29, Philadelphia became the 116th town or city to pass one of these resolutions. According to Nancy Talanian, director of the original Bill of Rights Defense Committee in Northampton, Massachusetts—where this grassroots renewal of constitutional democracy started—the term civil liberties zone means "a locale whose local government has passed a resolution declaring its commitment to protect the civil liberties of its residents." Talanian is a longtime invaluable source of news of the Resistance for this column. Through the Bill of Rights Defense Committee's Web site (bordc.org), organizing tools and texts of resolutions already passed are continually available to communities that want to mount the ramparts."

Mexican-American Groups to "Confront" Border Vigilantes 5/29/03 Aztlan: published 5/22/03.

US plans death camp 5/27/03 The News, Australia: "THE US has floated plans to turn Guantanamo Bay into a death camp, with its own death row and execution chamber. Prisoners would be tried, convicted and executed without leaving its boundaries, without a jury and without right of appeal, The Mail on Sunday newspaper reported yesterday."

Campus police assaults Africana Studies professor at U Mass Boston over military recruitment, professor being charged 5/18/03 AfroCubaWeb: "Professor Van der Meer of UMass Boston's Africana Studies Department was viciously assaulted on 4/3/03 by campus police after intervening when a Massachusetts National Guard recruiter was shouting death threats to his students: "I hope you get shot in the head like Martin Luther King! I hope you all get shot in the head!" The UMass President, William M. Bulger, and Chancellor, Jo Ann M. Gora, have so far declined to try and get the charges dropped. Professor Van der Meer is scheduled to be arraigned at 8:30 AM in Dorchester District Court on 5/28/03."

Victims of a Republican Plot - The Dixie Chicks Cross the Road 5/17/03 Counterpunch: "According to a story from americannewsreel.com sent to RRC by former Reprise president Howie Klein, "Phone calls originating from Republican Party headquarters in Washington went out to country stations, urging them to remove the Chicks from their playlists.The 'alternative concert' [to the Dixie Chicks' tour opener] is actually the work of the South Carolina Republican Party and party officials are helping promote the concert.We received a call from 'Gallagher's Army,' urging us to support the alternative concert. Caller ID backtraced the call to South Carolina GOP headquarters." "

Patriot Raid 5/16/03 Truth Out: the goon squad at work - ""Did you not hear me, go to the back and sit down," they demanded. I complied and looked around at the other patrons. There were eight men including the waiter, all of South Asian descent and ranging in age from late-teens to senior citizen. One of the policemen pointed his gun point-blank in the face of the waiter and shouted: "Is there anyone else in the restaurant?" The waiter, terrified, gestured to the kitchen. The police placed their fingers on the triggers of their guns and kicked open the kitchen doors. Shouts emanated from the kitchen and a few seconds later five Hispanic men were made to crawl out on their hands and knees, guns pointed at them. After patting us all down, the five officers seated us at two tables. As they continued to kick open doors to closets and bathrooms with their fingers glued to their triggers, no less than ten officers in suits emerged from the stairwell. Most of them sat in the back of the restaurant typing on their laptop computers. Two of them walked over to our table and identified themselves as officers of the INS and Homeland Security Department… When I asked to speak to a lawyer, the INS official informed me that I do have the right to a lawyer but I would have to be brought down to the station and await security clearance before being granted one. When I asked how long that would take, he replied with a coy smile: "Maybe a day, maybe a week, maybe a month." We insisted that we had every right to leave and were going to do so. One of the policemen walked over with his hand on his gun and taunted: "Go ahead and leave, just go ahead." "

Danny Glover targeted 5/15/03 Black Commentator: "TransAfrica provided the following MCI contact information: Anyone can call the PR office to comment: 800/644-NEWS or 202/736-6700 MCI Customers can call Customer Service at 800/444-3333 Email can be done through the website - there is an electronic submission form: http://consumer.mci.com/customer_service/ContactUs.jsp"

"The Lies Are Brilliantly Crafted" 5/11/03 Truth Out: interview with Greg Palast

An_Interesting_Day: President_Bush's_Movements_and_Actions_on_9/11 5/9/03 Center for Cooperative Research

Senate broadens powerful U.S. terror surveillance law 5/8/03 AP

Senate Deal Kills Effort to Extend Antiterror Act 5/8/03 NYT

Secret Service Questions Students 5/7/03 KRON, CA: "Even worse, they say, is the fact that the students were grilled by federal agents without legal counsel or their parents present, just the principal. "When one of the students asked, 'do we have to talk now? Can we be silent? Can we get legal council?' they were told, 'we own you, you don't have any legal rights,'" Felson says."

Annual Déjà Vu at Kent State - Cops Still Harrassing Peaceful Protestors 33 Years After Massacre 5/5/03 AntiWar.com: "Kent State student peace activists took to the streets at the start of the war in Iraq, and again today on May 4th, the anniversary of the Kent State killings. Speeches honoring the students who were killed and wounded by the National Guard at Kent State 33 years ago were followed by an anti-war rally. As students marched on campus they were confronted by riot police who accused then of not having a permit to march and ordered the activists to disband. Protestors pushed into the road adjacent to the campus and riot cops moved in to begin arrests."

Vt. Cop Photographed Class Projects 5/5/03 AP: "A uniformed police officer persuaded a custodian to open a school in the middle of the night so he could photograph class projects he found objectionable as an American and as a military veteran. The projects that Barre Town Police Officer John Mott photographed included a poster of President Bush with duct tape over his mouth and a large papier-mache combat boot with the American flag stuffed inside stepping on a doll."

David Nelson, could you step aside for a few moments? There's no way to get off the list 5/4/03 Oregonian: " "There is a 'no-fly' list," he says. "That's people who cannot fly, period," because they've been determined to be or are suspected of being "a threat to civil aviation or to national security." Details about the list are "considered sensitive security information and cannot be released to the public," Nico says, but the Wall Street Journal suggests there are about 300 names on the "no-fly" list. There's another list that Nico calls the "selectees list." Might as well call them "suspectees." This is a much larger list of names, accumulated, Nico says, from information obtained from intelligence agencies and the airlines. These folks may be allowed to fly but only after they're intensely scrutinized by airline, law enforcement and security personnel."

The Secrets of September 11 4/30/03 MSNBC: "The report was completed last December; only a bare-bones list of "findings" with virtually no details was made public. But nearly six months later, a "working group" of Bush administration intelligence officials assigned to review the document has taken a hard line against further public disclosure. By refusing to declassify many of its most significant conclusions, the administration has essentially thwarted congressional plans to release the report by the end of this month, congressional and administration sources tell NEWSWEEK. In some cases, these sources say, the administration has even sought to "reclassify" some material that was already discussed in public testimony—a move one Senate staffer described as "ludicrous." The administration's stand has infuriated the two members of Congress who oversaw the report—Democratic Sen. Bob Graham and Republican Rep. Porter Goss. The two are now preparing a letter of complaint to Vice President Dick Cheney."

Closing Down the Press - Did the US Murder Journalists? By ROBERT FISK 4/29/03 Counterpunch

High Court Rejects Abortion Privacy Case 4/28/03 AP: next stop: public shaming for women seeking abortions.

Suspect Charged With Plotting to Fight U.S. in Afghanistan 4/28/03 NYT

Antiwar Protesters Say Cops Used Excessive Force 4/28/03 WNBC: "The New York Civil Liberties Union is scheduled to release a report Monday detailing protesters' complaints that police used excessive force at the Feb. 15 rally against war in Iraq."

Libel award against Anti-Defamation League upheld 4/27/03 AP: "A $9.75 million libel award against the Anti-Defamation League for publicly calling an Evergreen couple anti-Semitic was upheld Tuesday by a federal appeals court."

The Boss Makes A Peep For The Dixie Chicks 4/27/03 Newsday: "The Boss on Tuesday posted a brief statement on his Web site, www.brucespringsteen.net, supporting the Dixie Chicks, whose anti-war comments have led radio stations to ban their songs. "To me, they're terrific American artists expressing American values by using their American right to free speech," Springsteen writes on the Web site. "For them to be banished wholesale from radio stations, and even entire radio networks, for speaking out is un-American." "

'Dixie sluts' fight on with naked defiance 4/25/03 Guardian, UK: Everyone keeps forgetting the Dixie Chicks are still selling #1, according to Billboard, top industry source.

Ashcroft Rules on Immigrants' Detention 4/24/03 AP: "Illegal immigrants could be held indefinitely without bond if their cases present national security concerns, under a decision by Attorney General John Ashcroft." - unless they are Cubans, then they will be released, especially of they are hijackers and terrorists.

On BillBoard, Dixie Chicks Have the Top Album Two Weeks in a Row 4/26 4/24/03 Billboard: punish them some more!

'Red Means Big Brother's in Charge' 4/23/03 Village Voice

ACLU Seeks Gov't Data on 'No-Fly' List 4/22/03 AP: "The American Civil Liberties Union sued the FBI and other government agencies Tuesday on behalf of two peace activists detained at an airport because their names popped up on a secret ``no-fly'' list. The women were among 339 travelers briefly detained and questioned at San Francisco International Airport during the past two years after their names were found in the database, the ACLU said, citing government documents. Those travelers ultimately were allowed to continue on their journeys."

Hollywood revives McCarthyist climate by silencing and sacking war critics 4/21/03 Independent, UK: "The wife of a prominent Hollywood entertainment lawyer who attended a high-powered pre-Oscar dinner party was shocked to find that most of the assembled company was in fact heavily pro-war. "Here they were, all these so-called Hollywood liberals, and they were making jokes about peace activists and cheering on the troops," she said."

Speaking their peace - For some celebrities, backing peace has its rewards 4/19/03 SF Chronicle

Prominent Jewish educator arrested - He protests Pat Robertson appearance 4/15/03 Boston Globe

Oakland cops defend use of force But protesters, criminologist contend officers overreacted 4/8/03 San Francisco Chronicle: "Oakland Mayor Jerry Brown said police acted appropriately in dealing with protesters who wanted to "occupy and take over the port and shut it down. The city is not going to let that happen."

Wooden Bullets & Grenades - Oakland Cops Attack Longshoremen and Peace Protesters 4/7/03 Counterpunch

EL PERVERSO ROSTRO DEL FASCISMO 4/6/03 Jiribilla: "Decenas de millones de estadounidenses le temen de forma paranoica al "terrorismo" en sus lugares de trabajo, de compras o en actividades de recreo. La gente reprime cualquier mínima crítica a la guerra o incluso, al gobierno por miedo a ser tachada de simpatizante terrorista, reportada a las autoridades, investigada, y a perder su trabajo."

Why we may never regain the liberties that we've lost 4/6/03 San Jose Mercury News

Professor, recruiter face off at Umass 4/4/03 Boston Globe: a disturbing trend - the article has inaccuracies, but is fair. Professor Van Der Meer is at Africana Studies and was jumped by Campus Security while protecting a student from a rabid military recruiter.

35th Anniversary of King Assassination brings memories of COINTELPRO 4/4/03 Milwaukee Courier

Detention stirs up protest - An Oregon man held in federal prison has not been charged or told why. 4/4/03 NYT: "For the past two weeks, Maher Hawash, a 38-year-old software engineer and American citizen who was born on the West Bank and grew up in Kuwait, has been held in a federal prison here, though he has not been charged with a crime or brought before a judge."

Judge Reports Jury Tampering In Miami Police Trial 4/3/03 NBC6: "The judge in the trial of 11 Miami police officers accused of planting guns on shot suspects or conspiring to hide it closed his courtroom Thursday because someone claiming to be a journalist has been calling jurors, who are deliberating. Without elaborating on the contacts, U.S. District Judge Alan Gold ejected reporters and spectators from the courtroom to discuss the issue with attorneys and defendants. "I have received a number of notes from the jury ... complaining about contacts at their home during the deliberative process," Gold said."

Army Questions Spearhead Mom 4/3/03 Rolling Stones: "But first, on March 16th, across the country in Boston, the mother of the group's human beatbox Radioactive received a visit from two plainclothes Army officers. "She'd spoken in an interview about her daughter who has been deployed in the Gulf, and her son who is in this band Spearhead," says Spearhead frontman Michael Franti. "They showed her a picture of her son wearing a t-shirt that said 'Unfuck the world' on the front, and 'Dethrone the Bushes' on the back. They told her that was an un-American statement. She said, 'That's free speech,' and they said, 'Well, things are changing these days.'" "

Try Arnett for treason, senator says 4/2/03 Cincinnati Inquirer: "Correspondent Peter Arnett should be "tried as a traitor" for remarks he made in an interview with Iraqi state television, Sen. Jim Bunning, R-Ky., said Tuesday."

The flowering of fascism 4/2/03 Creative Loafing, Atlanta: "Almost daily, the radical right's think tanks and command centers -- the Republican National Committee and the Heritage Foundation, for example -- suggest "talking points" to the talk shows. The hosts trumpet the message in unison, and it sounds like some Great Truth has been revealed. After all, everyone is yapping the same thing. That's why, across the radio spectrum and on, say, Fox's Bill O'Reilly All-Spin Zone, you've been hearing that "homeland security" is jeopardized by anti-war demonstrations. The word -- from the White House agitprop masters through the foundations to the airwaves -- is that when police are needed to monitor demonstrations, cities are left vulnerable to terrorist attacks."

Senate resolution targets Patriot Act 4/2/03 Honolulu Advertiser: "The USA Patriot Act may infringe upon civil liberties guaranteed by the U.S. and state constitutions, according to a resolution approved yesterday by the Senate Judiciary and Hawaiian Affairs Committee."

Oregon Law Would Jail War Protesters as Terrorists 4/2/03 Reuters: "An Oregon anti-terrorism bill would jail street-blocking protesters for at least 25 years in a thinly veiled effort to discourage anti-war demonstrations, critics say. The bill has met strong opposition but lawmakers still expect a debate on the definition of terrorism and the value of free speech before a vote by the state senate judiciary committee, whose Chairman, Republican Senator John Minnis, wrote the proposed legislation."

Hawaii Urges Restraint In Homeland Security 4/2/03 Stateline, Hawaii: "The Hawaii legislature is debating a non-binding resolution that condemns sweeping new federal powers to fight terrorism and urges state and local officials to avoid any actions that threaten the civil rights of the state's ethnically diverse residents."

Arnett Dismissed After Remarks on Iraqi TV 4/1/03 NYT: "An NBC official said he took a tape of the interview home with him and carefully scanned it to find some defense of Mr. Arnett's commentary. He said he believed that Mr. Arnett's comments that reports about civilian casualties were useful to war protesters seemed to cross a line." Seems more like a statement of fact, but then the facts never bother the American media.

US TV correspondent Peter Arnett sacked for comments about Iraq war 3/31/03 AFP: destroying Iraq to save it, firing reporters to defend Freedom.

Warner Bros. eliminates peace image from 'What a Girl Wants' ads 3/31/03 Sacramento Bee: peace is now obscene for Hollywood moguls.

The War on Protesters San Francisco's Berserk Cops 3/29/03 Counterpunch: "Onlookers, including non-protesters, shouted at police to stop. ''This is the city I almost died for? This is the country I almost died for? This is the martial law I almost died for?'' asked Dennis Kyne, a gulf war veteran who was observing the arrests. ''I'm ashamed, I'm embarrassed. Fuck this war.'' "

At Columbia, Call for Death of U.S. Forces Is Denounced 3/29/03 NYT: "The president of Columbia University said yesterday that he was horrified by the remarks of an anthropology professor who said at a campus antiwar teach-in Wednesday night that he hoped to see "a million Mogadishus" — referring to the city in Somalia where American soldiers were ambushed in a lethal firefight in 1993. The professor, Nicholas De Genova, also called for the defeat of United States forces in Iraq, and said the only true heroes are those who help defeat the American military. He said Americans who call themselves patriots are imperialist white supremacists."

Calif. Journalist Suspended Over Antiwar Protest 3/29/03 Reuters

Reporters on the Job 3/28/03 CSMonitor: "Philip Smucker, a contract reporter for the Monitor and The Daily Telegraph of London, was escorted by the US Marines from the front lines of the war in Iraq Thursday. He is being taken to Kuwait, the Pentagon says, because of information Smucker reported in a broadcast appearance with CNN early Wednesday." - The Christian Science Monitor often has excellent articles that bypass US government propaganda. It is no surprise they are being censored.

U.S. 'democracy´ in action 3/28/03 Granma: "Last night my partner Diana and I took part with other doctors in a march in Times Square, New York, at 5:30 p.m. (Saturday, March 22). After our respective clinics in the Bronx we arrived at the protest to take part with the Doctors and Nurses Against the War group. Some young people took to the streets and the anti-riot police arrived. It quickly became a scene of chaos. Around six police officers were savagely hitting a defenseless young man, two of them pulling him by the arm and almost dislocating it, while he was screaming. Diana, a family doctor, went over to the young man, shouting at the police to stop. What ensued was even more horrific. Some five police officers threw themselves at her, one hitting her about the head with a closed fist, and I threw myself on top of her. And they knocked us down with truncheons, kicks and punches. They held us face down and at that point my glasses broke on the sidewalk. They threw me into a corner, cuffed with plastic handcuffs, face down and bleeding through the nose… We were wearing our white coats and stethoscopes."

NYSE Revokes Credentials for Al-Jazeera 3/25/03 AP: in the land of the free and the home of the brave…

'It's more than exciting, Christiane' 3/25/03 Haaretz, Israel: "Gregg Gursky, a cameraman for the American Fox news network, was arrested last Friday and handcuffed. The security people forcibly took away his camera, and removed the videotape. It didn't happen in Baghdad, the capital of Iraq, but in Washington, DC, the capital of the United States. The cameraman had only filmed members of the Viriginia State Police arresting a man "of Iranian descent," as they put it, who was driving a commercial vehicle on the main highway."

War Pictures Cause Yellowtimes.Org To Be Shut Down, Again 3/25/03 Scoop

N.M. Prosecutor Blows Officers' Covers 3/25/03 Seattle Post-Intelligencer: "A prosecutor who took part in an anti-war rally was placed on paid leave Tuesday because she allegedly pointed out undercover officers to fellow protesters. Assistant District Attorney Jennifer Albright's actions Sunday angered police, who say she put the plainsclothes officers in danger. Anti-war activists, meanwhile, argued that undercover police shouldn't attend their rallies."

Newssite shut down over war photos - Editor of Yellow Times decries 'censorship' of gruesome images 3/25/03 WorldNetDaily

Anti-war troop held in attack on camp 3/24/03 Washington Times: "The Army soldier accused of killing one comrade and wounding 15 others in a grenade attack yesterday morning (local time) is a Muslim who opposes the war to disarm Iraqi leader Saddam Hussein, according to a U.S. military source in Kuwait. "He's a Muslim, and it seems he was just against the war," the military source, who did not wish to be identified, told Reuters news agency."

CIVIL BRAND - SLAVE LABOR AMONGST BLACK PRISONERS 3/23/03 Nattyreb Bulletin

Muslim-American soldier detained in Kuwait attack 3/23/03 WorldNet Daily: "Lacey, the Time magazine reporter imbedded with the 101st, was in the tent next to the two tents that were the object of the grenade attack. In a phone interview, he told Fox News that the soldier responsible has an "Arabic-sounding" last name. Asked what his explanation of the perpetrator's motives, he said he believed "it was part of his misguided interpretation of his Muslim faith." "

Google refuses our ad - Opposing war makes Unknown News a "hate" site 3/22/03 Unknown News: Google weighs in as pro-war.

Expose the Anti-War Movement 3/20/03 AIM: "Should they be jailed? Unless there's evidence that they are agents of Iraq or planning terrorism, that isn't necessary, proper, legal or constitutional. But it is important that the major media tell the truth about the nature of these demonstrations. And since the U.S. is at war and Congress has overwhelmingly endorsed war on Iraq, the question of sedition and treason is certainly debatable. Soldiers on the war front have told their families that the well-publicized protests staged by the anti-war movement have been demoralizing to them." During their air-conditioned stroll through Injun Country as part of the 7th Cavalry? As always, the Buffalo soldiers take the most important objectives.

Media giant's rally sponsorship raises questions 3/19/03 Chicago Tribune: "Some of the biggest rallies this month have endorsed President Bush's strategy against Saddam Hussein, and the common thread linking most of them is Clear Channel Worldwide Inc., the nation's largest owner of radio stations."

Tighter security plans target asylum seekers 3/19/03 Contra Costa Times

US to round up all Muslim and Arab asylum-seekers 3/19/03 Independent, UK: "The United States has ordered the detention of all political asylum-seekers from a long list of Arab and Muslim countries, infuriating immigrant advocates who say it violates international human rights law. The Department of Homeland Security announced the policy shift as part of its tightening of security in anticipation of a war with Iraq, codenamed Operation Liberty Shield. "Asylum applications from nations where al-Qa'ida, al-Qa'ida sympathisers and other terrorist groups are known to have operated will be detained for the duration of their processing period," the department said on Monday night. It described the initiative as temporary, "reasonable and prudent"." Off to the Concentration Camps.

Pro-war Propaganda Machine - Media Becomes Branch of War Effort 3/19/03 Zmag: "IN THE former USSR, people knew that the country's state-owned newspaper Pravda would peddle Moscow's line, no matter how outrageous the lies. George W. Bush can't boast that the Republican Party owns the country's newspapers, television stations or radio networks. But he can still count on a press that's nearly as obedient as Pravda."

War Means Rights May Be Scaled Back 3/18/03 AP: ""The Constitution just sets minimums," Scalia said after a speech at John Carroll University in suburban Cleveland. "Most of the rights that you enjoy go way beyond what the Constitution requires." "

In Iraq Crisis, Networks Are Megaphones for Official Views 3/18/03 FAIR

Activists brush off sterilization apology 3/17/03 LA Times: "To make amends for a state program that sterilized 7,600 people against their will, North Carolina's governor created a panel last year to study the history of the effort, interview victims, and consider reparations. Oregon's governor apologized in person to some of the 2,600 people sterilized there and created an annual Human Rights Day to mark the state's mistake. On the day Virginia's governor apologized, Jesse Meadows and other victims unveiled a roadside marker… Davis offered his apology in a news release. None of the victims or disability groups were on hand to accept it. There was no order to probe for more details of a history that, according to scholars, is still largely unexplored and incompletely understood."

Region braces for red alert, war 3/17/03 Long Beach Press Telegram

Castle Valley Knows What the 'Patriot Act' Is All About -- a Loss of Freedom 3/16/03 Salt Lake Tribune: "Patriots such as Thomas Jefferson and James Madison were outraged. They introduced resolutions in the Kentucky and Virginia legislatures, arguing the federal laws were illegitimate and that hence the Alien and Sedition Acts were null and void. The election of 1800 settled the matter when voters booted Adams, elected Jefferson president and put the Federalist Party out of business."

Dixie Chicks pulled from air after bashing Bush 3/15/03 CNN: "There are a lot worse things in country music than your wife leaving you or your dog dying. There's stations not playing your music because you done gone and said some things against the president."

A Message From Fulton County Jail 3/15/03 Jihad Unspun: By Jamil Abdullah Al-Amin, H. Rap Brown. - "O Muslims! There is a coming Storm from which no one is exempt. The lack of Faith will crush you far more than defeat ever could. The proof of Faith is in Struggle, Struggling in Word and Deed, In Body and Spirit. We must bare our chest to the Sword, Throw ourselves into the teeth of History. remember, the wind howls because it can't keep up. Indeed the Spirit is the Superior. If we allow them IRAQ, Then one more for the howling wind. Evil is as evil does. They make "Terrornoia" our master."

Spooky Story - Why the American media shrugged off a story about spying at the United Nations 3/14/03 American Prospect: "Ellsberg was scheduled to speak at the National Press Club yesterday, so the story may finally have gained some legs. But what's instructive about this episode is not what will happen now, 10 days after the story broke. It's what didn't happen during those 10 days -- how the right-wing media shot a true story down, and how the bulk of the mainstream press accepted those terms. And we wonder why we're charging off to a war that nearly half the population is against."

Teachers Suspended for Refusing to Remove Anti-War Signs From Classrooms 3/14/03 AP: "Roybal said Thursday she thought of her two brothers who fought in Vietnam, a nephew based in Kuwait and two former students deployed overseas this year. "I knew I couldn't take it down because I love those people," she said. A personnel hearing on her suspension was scheduled for Monday."

Was It Something He Said? 3/14/03 Chicago Reader: "Salim Muwakkil wrote a weekly op-ed column for the Tribune for almost five years. His last column ran on February 10, an attack on war against Iraq he told me the Tribune altered "pretty significantly" from what he'd turned in. Bruce Dold, the editorial-page editor, says he deleted the following passage: "Adolf Hitler justified the Nazi invasion and occupation of parts of Europe as a benign move to protect them from Britain's imperial tyranny. The Nazis called it Lebensraum. We call it `pre-emptive self-defense.'" Says Dold in an E-mail, "The column misapplied the term [lebensraum, which means "living space"], and in attempting to link U.S. policy to Hitler's invasion, had an exceedingly narrow explanation of Hitler's justification for the invasion." " Dictators are always benevolent.

'Nightstalkers' track terror suspects 3/14/03 CNN: the FBI Air Force - "The FBI has a fleet of aircraft, some equipped with night surveillance and eavesdropping equipment, flying America's skies to track and collect intelligence from suspected terrorists."

It's Time to Take Action Against Our Wars on the Rest of the World by GORE VIDAL 3/14/03 Counterpunch: "I spoke to 100,000 people two weeks ago in Hollywood Boulevard, down the hill from where I'm speaking to you now. There were 100,000, lots of police, many helicopters overhead which, as the speaker got up, would lower themselves to try and drown your voice out. The press did not record that there were 100,000 people. They said, "Oh, 30,000 perhaps. That might be an exaggeration," they said. Unfortunately for them, the 'Los Angeles Times', generally a fairly good paper, had a long shot from La Brea where I was speaking on a stage straight up to Vine Street, which was a mile or two away, and you saw 100,000 people, so their very picture undid them. What I'm saying is the censorship is very tight. Don't think we're a free country to say anything we want. We can say it, but it's not going to be printed and you're not going to get on television."

Chicago Trib drops Muwakkil's column for "a different voice" 3/14/03 Poynter: "Muwakkil has been dropped as a columnist, but Dold says it's not because of the Feb. 10 essay. "I had been thinking about it for some time," he says."

Airline data transfers to the US sparks EU rift 3/13/03 Out-Law: "The European Parliament and the European Commission have split over a deal with US officials that requires the transmission of airline passenger data from Europe to the US, a controversial post-9/11 security measure. Yesterday, an MEP threatened to take the Commission to court over the dispute. If you are travelling from Europe to the US, be aware that US Customs will get details that can include, according to the European Parliament: the date of your reservation, the travel agency where you booked your trip, your credit card number, expiry date and billing address, your affiliation to a particular group, your e-mail address, your work address, medical data, and possibly your religion or ethnic origin. And this data might be shared with other US agencies. Understandably, this is causing some concern."

Police attack on youth protesters was criminal, sadistic and racist 3/12/03 SF Bay View: "It is expected that the Oakland police would want to monitor this protest, but trying to mow down peaceful protestors with their motorcycles is a completely inappropriate, unconscionable, violent use of force. People were run into with police motorcycles, knocked down, shoved and hit by the Oakland police, including two news reporters covering this event for the San Francisco Bay View newspaper. One reporter tried to come to the aid of another woman who had been knocked down by the Oakland police and was then violently set upon herself by the police. Then her companion reporter, who was filming the demonstration, had his camera snatched away from him by the police, and he was also knocked down and beaten by police, who then charged him with attacking them. Both injured reporters and many others were arrested."

100 FBI Agents Arrest Saudi Student in Night Raid 3/11/03 Arab News: "Professor Elizabeth Brandt of the University of Idaho College of Law said in a letter sent to Arab News: "The FBI flew in 120 agents, fully armed in riot gear, on two C-17 military aircraft to Moscow, Idaho to arrest one Saudi graduate student for visa fraud. The raid went down at 4.30 a.m., terrorizing not only the student's wife and three elementary school-aged children but also the families of neighboring students who were awakened by the shouting and lights and were required to remain in their homes until after 8:30 a.m." Brandt said the indictment of Al-Hussayen itself "does not comport with the university's understanding of him." She and others recall Al-Hussayen as a vocal critic of the Sept. 11 attacks, a man who coordinated a blood drive for victims and walked in a town vigil dedicated to their memory. "I don't know what evidence they have," said Michael Whiteman, who directs the University of Idaho 's international programs."

Oscars blacklist stars in bid to prevent peace protest speeches 3/11/03 Scotsman: "THE backlash against prominent stars opposing any attack on Iraq has impacted on this year's Oscars, with organisers drawing up a blacklist of people who will not be allowed a platform to air anti-war views. Meryl Streep, Sean Penn, Vanessa Redgrave, George Clooney, Dustin Hoffman and Spike Lee are among those who will not be speaking, amid fears they could turn the ceremony into an anti-war rally. In a move denounced by some as a return to McCarthyism, star presenters have been ordered to stick to scripts, while winners, who the producers have no control over, could find their acceptance speeches cut if they say anything much more than a brief thank you."

Smearing Sy Hersh - Richard Perle, Ex-patriot? 3/10/03 Counterpunch: ""Sy Hersh is the closest thing American journalism has to a terrorist," Perle told Wolf Blitzer. Perle slandered Hersh because the award winning journalist wrote in the March 17th issue of the New Yorker: "There is no question that Perle believes that removing Saddam from power is the right thing to do. At the same time, he has set up a company that may gain from a war." "

American Fear and Its Crusader Campaign 3/9/03 Arab News: "Let me return to the issue of fear and tell you what some American thinkers and politicians — including former Congressman Paul Findley, Republican politician Dr. Cliff Karikov, Stanley Cohen, a lawyer specialized in Arab and Islamic issues, and William Baker, a political activist who backs Arab issues — told me recently. The gist of what they have told me is that the current American administration has taken its plan word by word from Sharon and wanted to spread fear and anxiety in the minds of its citizens. In this atmosphere of fear and tension, the government can play the role of a spiritual father and savior and justify its security measures and military adventures, which would be rejected by Americans under normal circumstances, for not conforming with their constitution and because of their secular culture."

Guard says he lost job in T-shirt flap 3/8/03 Times Union, Albany, NY: "Williams, who has worked in security at the mall for more than nine years, said he signed the complaint on the orders of his boss, assistant director of security Fred Tallman. Those orders came after Tallman told the Guilderland police officer working the case that he (Tallman) was too busy to come to the police station and that Williams represented the company and should sign. "I just followed directions of management of that mall to the letter," Williams said Friday evening. "And I get fired for doing my job." "

Democrat Blasted for Remark on Revolution 3/7/03 Washington Post: "If you think back to our founding as a country, we are a country of revolution," Kaptur told the Toledo Blade. "One could say that Osama bin Laden and these non-nation-state fighters with religious purpose are very similar to those kind of atypical revolutionaries that helped to cast off the British crown."

T-Shirt, Web Site Spark Challenges to Rights 3/6/03 Reuters

Revealed: US dirty tricks to win vote on Iraq war 3/2/03 Observer, UK: "The United States is conducting a secret 'dirty tricks' campaign against UN Security Council delegations in New York as part of its battle to win votes in favour of war against Iraq. Details of the aggressive surveillance operation, which involves interception of the home and office telephones and the emails of UN delegates in New York, are revealed in a document leaked to The Observer… Disclosure of the US operation comes in the week that Blix will make what many expect to be his final report to the Security Council. It also comes amid increasingly threatening noises from the US towards undecided countries on the Security Council who have been warned of the unpleasant economic consequences of standing up to the US… The existence of the surveillance operation, understood to have been requested by President Bush's National Security Adviser, Condoleezza Rice, is deeply embarrassing to the Americans in the middle of their efforts to win over the undecided delegations. The language and content of the memo were judged to be authentic by three former intelligence operatives shown it by The Observer. We were also able to establish that Frank Koza does work for the NSA and could confirm his senior post in the Regional Targets section of the organisation."

Peaceful protest routinely draws harsh jail time 3/1/03 Okland Tribune: "Many sent to U.S. penitentiaries throughout the United States are members of a nationwide organization dedicated to shutting down the School of Americas (SOA), also known as the Western Hemisphere Institute for Security and Cooperation (WHISC) at Fort Benning, Ga." The torture school.

White House criticizes Iraq showdown coverage 3/1/03 Washington Times: "The White House and Pentagon yesterday criticized news coverage of the Iraq showdown and other military matters in a sign of increasing acrimony between the press and administration." Ari at it again, in the Rev. Moon's paper.

The alleged patriots who want to do a replay of the 50's need to consider that one of the roots of Al Qaeda was a Saudi dissident movement that turned violent in House Saud's torture cells in the early 90's.
Suppressing Dissent Archives:


1984, the good old days ...