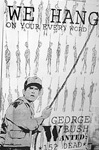 The Poster Police: student harrassed by Secret Service
Suppressing Dissent in the US: Current

World News

AntiWar Movement
McCarthyism Watch, The Progressive
Security for Activists:
Overcoming Repression: invaluable collection of information
BOOKSELLERS THREATENED BY FOREIGN INTELLIGENCE SURVEILLANCE ACT, 11/15

Continuing Coverage -- The Hartford 18

Afghan Genocide
Saudi Arabia
Bin Laden, Narcoterrorism, the CIA,
and the House of Saud
Risks of Nuclear War

Links

Suppressing Dissent Archive:
1984, the good old days ...
Suppressing Dissent in the US
Archive 3/02 - 6/02
Below we track the suppression of dissent in the US.
Hilliard: Mideast Dispute Takes Toll on Black-Jewish Relations 6/28/02 Fox News: "The undoing of Alabama Rep. Earl Hilliard is the fault of Israeli extremists, say the candidate and his Muslim supporters, and the electoral assault is not likely to end with the defeat of the five-term black congressman in this week's primary run-off. "I see a future with a great deal of conflict between African-Americans and Jews in this country," he said. "It's going to get worse before it gets better. I don't think African-Americans are going to sit back and let this continue. There will be retribution."

US FBI-raj knocks on Indian-American door 6/27/02 Times of India: "Aghi says he told them he had met that particular consular officer (who has since left San Francisco) in course of his community activities such as helping American citizens with whatever help they needed while visiting India. Whatever he did was open and transparent, and he had no idea that this consular officer may have been an intelligence officer nor did he have any way of knowing this even if it was true. It might have been the end of the matter, except Aghi is also a prominent Democrat from California and has hosted and toasted fund-raisers for a host of American law-makers."

Davis ousts Hilliard 6/26/02 Birmingham News: "The 12-county 7th District, joining Birmingham with the rural Black Belt, has a 62 percent black population. Hilliard was the first black elected to Congress from Alabama since Reconstruction… Hilliard tapped veterans of the civil rights movement for his support. But Davis, who holds two degrees from Harvard University, appealed to white voters and bypassed the traditional black power structure by cobbling together his own network."

Pro-Israel lobby buys Alabama Congress seat 6/26/02 Ummah News: "US Muslims have blamed pro-Israeli groups in the country of buying victory in yesterday's runoff primary in Alabama's 7th Congressional District. The Council for American Islamic Relations called Artur Davis success in the election a "defeat for democracy," an insult to African-Americans and a victory for pro-Israel extremists. In the heavily Democratic district, the winner of the primary will almost certainly be elected to the House of Representatives… An analysis by CAIR of a recent Davis donor list revealed that 81 percent of his campaign contributions came from outside Alabama, mostly from New York. The donations from the pro-Israel lobby began to flow after Davis traveled to Washington, D.C., to meet with representatives of AIPAC, the American-Israel Public Affairs Committee."

Al Qaeda Training for Small-Arms Massacre 6/26/02 Village Voice: trigger happy police to become even more so - "In advice to law enforcement, one analyst of this training tape urges cops to begin shooting as soon as they recognize what's going on, and not to wait for any SWAT team or other support. Complying at any point is useless, since everyone will be ritually executed on the roof."

Davis Ousts Rep. Hilliard In Alabama Runoff 6/26/02 Washington Post: "The race between Hilliard, 60, and Davis, 34, became a referendum on Middle East politics. Davis amassed funds from Jewish donors angry over Hilliard's support for Arab nations, while Arab American groups flocked to the incumbent."

FBI Begins Visiting Libraries 6/24/02 Washington Post: "The University of Illinois conducted a survey of 1,020 public libraries in January and February and found that 85 libraries had been asked by federal or local law enforcement officers for information about patrons related to Sept. 11, said Ed Lakner, assistant director of research at the school's Library Research Center. The libraries that reported FBI contacts were nearly all in large urban areas.The University of Illinois conducted a survey of 1,020 public libraries in January and February and found that 85 libraries had been asked by federal or local law enforcement officers for information about patrons related to Sept. 11, said Ed Lakner, assistant director of research at the school's Library Research Center. The libraries that reported FBI contacts were nearly all in large urban areas… "People are scared and they think that by giving up their rights, especially their right to privacy, they will be safe," Krug said. "But it wasn't the right to privacy that let terrorists into our nation. It had nothing to do with libraries or library records." Some libraries said they will still resist government efforts to obtain records."

Head of Sept. 11 Probe Allegedly Obstructed Danforth's Waco Inquiry 6/22/02 Washington Post: and all the Wakos to come - "According to a December 2000 internal FBI memo, Kelley "continued to thwart and obstruct" the Waco investigation to the point that Danforth was forced to send a team to search FBI headquarters for documents Kelley refused to turn over. "This non-cooperative spirit was at the specific direction of [deputy general counsel] Kelley," the memo states. The memo, written by an agent in the bureau's Office of Professional Responsibility, is cited in a letter sent to the intelligence committee leadership by Sen. Charles E. Grassley (R-Iowa). The letter was obtained yesterday by The Washington Post."

The Sons and Daughters of Liberty 6/21/02 Village Voice: "In the spirit of the Sons of Liberty, on February 4 of this year, some 300 citizens of Northampton, Massachusetts, held a town meeting to organize ways to—as they put it—protect the residents of the town from the Bush-Ashcroft USA Patriot Act. On that night, the Northampton Bill of Rights Defense Committee began a new American Revolution. Similar committees are organizing around the country."

'Combatants' lack rights, U.S. argues 6/20/02 MSNBC: US under martial law - "The strongly worded brief signed by Deputy Solicitor General Paul D. Clement also argues that the civilian courts have no standing to intervene."

A Small Cartel of Conservative Lawyers Rewrites the American Rule Court Jousters 6/19/02 Village Voice: the Vietnamization of America - "Viet Dinh, an assistant attorney general in the Justice Department's Office of Legal Policy, is without question the leading figure in laying the legal fretwork for the war. Dinh graduated from Harvard Law, clerked for U.S. Circuit Court of Appeals judge Laurence H. Silberman and Supreme Court Justice Sandra Day O'Connor, and now teaches at Georgetown University. He was associate special counsel to the U.S. Senate Whitewater Committee, which fought unsuccessfully to bring down the Clintons. Born in Vietnam in 1968, Dinh was soon separated from his father, who was sent to a post-war retraining camp."

Regresa el macarthysmo 6/18/02 Granma: "La escritora estadounidense Toni Morrison, Premio Nobel en 1993, afirmó que en su país el clima social y político es parecido al del "macarthysmo" de los años 50, caracterizado por la sospecha, la desconfianza y la "caza de brujas" contra los que pensaban de manera más liberal."

Grand jury to decide FBI agent indictment 6/18/02 The Capital, Annapolis: Beyond the reach of the law - "Agent Braga, however, is not expected to testify. He declined to talk to county detectives who investigated the shooting."

Activists plan to monitor voting at polls 6/17/02 Miami Herald

Isn't Democracy Worth It? 6/17/02 New York Times: "Ben Franklin said in 1755, "Those who would give up essential liberty to purchase a little temporary safety deserve neither liberty nor safety."

There's a push for monolithism toward Israel among American Jews 6/16/02 St Petersburg Times, Florida: "It is inconceivable that a Jewish leader in America 20 or 30 years ago would be silent if a political party in the Israeli government called for the transfer of Palestinians -- in other words, ethnic cleansing. Today, there are at least three such parties, but there has not been a word of criticism from American Jewish organizations."

Americans on the path to Holy War 6/14/02 AFP: "According to US News and World Report, the recruitment drive has been going on for 20 years, well before Padilla, or the arrests in Afghanistan of so-called American Taliban John Walker Lindh, 21, and US-born Yasser Esam Hamdi, 22. "There is also an American road to jihad," the magazine said, revealing that in the 1990s between 1,000 and 2,000 US citizens left the country to join up to jihad. Since 1989, some 400 recruits have left the United States and Canada to be trained in Pakistan and Afghanistan alone. This "road to jihad" was partly opened, according to Ross, by Louis Farrakhan, the 'Nation of Islam' leader whose movement he says was particularly active in the conversion of prison inmates. Ross said that other more extreme organizations followed suit."

Bush urges 'culture of service' to graduates at Ohio State commencement 6/14/02 AP: "Bush was invited to speak at the Ohio State commencement by representatives of the graduating class. But immediately before class members filed into the giant football stadium, an announcer instructed the crowd that all the university's speakers deserve to be treated with respect and that anyone demonstrating or heckling would be subject to expulsion and arrest. The announcer urged that Bush be greeted with a "thunderous" ovation."

'In time of war, the laws are silent' - Rehnquist offers historical perspective 6/14/02 Houston Chronicle: from a 'former' anti-black activist, now Chief Justice - ""These cases suggest that while the laws are surely not silent in time of war, courts may interpret them differently then than in time of peace," Rehnquist said. He emphasized he was offering "only a historical perspective," not a prediction on how the Supreme Court would handle civil liberties complaints that arise from the Bush administration's war on terrorism. Nonetheless, the chief justice has made clear he believes it is unrealistic to expect judges will boldly challenge the government's action at a time when a threat to the nation's security is involved."

Alleged 'Dirty Bomber' and I Would Have Been Prison Buddies 6/13/02 Pacific News: "Latino Muslims were common in prison. My friend "Panama" was one of them. He spoke in broken English, wore a traditional Muslim cap and prayed five times a day.. U.S. law enforcement is partially to blame for the phenomenon of the street gang member dreaming of becoming such a warrior. Law enforcement has employed the metaphors and language of warfare to fight drug addicts and petty thieves. It was only a matter of time before simple thugs like me and Qeto began to see ourselves at war with the U.S. government."

Judi Bari Vindicated in Historic Ruling 6/12/02 Alternet: "The late redwood forest activist Judi Bari and activist Darryl Cherney always maintained their innocence, and on Monday a jury agreed. Cherney and Bari's estate were awarded $4.4 million in their federal civil rights lawsuit against four FBI agents and three Oakland Police officers."

U.S. prisons a breeding ground for terrorist groups 6/12/02 CNN: "This was actually at a jail up in Boston, and the sheriff told me there was one housing unit, where when the news was broadcast, yes, there was applause. And it's an upsetting thing to hear when you are an American. And I don't think it's typical. There were -- I have only heard a couple of things like that, but it does point to a deep-seated sense of grievance among many inmates of American prisons."

Jails Ripe to Create Jihad Yank 6/12/02 Daily News, UK

Sept. 11 suspect held in 'cage' - lawyer 6/11/02 : "Zacarias Moussaoui, the French national on trial in the United States for allegedly being linked to the September 11 terror attacks, is being held in "unacceptable" conditions, which is why he decided to dismiss his US lawyers, a French attorney said on Tuesday. "For the last seven months Zacarias Moussaoui has been held in what is in effect a cage," said lawyer Francois Roux, who is now representing Moussaoui."

Lawyer: Dirty bomb suspect's rights violated 6/11/02 CNN: Rummy pronounces a life sentence: "Defense Secretary Donald Rumsfeld said earlier Tuesday that Padilla -- who also goes by the name of Abdullah Al Muhajir -- may never face trial. "Our interest is not in trying him and punishing him," Rumsfeld said. "Our interest is in finding out what he knows."

Dirty bomb: Brooklyn-born suspect turned to Islam while serving 12-month jail sentence 6/11/02 Independent, UK

Pakistan: More Americans arrested 6/11/02 UPI: "As many as a half-dozen men "of U.S. origin" have been captured in the tribal areas of Pakistan near Afghanistan and handed over to U.S. authorities in an ongoing operation to root out al Qaida terrorists and Taliban extremists, Pakistani sources told United Press International Tuesday."

What Was Terror Suspect Up To? 6/10/02 CBS: guilty of thought crime - "U.S. officials are backing away from assertions that a man arrested last month in Chicago was plotting a 'dirty' bomb attack on the United States, CBS Correspondent Jim Stewart reports."

Ex-UC chief calls FBI actions despicable Clark Kerr reacts to Chronicle report on bureau misdeeds 6/10/02 San Francisco Chronicle: "Kerr, 91, a renowned educator who led UC to academic excellence, also said that the FBI harmed the integrity of the university by intruding into campus affairs and exacerbating internal disputes. "What bothers me is that the FBI would want to go so far outside its proper jurisdiction and get involved in the internal affairs of the university," Kerr said."

Secret FBI files reveal covert activities at UC Bureau's campus operations involved Reagan, CIA 6/9/02 San Francisco Chronicle: "According to thousands of pages of FBI records obtained by The Chronicle after a 17-year legal fight, the FBI unlawfully schemed with the head of the CIA to harass students, faculty and members of the Board of Regents, and mounted a concerted campaign to destroy the career of UC President Clark Kerr, which included sending the White House derogatory allegations about him that the bureau knew were false."

Going to the Devil 6/9/02 Washington Post: a compendium of repression in the Renaissance and Enlightenment.

FBI campaign against Einstein revealed 6/8/02 BBC: "A new book reveals the 22-year effort by FBI director J Edgar Hoover to get Albert Einstein arrested as a political subversive or even a Soviet spy. Uncovered FBI files are revealed in a book by Fred Jerome who says it was a clash of cultures - Einstein's challenge and change with Hoover's order and obedience. From the time Einstein arrived in the US in 1933 to the time of his death, in 1955, the FBI files reveal that his phone was tapped, his mail was opened and even his trash searched."

Controversial Daniel Pearl Video 6/7/02 Prohosters: "As stated in current news reports we at Prohosters.com were contacted by officials from the FBI and told to remove a video created by Daniel Pearl's executioners from one of our customer's sites. We have decided to stand behind our customer, resist the intimidation tactics used by the FBI, and re-post the video."

Spying and Lying: The FBI's Dirty Secrets 6/6/02 Alternet: "As it turned out, this was part of a nationwide spying operation involving all 59 FBI field offices. The whole thing might be secret to this day, if not for the fact that one of the Bureau's informants had a change of heart. He had infiltrated a community of religious activists in Texas, and later said that he had second thoughts when his supervisor suggested that he sleep with a nun in order to discredit them."

Mideast Fuels 2 Democratic Primaries 6/6/02 Washington Post: African Americans are told to toe the line: "While Hilliard and McKinney have come under attack for several reasons, both of their opponents have seized on their foreign policy positions to question the lawmakers' judgment and to tap campaign contributions from Jewish donors."

FBI wants to track your Web trail 6/6/02 ZD Net News

NY Times sicks FBI on MSNBC journo 6/5/02 Register, UK

Feds to investigate Miami police 6/1/02 Naples Daily News, Florida

ALTA CALIFORNIA: C.H.P. Assaults 11 Year Old Muslim Girl 5/31/02 Aztlan: "A prominent national Islamic advocacy organization is calling for the suspension of California Highway Patrol (CHP) officers who the group says assaulted an 11-year-old Muslim girl during an anti-war, pro-Palestinian rally Saturday May 25 at the Golden Gate Bridge in San Francisco."

Harvard student retitles 'jihad' speech 5/31/02 Boston Globe: would it be antisemitic to make a similar protest against a revered Jewish religious concept such as "Zionism?"

US company fires activist for aiding Palestinians 5/31/02 Ummah News: "Due to unacceptable conduct and political actions in a geographical area where Cadence does business (Israel), we hereby terminate your work contract.''

We're Losing Our Civil Liberties for Nothing 5/30/02 Alternet

Cato Institute Endorses Police State - 'Libertarians' have 'no problem' with domestic spying 5/30/02 Antiwar.com: "As reported in the press, the new FBI surveillance guidelines present no serious problems. Especially under post-September 11 circumstances, law enforcement monitoring of public places is simply good, pro-active police work that violates the rights of no one. The same is true for topical research not directly related to a specific crime, which the new guidelines will permit." And they continue to criticize Cuba, which has been living for over 40 years under the threat of constant terrorism from Miami and Washington.

Texas Man to Be Tried for Heckling 5/30/02 AP: "A man who yelled an expletive at former President Bush and disrupted a speech he was giving at the Texas Capitol should be tried for heckling, a state court ruled."

AN IMPERIAL DEMOCRACY by Mumia Abu-Jamal 5/30/02 NattyReb

Government Will Ease Limits on Domestic Spying by F.B.I. 5/30/02 NYT: A lawyer at the American Civil Liberties Union, Gregory T. Nojeim, predicted that the new guidelines would cause a flood of new information that the bureau will have trouble analyzing. "The problem with the 9/11 investigation was a failure to analyze and act on relevant information," Mr. Nojeim said. "And their solution is to gather exponentially more information that they have no possible way to properly analyze."

FBI and CIA coming on-line with new powers 5/30/02 Register, UK

New focus stirs fears of civil abuses - DOMESTIC PRIORITY: Overhaul conjures up Hoover days 5/30/02 San Francisco Chronicle: "What were really looking at is the criminalization of activism," said Darryl Cherney, a member of Earth First, an environmental group investigated by the FBI for alleged illegal activities."

Gagged by Google 5/30/02 Working for Change: if you're against killing Robert Fisk?

Probe eyes FBI fears of profiling 5/27/02 Washington Times: "[House Select Committee on Intelligence Chairman Porter J. Goss] said problems with the warrant application worried him most, adding that if the letter is accurate, "that people were reluctant — there was a culture in Washington that said, 'No, we don't want to rock the boat. We want to — we're too worried about profiling, those kind of things.' We've got to know about that and figure out as a society how we are going to react."

Objections to Lawyer-Prisoner Meeting 5/24/02 Newsday: "I really, really resent what the government is doing in the name of whatever," Dunham said. "They don't need to create this appearance of trying to make somebody disappear. That's what governments like China do, not what the U.S. does."

Our Pride and Our Glory - George Washington, The Whiskey Rebellion, and Military Tribunals 5/23/02 Democratic Underground: Tribunals have been used before, we are told, and were even used by that greatest of all Americans, George Washington himself. To those who have been swayed by this appeal to history it may come as a surprise to learn that during the first great attack on the United States - the Whiskey Rebellion of 1794 - George Washington explicitly and firmly rejected the use of military tribunals. He even went so far as to state publicly that such a misuse of the military would be incompatible with the "essential principles of a free government."

FBI Seeks Pearl Video Ban on Net 5/23/02 Wired News: The FBI called the video of Pearl's execution "obscene." Is this in line with the Guantanamo S&M prisoner fantasies? Is the US government's imagaination turning more and more to bizaar practices?

Anti-U.S. Views at Pilot Schools Prompted Agent's Alert 5/22/02 NYT: the story is sure to prompt a review of anyone making "anti-US" statements!

ECHELON'S ARCHITECT 5/21/02 Cryptome: "Meet Bruce McIndoe. He has information that the Danish government and several others around the globe, continuously pretends isn't there. McIndoe knows that Echelon is real. Because he helped to build it. "Yes, that's right", McIndoe confirms to the Danish paper Ekstra Bladet today Bruce McIndoe dedicated more than ten years of his life to Echelon. He helped to finalize the original Echelon system starting in 1987. After that, he started to design Echelon II, an enlargement of the original system."

Veteran anchor attacks media for being timid 5/17/02 Independent, UK: "you know there was a time in South Africa that people would put flaming tyres around people's necks if they dissented," said Mr Rather. "And in some ways the fear is that you will be necklaced here, you will have a flaming tyre of lack of patriotism put around your neck."

Big Brother Is Watching, Listening 5/16/02 CBS: ""I'm about to go to a meeting, very stressful day, all of a sudden, the FBI calls." The agent wanted to know about the computer systems at Independent Media, a leftist Web site where Josh occasionally works as a volunteer technician."

Prison Guards Playing God 5/16/02 Cryptome: "Mr. Powers and Mr. Garcia would cause inmates convicted of sex offenses, or who were otherwise disliked by them, to be assaulted by other inmates, and in two instances, by the defendants themselves."

New York is starting to feel like Brezhnev's Moscow 5/16/02 Guardian, UK: "Listening to these anguished but private complaints suddenly reminded me of the Soviet Union of the Brezhnev era when lower-level officials, journalists and other fringe members of the regime sat around their kitchen tables, expressing their true views only to family and close friends. A far-fetched analogy, of course, until you look at the narrowness of public discussion, not just on Israeli-Palestinian issues, but also on the threatened American attack on Iraq and the administration's war on terrorism in general."

Black Congresswoman draws vile censure 5/16/02 SF Bay View

ABC to End 'Politically Incorrect' 5/14/02 New York Times: if you don't follow the party line, your show will be terminated.

New Mideast war front: American newspapers Boycotts over 'anti-Israel' bias in major dailies gaining ground 5/9/02 WorldNetDaily: news from a Christian perspective…not content with the massive pro-Israeli bias of the US media, the fundamentalists seek to muzzle it even further.

Judge sides with Sepulvedas 5/8/02 Modesto Bee, California: outlines criminal behavior of SWAT team; in an unusual move, the judge sided with the victims.

Saudi ads nixed by cable nets 4/29/02 Electronic Media: "At least nine national cable networks have turned down a potentially lucrative -- though controversial -- ad schedule from the Royal Embassy of Saudi Arabia. No national cable networks are known to have accepted the ads. The 10-day flight is an image campaign from the Arab nation. The tagline for the spots is "The People of Saudi Arabia -- Allies Against Terrorism."

Missourian played key role in old-time eugenics movement 4/27/02 Kansas City Star: the Eugenics laws were used to sterilize many people of color, such as Abnaki in Vermont. "With the passage of its law came similar laws in 35 other states, sterilizing 40,000 to 60,000 Americans…. And in 1933, Nazi Germany used Laughlin's sterilization law as the blueprint for the Nuremberg Laws under which 350,000 "unfit" German citizens were sterilized." Just as Hitler was a great admirer of the American Indian policy, which the Israeli are attempting to implement in Palestine, with the backing of an America still nostalgic for its colonial past. Not just the so-called feebleminded, but alcoholics and paupers, prostitutes and hobos, common criminals, hemophiliacs, diabetics, epileptics, the mentally ill, the physically deformed, the blind, the deaf, orphans -- people who, it was determined, should be sterilized, lest their children inherit their "degenerate weaknesses" and further drain society."

Protesters Detained in Milwaukee: Are You on the No Fly List? 4/27/02 The Progressive: "Twenty of the 37 members of the Peace Action Milwaukee group--including a priest and a nun--were pulled aside and questioned by Milwaukee County sheriff's deputies. They were not cleared in time for takeoff and had to leave the next morning, missing many of the events. What tripped them up was a computerized "No Fly Watch List" that the federal government now supplies to all the airlines. The airlines are required to check their passenger lists against that computerized "No Fly" list… Sarah Backus, a coordinator for SOA [School of the Americas] Watch Wisconsin, says she was told by one of the sheriff's deputies: "You're probably being stopped because you are a peace group and you're protesting against your country."

Those who misuse law enforcement computer system won't be traceable 4/26/02 Detroit Free Press: "LANSING, Mich. (AP) -- The names of those who abuse a confidential police computer system will be deleted after each case is investigated because state officials voted to change the current policy."

Ex-CIA chief revitalizes 'truth serum' debate 4/26/02 Usa Today

Judge orders torture probe 4/25/02 Chicago Sun Times: "Jon Burge has been called "torturer" virtually as long as he's been called lieutenant. On Wednesday, a Cook County judge took steps that could finally shine light into the shadows of the police interrogation room where critics say Burge repeatedly shocked, beat and suffocated confessions out of suspects starting in the 1970s."

Chief's Statement to Press on Luis Alfonso Torres Case 4/24/02 Baytown Police: killed for being a drunken Mexican through the use of pepper spray and excessive force.

Muere mexicano al ser detenido con violencia en Houston 4/24/02 La Jornada

Seattle protest shuts down I-5 after police kill Black motorist 4/24/02 San Francisco Bay View

Fox News Follies, Continued 4/22/02 Tom Paine Common Sense

In the Name of Homeland Security, Telecom Firms Are Deluged With Subpoenas 4/21/02 Newhouse

Police Treatment of Pro-Palestinian Activists Raises Fear of Intimidation Campaign 4/19/02 IndyMedia: "Activists who participated in a pro-Palestinian demonstration at the Israeli Consulate in Midtown Atlanta on Friday the 12th are reporting that they have been subjected to police pressure both prior to and during the action. According to sources with the Atlanta Arab-American Anti-Discrimination Committee(ADC), Atlanta police contacted them by phone before the planned demonstration suggesting that they distance themselves from the Revolutionary Communist Youth Brigade(RCYB), one of the organizations expected to participate in the event. It is further reported that a member of the RCYB received a similar call inquiring as to whether that group was in fact organizing the demonstration. On the day of the protest, two members of the RCYB who were participating report they were accosted by a plainclothesman wielding a camera who told them; "You start any shit and we're taking you down!"

The United States is a safe haven for more than 1,000 torturers 4/17/02 Granma, Cuba

Victims of the Dragnet 4/17/02 Village Voice: los desaparecidos in the Banana Republic of EE-UU, complete with Nov 2000 coup d'etat and a ruling junta

On the front lines of a war on dissent 4/14/02 Toronto Star

Warner says Constitution can be a luxury 4/13/02 Gainsville Sun, FL: "When national security is threatened, there are times when the United States cannot afford the luxury of adhering to the Constitution, said Florida Solicitor General Tom Warner Thursday afternoon." Didn't take much to rip off the mask of civility, a little more than a day's worth of Vietnamese casualties during the Viet Nam war…

A dark and dangerous undercurrent in U.S. society 4/6/02 Denver Rocky Mountain News: wonder how long this editory will keep his job…

UM faces further budget cuts - Legislators cite KOMU policy on flag and ribbon wearing as the motivation for the cuts. 4/4/02 Digital Missourian: "Rep. Bubs Hohulin, R-Lamar, offered an initial amendment to cut the UM budget by $5 million. He cited discontent with KOMU news director Stacey Woelfel and his policy forbidding reporters from wearing red, white and blue ribbons or flags while working for the newsroom as his motivation for the amendment."

DoD News Briefing - Secretary Rumsfeld and Gen. Myers 4/3/02 Cryptome, US: Rummy talks hard - "Q: Mr. Secretary, you said earlier that Abu Zubaydah is under U.S. control or the U.S. is controlling his detention. Can you help us understand what the priorities are with a prisoner like this? Is it to get intelligence from him first and to prosecute later? And if that becomes a difficulty, just focus on the intelligence-gathering? Is that how you approach an individual like this? Rumsfeld: There is no question but that the overriding importance -- important issue is intelligence gathering."

Most Far-Reaching Gag Order In 1st Amend. History? 4/1/02 Editor & Publisher

US secrecy over terror prisoners is against law 3/28/02 Times, UK: "THE Bush Administration's secrecy about hundreds of detainees picked up in a post-September 11 dragnet is unlawful and the identities and alleged offences of those being held must be revealed, a New Jersey court has ruled."

McCarthyism Watch 3/27/02 The Progressive: "What if there had been someone of Middle Eastern descent in our group? Would we have seen our friend again?" Sanders asks. "I'm actually fearful now of having any material or speaking out against our government. I felt I couldn't be safe with that, that I could be arrested or put on a list somewhere. You cannot be critical of the government right now. If you're not patriotic or a nationalist, you could be singled out."

Stop outrageous attacks on Muslim and Arab people! 3/25/02 Arab News, Saudi Arabia

FBI raids pro-Republicans 3/25/02 Guardian, UK

La Peña responds to Anthrax letters 3/24/02 AfroCubaWeb: La Peña is a respected Berkeley based cultural organization: "As you may know, last week many Bay Area Latino community members and organizations received racist letters containing a white powdery substance, aimed at scaring and attacking our community. La Peña Cultural Center was one of these organizations that received a letter. We are all shocked, appalled and angered by this. The perpetuation of such hate-filled acts underscores the importance of our work to bring people of different cultural backgrounds together and support progressive social change through the arts."

I was tortured by US troops, says Taliban American 3/24/02 Guardian, UK: Predictably enough, the headline in the propaganda driven US media is "Lindh spoke to FBI to improve conditions of captivity, lawyers say".

Northern Va. Muslims Take Action In Response To Raids 3/24/02 Islam Online

The CIA's Death Squad Body Count Continues to Pile Up 3/23/02 Cryptome

More evidence of US Justice 3/23/02 Khilafah

Pollster's relationships might have led to warrant 3/22/02 St Petersburgh Times

"Operation Green Quest" Singles Out Muslims 3/21/02 Islam Online

Soundbyte Patriots 3/15/02 Alternet

Agents said to oppose inquiry 3/15/02 Baltimore Sun: "Two senior agents from the FBI's Baltimore office told a private detective yesterday that the mistaken shooting of an unarmed Pasadena man likely would be ruled a "clean shoot," and discouraged him from looking into the case further, the investigator said in an interview."

U.S. using new law on secret evidence 3/15/02 Chicago Tribune: what Constitution?

Those Secret Snatches - Render Unto Caesar 3/15/02 Counterpunch

PRISIONEROS POLÍTICOS ¡AL HUECO! 3/15/02 Jiribilla

The War on Dissent Widens 3/12/02 Alternet: "Who exactly is behind AVOT's efforts? The newly-formed organization is headed by a formidable array of right-wing luminaries. At the top of the list is former Secretary of Education and drug czar William Bennett, AVOT's chairman. The group's Senior Advisors include former CIA director R. James Woolsey; former Reagan Pentagon official Frank Gaffney; William P. Barr, attorney general under George Bush, Sr; and mega-political donor Lawrence Kadish. AVOT is a project of Empower America -- also co-chaired by Bennett -- whose principal members include conservative political operatives Jeane Kirkpatrick, Jack Kemp, Vin Weber and William Cohen."

Denver Police Keeping Illegal Files 3/12/02 AP

US sends suspects to face torture 3/12/02 Guardian: this story is also in the Washington Post, which we do not link to as they do not maintain their stories on their site.

Civil Liberties Take Back Seat to Safety 3/10/02 LA Times

China, Russia, Saudi Arabia criticized in annual human rights report 3/4/02 Boston Herald: The US has more people in jail than China, which has 4 times the US population. HYPOCRISY and FLIM FLAM, an honored tradition in the US where "there's a sucker born every minute!"

Suppressing Dissent Archives