| | | |
| --- | --- | --- |
| | AfroCubaWeb | |

Fernando Ortiz

Lydia Cabrera

"Studies on/Obras sobre" Cabrera

Ediciones Universales
Editor, Librería & Distribuidora Universal
Universal Publisher, Bookstore, Distributor
Catalog - Catalogo


La tienda mas importante de los clasicos de la afrocubania.
The place for the classic works on AfroCuban culture!

PUBLISHERS & DISTRIBUTORS SINCE 1965
EDITORES Y DISTRIBUIDORES DESDE 1965
ISBN prefix # 0-89729 SAN # 207-2203

e-mail: ediciones@kampung.net
COLECCIÓN DEL CHICHEREKÚ
Lydia Cabrera nace en La Habana el 20 de mayo de 1900 y muere en Miami, exiliada de Cuba, el 19 de septiembre de 1991. La escritora y antropóloga cubana, una de las figuras centrales de la cultura cubana, es autora de 23 libros, que en su mayoría estudian la cultura y religión afrocubana y son considerados clásicos por la excelencia de su investigación y la belleza mágica de su prosa.
Lydia Cabrera was born in Havana, Cuba, on May 20, 1900 and dies in exile in Miami, Florida on September 19, 1991. A writer and anthropologist, she is one of the central figures of Cuban culture. Her twenty-three books, primarily focusing on Afro-Cuban culture and religion, are considered classics because of her excellent investigations and the magical beauty of her prose.
009-7 EL MONTE (Igbo Finda/Ewe Orisha/Vititi Nfinda) / Séptima reedición/ $ 25.00
Considerado el libro más completo escrito sobre las religiones, costumbres y creencias afrocubanas.
In its 7th reprinting, this is considered the most complete book written on Afro-Cuban religions, customs and beliefs.
010-0 AYAPÁ (CUENTOS DE JICOTEA) (cuentos negros) OP
Cuentos basados en creencias traídas por los esclavos africanos a Cuba.
Short stories based on beliefs brought to Cuba by African slaves.

395-9 ANAGÓ, VOCABULARIO LUCUMÍ (El Yoruba que se habla en Cuba.)
$ 19.95
Palabras originarias en las tribus Yoruba que fueron de África a Cuba y que se siguen utilizando en las creencias religiosas y otras costumbres)
(Words originating from African Yoruba tribes that went to Cuba as slaves and that are still used in religious beliefs.)

396-7 REGLA KIMBISA DEL SANTO CRISTO DEL BUEN VIAJE $ 9.95
Creencias religiosas de los seguidores de la Regla Kimbisa en Cuba.
(Religious beliefs from the followers of the Kimbisa sect in Cuba.)

397-5 OTÁN IYEBIYÉ (LAS PIEDRAS PRECIOSAS en la tradición afrocubana) $ 9.95
(The use of precious stones in Afro-Cuban traditions.)

398-3 REGLAS DE CONGO. PALO MONTE-MAYOMBE $ 19.00
Creencias religiosas de los seguidores de Palo Monte.
(The religious beliefs of the followers of the Palo Monte sect.)

410-6 LA SOCIEDAD SECRETA ABAKUÁ, Lydia Cabrera $ OP
433-5 SUPERSTICIONES Y BUENOS CONSEJOS $ 9.95
Grupo de creencias muy populares, originadas en la Santería.
(Listing of very popular beliefs originating from Santeria.)

434-3 LOS ANIMALES Y EL FOLKLORE DE CUBA $ 19.00
Diccionario con significado de los animales en la religión afrocubana y el folklore.
(In dictionary form, the meanings of animals in Afro-Cuban religions and folklore are examined.)

488-2 LA LENGUA SAGRADA DE LOS ÑÁÑIGOS (Vocabulario Abakuá) $ 35.00
Explicación del vocabulario de esta secta religiosa y sociedad secreta en Cuba
(The sacred and secret language of the Ñañigo religious sect and their society are studied.)

637-0 KOEKO IYAWÓ: APRENDE NOVICIA (Pequeño tratado de Regla Lucumí) $ 19.95
Las creencias de los lucumìes en Cuba.
(All the beliefs of the Afro-Cuban Lucumi tribe are analyzed.)

654-0 CONSEJOS, PENSAMIENTOS Y NOTAS DE LYDIA E. PINBAN $ 9.95
Oocurrentes y simpáticos dibujos, frases y notas de Lydia Cabrera.) Ed. de Isabel Castellanos
(Witty notes, phrases, and drawings made up by Lydia Cabrera that help us understand this very special woman.)

671-0 CUENTOS NEGROS DE CUBA $ 16.00
Originalmente publicado en Francia.Recreación literaria de las viejas leyendas y cuentos de la tradición africana.
(Originally published in French, Paris 1936. In beautiful literary form, the author writes the stories that were told to her in the traditional African oral fashion.)

673-7 LA LAGUNA SAGRADA DE SAN JOAQUÍN $ 19.95
Descripciones de las ceremonias afrocubanas que se celebraban en ese lugar de Cuba. Fotos de Josefina Tarafa)
(Description of the Afro-Cuban ceremonies that were celebrated in Cuba at the Sacred Lagoon of Saint Joaquín. With photographs taken by Josefina Tarafa.)

733-4 PÁGINAS SUELTAS (Edición de Isabel Castellanos $ 29.00
Antología de escritos sobre de temas literarios, artísticos, folclóricos y otros, publicados en periódicos y revistas)
(Anthology of Cabrera's literary, artistic, and folklore- filled writings, first published in newspapers and magazines.)
761-X YEMAYÁ Y OCHÚN (Kariocha, Iyalorichas y Olorichas) $ 25.00
Importante libro sobre las creencias religiosas afrocubanas y en especial el significado e historias de sus dioses)
(Important book on Afro-Cuban religious beliefs with special emphasis on the history and meanings of their gods.)

762-8 MEDICINA POPULAR DE CUBA (médicos de antaño, curanderos, santeros y paleros de hogaño) $ 19.95
Los medicamentos (hierbas) y costumbres que usaban médicos antiguos y creyentes de las religiones afrocubanas)
(The popular drugs (mostly herbal) and medical practices used by old doctors and believers of Afro-Cuban religions.)

763-6 CUENTOS PARA ADULTOS NIÑOS Y RETRASADOS MENTALES $ 16.00
Colección de cuentos, simpáticos, imaginativos y entretenidos, escritos con la habitual maestría de la escritora.
(Collection of funny, imaginative and entertaining stories, written with Lyda Cabrera's usual literary genius.)

4 REFRANES DE NEGROS VIEJOS $ 9.95
La sabiduría popular de los antiguos negros cubanos.
(Ancient proverbs told by old Cuban Blacks and written down for posterity by Lydia Cabrera.)

7 FRANCISCO Y FRANCISCA (chascarrillos de negros viejos) OP
Chistes y simpáticas anécdotas que contaban los viejos negros cubanos.
(Jokes and funny anecdotes that were told by old Cuban Blacks.)

8 POR QUÉ (cuentos negros) $ 19.95
Segunda colección de cuentos folclóricos recogidos de la tradición oral de los negros en Cuba.
(Second collection of folkloric stories written down by Lydia Cabrera, as were told to her in the traditional oral fashion.)

9 ITINERARIOS DEL INSOMNIO (Trinidad de Cuba) $ 9.95
Evocación sobre una de las ciudades más antiguas de Cuba. (Evocation on the oldest Cuban cities.)

195 SIETE CARTAS DE GABRIELA MISTRAL A LYDIA CABRERA $ 5.00
Correspondencia con la genial poetisa chilena, Premio Nobel.
(Seven letters written by the Chilean Nobel Prize poet Gabriela Mistral to Lydia Cabrera.)

179 VOCABULARIO CONGO (EL BANTÚ QUE SE HABLA EN CUBA) $ 19.95
Explicación del vocabulario que usaban los negros congos, que tienen significado especial en su religión
(Explanation of the language used by Congo Blacks in Cuba, which have special meanings in the religion).

4611-2 ANAFORUANA (Ritual y simbolos de la iniciacion en la sociedad secreta Abakuá. $ 69.00
Con dibujos rituales de la propia autora.
(Iniciation rituals and symbols used by the Abakuá religious sect. Illustrated by Lydia Cabrera.)

ALGUNAS OBRAS SOBRE LYDIA CABRERA
(Studies on Lydia Cabrera's life and works):

088-7 IDAPÓ (sincretismo en cuentos negros L.Cabrera), Hilda Perera $ 10.00


(A study of syncretism in Lydia Cabrera's Black short stories, by Hilda Perera, a well know author herself.)

191-3 HOMENAJE A LYDIA CABRERA, Reinaldo Sanchez y José A. Madrigal, editores. $ 19.95
(A tribute to Lydia Cabrera in and the life she dedicated to studying and writing about Afro-Cuban culture.)

389-4 LOS CUENTOS NEGROS DE LYDIA CABRERA, Mariela Gutiérrez $ 15.00
(A study of twenty-nine black short stories written by Lydia Cabrera.)

432-7 EN TORNO A LYDIA CABRERA, Edición de Isabel Castellanos & Josefina Inclán $ 30.00
Colección de ensayos sobre Lydia Cabrera y temas afroamericanos.
(Collection of essays on Lydia Cabrera and Afro-American topics.)

444-0 MAGIA E HISTORIA EN LOS "CUENTOS NEGROS", "POR QUÉ" Y "AYAPÁ" DE LYDIA CABRERA, Sara Soto $15.00
(History and magic behind Lydia Cabrera's short stories "Cuentos Negros", "Por Qué" and "Ayapá)

535-8 EL COSMOS DE LYDIA CABRERA: Dioses, animales y hombres, Mariela Gutiérrez $19.00
(The author invites readers unfamiliar with Lydia Cabrera's work to penetrate without reservations her cosmos of gods, spirits, animals, men, objects and supernatural beings.)
Works on AfroCuban Culture

052-6 INICIACIÓN A LA POESÍA AFRO-AMERICANA, Oscar Fernández de la Vega & Alberto N. Pamies $19.95
(A study on Afro-American poetry with selections by Emilio Ballagas, Ramón Guirao, Gilberto Gonzalez Contreras, Armando Guerra Castañeda, Manuel Moreno Fragináls and Fernando Ortiz.)

099-2 MÚSICA FOLKLÓRICA CUBANA, Rhyna Moldes O.P.

204-9 LOS SECRETOS DE LA SANTERÍA, Agún Efundé $ 12.00
Sencilla y completa explicación sobre las creencias religiosas que los negros esclavos adaptaron en Cuba y se mantienen en la actualidad. Dioses, rituales, magias, sacrificios, formas de adivinación. Etc. Con ilustraciones.
(In layman's terms, this is a complete and simple explanation of the Santeria religion and why it has so many followers.)

236-7 PATAKI Leyendas, misterios y secretos de los Orischas africanos y la Santeria en Cuba), Julio García Cortez $ 19.95
(A book of stories telling the history, legends, and traditions of the Yorubas in Africa and subsequently in America.)
237-5 LA POESÍA AFROANTILLANA, Leslie N. Wilson $ 19.00
(Study of Black poetry in the Caribbean and other Spanish-American areas.)
322-3 EL SANTO (LA OCHA) (secretos de la religión Lucumí), Julio García Cortez $ OP
(Secrets of the Lucumí religion.)


341-X PLÁCIDO, POETA SOCIAL Y POLÍTICO, Jorge Castellanos $ 12.00
Estudio sobre la vida y obra de uno de los principales poetas negros de Cuba.
(Study of the life and works of one of Cuba's most famous Black poets and controversial political figure.)
468-8 IBO (YORUBAS EN TIERRAS CUBANAS), Rosalía de la Soledad & M.J. San Juan $ 19.95
Uno de los más completos estudios sobre las tradiciones Yorubas implantadas en Cuba.
(One of the most complete studies of the Yoruba culture and traditions that were brought to Cuba by African slaves.)

528-5 LOS NIETOS DE FELICIDAD DOLORES (novela), Cubena(Carlos Guillermo Wilson) $ 18.00
(Novel that narrates the identity conflicts, racial discrimination and injustices suffered during the last 500 years by African slaves and their Caribbean and Latin American descendants.)
582-X AFRO-HISPÁNIC LITERATURE: AN ANTHOLOGY OF HISPÁNIC WRITERS OF AFRICAN ANCESTRY, Ingrid Watson Miller $ 19.00
(A sampling of the many outstanding literary works on Black life by Black (and Mulatto)Hispanic writers. It is designated to be used in the intermediate Spanish language classes as a text for discussions on Afro-Hispanic literature, culture and civilization. Included authors: Nicolás Guillén - Aida Cartagena - Blas R. Jiménez - Carlos Guillermo Wilson(Cubena) - Quince Duncan - Adalberto Ortiz - Nicomedes Santa Cruz - Manuel Zapata Olivella - Leoncio Evita)

593-5 BLACK CUBENA'S THOUGHTS, Elba Birmingham-Pokorny $ 6.95
(The present work of the black Panamanian poet Dr. Carlos Guillermo Wilson (Cubena) reflect his commitment to speak against all forms of racism and re-establish a lost identity.)
634-6 LA AFRICANÍA EN EL CUENTO CUBANO Y PUERTORRIQUEÑO, María Carmen Zielina $ 25.00
(The influence of African culture on the Caribbean has been broadly analyzed, but most studies have focused on poetry and novels. This work wishes to fill a void left unstudied: The Black presence in Cuban and Puertorricans short stories. Some of the authors studied are Gerardo del Valle; Lydia Cabrera; Jose Luis Gonzalez; Antonio Benitez Rojo; Carmelo Rodriguez Torres; Ana Lydia Vega, etc.)
635-4 DENOUNCEMENT AND REAFFIRMATION OF THE AFRO-HISPÁNIC IDENTITY IN CARLOS GUILLERMO WILSON'S WORKS, Elba Birmingham-Pokorny $ 19.95
(These essays cover all of Carlos Guillermo Wilson's (Cubena) works, whose task as a writer has been to affirm his identity. His work clearly ties in to the multi-racial, multi-cultural and multi-ethnic discussions taking place in the world today.)

674-5 DECODING THE WORD: NICOLÁS GUILLÉN AS MAKER AND DEBUNKER OF MYTH, Clement A. White $ 19.95
(Study on the Cuban poet Nicolas Guillen (1902-1989) who refused to subscribe to negative assumptions about Blacks (or Mulattoes) and instead, counters by presenting a boldly affirmative brand of poetry which challenges the prevailing preconceived images of the race.)

691-5 LO AFRONEGROIDE EN EL CUENTO PUERTORRIQUEÑO, Rafael Falcón $ 12.00
(From as early as 1531 Blacks were an important ethnic presence in Puertorrican culture. This book studies and shows the evolution of the Black theme in Puertorrican short stories. Special attention is given to four authors:Jose Luis Gonzalez, Luis Rafael Sanchez, Carmelo Rodriguez Torres and Ana Lydia Vega.)

758-X AN ENGLISH ANTHOLOGY OF AFRO-HISPANIC WRITERS OF THE TWENTIETH CENTURY, Elba Birmingham-Pokorny $ 19.00
(This anthology is primarily intended to arouse the interest of students currently involved in the study of the African presence in Latin America and to be used as supplementary text in Spanish American Culture and Civilization courses as an attempt to illustrate both the richness and diversity of the culture and literature of this area. Included is a chronology of Afro-Hispanic poetry and fiction by Jorge J. Rodríguez-Florido and sellected works & studies by Carlos Guillermo Wilson, Gerardo Maloney, Eulalia Bernard, Quince Duncan, Blas Jiménez, Nancy Morejón, Nicolás Guillén, Manuel Zapata-Olivella, Nelson Estupiñán-Bass, Luz Argentina Chiriboga, Adalberto Ortiz, Nicomedes Santa Cruz, Agapito Carrizo, Cristina Rodríguez-Cabral, Miguel James)
736-9 ACERCAMIENTO A LA LITERATURA AFROCUBANA, Armando González-Pérez $ 19.00
Incluye estudios sobre cantos, música, poesía afrocubana de Cuba y el exilio cubano, mitología, Nicolás Guillén, visión de la esclavitud en Juan Francisco Manzano y Miguel Barnet, glosario de términos afrocubanos, bio-bibliografía de autores afroamericanos y bibliografía general.
Includes studies on songs, music, Afro-Cuban poetry both in Cuba and in exile, mythology, studies on Nicolás Guillen, a vision of slavery in Juan Francisco Manzano and Miguel Barnet, glossary of Afro-Cuban terminology, bio-bibliography of Afro-American authors, and a bibliography.

788-1 CRITICAL PERSPECTIVES IN ENRIQUE JARAMILLO-LEVI'S WORK (A COLLECTION OF CRITICAL ESSAYS), Edited and with an Introduction by Elba D. Birmingham Pokorny $ 16.00
(Produced over the past three decades, the narrative texts of Enrique Jaramillo-Levi have in recent years, received considerable critical attention. The present collection of essays submits this writer's work to close examination from the standpoint of women's and cultural studies, providing a fresh non-traditional critical look at his works.)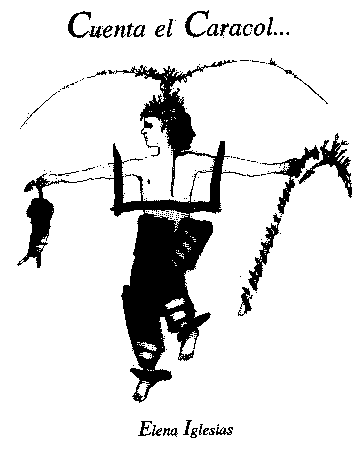 785-7 CUENTA EL CARACOL, Elena Iglesias (relatos y patakíes) $ 16.00
(The folklore of the Yoruba people comes to life in the pages of this book. In it are stories of romance, betrayals, greed, adventure, and spiritual teachings.)

827-6 COMMON THREADS: THEMES IN AFRO-HISPANIC WOMEN'S LITERATURE, Clementina R. Adams NYP

OTROS LIBROS DE TEMAS AFROAMERICANOS:

104 LA RELÍGIÓN AFROCUBANA, Mercedes Sandoval $ 19.95
(A complete explanation of Afro-Cuban religions.)

007-0 POESÍA NEGRA DEL CARIBE Y OTRAS ÁREAS, Hortensia Ruiz del Vizo $ 12.00
(Anthology of Black poetry from the Caribbean and other areas.)

008-9 BLACK POETRY OF THE AMERICAS (Anthology), Hortensia Ruiz del Vizo $ 12.00
(English and Spanish anthology of Black Poetry of the Americas.)

106-9 LA OBRA POÉTICA DE EMILIO BALLAGAS, Rogelio de la Torre $ 15.00
(Study on the life and works of Emilio Ballagas, well known for his Afro-Cuban poetry.)

153-0 LA POESÍA NEGRA DE JOSÉ SÁNCHEZ-BOUDY, René León $ 9.00
(A study of the Black poetry of Jose Sánchez-Boudy, best known for his many works on Cuban folklore and language.)

243-X LOS ESCLAVOS Y LA VIRGEN DEL COBRE, Leví Marrero $ 5.00
(A brief history of Blacks in Cuba, a community forced into servitude for two centuries, written by the foremost authority on Cuban history.)


Fernando Ortiz' Books
Obras de Fernando Ortiz Fernando Ortiz nació en La Habana el año 1881 y falleció en 1969. En 1901 comenzó la publicación de su obra que alcanza más de 30 libros de Antropología, Historia, Sociología y Folklore. Su profundo conocimiento de la sociedad cubana, de su intrahistoria, de su idiosincrasia más sutil, unido todo ello a una inmensa y vastísima cultura han producido una obra tan completa y compleja, que es un instrumento imprescindible de trabajo igual para el musicólogo especialista en folklore, para el etnógrafo, como para cualquier estudioso. Fue investido doctor honoris causa por las universidades de Columbia, Cuzco, Las Villas y otras. La Casa de América de Madrid celebró el 30 de marzo de 1998 un homenaje "Fernando Ortiz: cubano de todos los cubanos" con la participación de especialistas de todo el mundo. La Editorial Música Mundana de España, en colaboración con María Fernanda Ortiz, hija de Don Fernando, está reeditando todas las obras de Ortiz y ya se han publicado:


Fernando Ortiz (Havana, 1881-1969) published 30 books on Cuban anthropology, history, sociology and folklore. His thorough understanding of Cuban society and all its subtleties have produced priceless studies for musicologists as well as ethnographers. He was honored with doctorates "honoris causa" by Columbia University, the University of Cuzco, Universidad de Las Villas and others. Today his works are being reprinted by Editorial Música Mundana in Spain, with the collaboration of his daughter María Fernanda Ortiz. Among the ones already released are:

LOS INSTRUMENTOS DE LA MÚSICA AFROCUBANA (1952)
Publicado ahora en dos volúmenes con más de 1000 páginas es el estudio más completo sobre la música cubana y los instrumentos que se han usado en ella. Con más de 487 figuras, menciona más de 2500 instrumentos y términos con ellos relacionados. Índice bibliográfico con más de mil autores consultados. Con estos libros Ortiz logra dar un panorama completo de la Música Afrocubana.
Now published in two volumes with over 1000 pages, this is the most complete study made on Cuban music and the instruments used to play this music. Contained are more than 487 figures explaining over 2500 instruments and a bibliographic index of authors consulted, making Fernando Ortiz the foremost authority on Cuban music.
84-86415-82-9 1996 R. 2 vols. /480 & 538 p. Música Mundana $ 99.00

LA AFRICANÍA DE LA MÚSICA FOLKLÓRICA DE CUBA (1950)
Estudia la influencia de la música africana en la música popular cubana. Los valores, ritmos, melodías y armonías, los instrumentos y orquestas, el origen de la música y la poesía africanas en la magia y la religión. Con ilustraciones que explican los temas tratados.
Studies the influence of African music on popular Cuban music in its use of rhythm, melody, harmony and instruments, as well in Cuban religion. Well illustrated.
84-89750-18-1 1998 R. 266 p. Música Mundana $ 29.00

LOS BAILES Y EL TEATRO DE LOS NEGROS EN EL FOLKLORE DE CUBA (1951)
Continúa la investigación que hiciera el autor en la música, ahora dedicada los ritmos, bailes y coreografía utilizadas por los negros de Cuba y que hicieron un impacto en todas las costumbres de la Isla.
The author continues his research on Cuban music, now concentrating on the rhythms, dances and choreography used by Blacks in Cuba and their impact on the customs of the rest of the Island.
84-89750-21-1 1998 R. 238 p. Música Mundana $ 29.00 OTROS LIBROS PUBLICADOS DE FERNANDO ORTIZ:

LOS NEGROS BRUJOS (1906)
Apuntes para un Estudio de Etnología Criminal. Con una carta prólogo de Lombroso. Es el primer libro que publicara Ortiz sobre el tema negro.
Notes for a criminal ethnic case study. This is Fernando Ortiz's first publication dealing with an Afro-Cuban theme.)
0-89729-053-4 1973 R. 259 p. Universal $ 19.00

CONTRAPUNTEO CUBANO DEL TABACO Y EL AZÚCAR (1940)
Estudio esencial para entender la economía y la sociedad cubanas y sus industrias principales.
Essencial reading for understanding Cuban society and its economy as well as its main industries.
980-276-046-3 1978 E. 465 p. Ayacucho $ 30.00

EL HURACÁN, SU MITOLOGÍA Y SUS SÍMBOLOS (1947)
Los símbolos, mitos e historias que los huracanes crearon en la imaginación popular.
The history, myths and symbols that hurricanes created in popular Cuban thinking.
968-16-1596-4 1947 E. 686 p. FCE $ 25.00

HISTORIA DE UNA PELEA CUBANA CONTRA LOS DEMONIOS (1959)


"Relato documentado y glosa folklorista y casi teológica de la terrible contienda que, a fines del siglo XVII y junto a una boca de los infiernos, fue librada en la villa de San Juan de los Remedios, por un inquisidor codicioso, una negra esclava, un rey embrujado y gran copia de piratas, contrabandistas, mercaderes, hateros, alcaldes, capitanes, clérigos, energúmenos y miles de diablos al mando de Lucifer." Bello relato sobre hechos que ocurrieron en Cuba a fines del siglo XVII y que muestran las costumbre religiosas y populares de la época.
(Beautiful report on differents acts that occured in Cuba towards the later half of the XVII century which indicate the religious and popular customs of that era.)
84-399-0715-X 1973 E. 612 p. Edic.R. $ 29.00


OTROS LIBROS EN PREPARACIÓN / TO BE PUBLISHED SOON:

LOS NEGROS ESCLAVOS

LOS NEGROS CURROS

GLOSARIO DE AFRONEGRISMOS

MARTÍ Y LAS RAZAS

LAS CUATRO CULTURAS INDIAS DE CUBA

EL ENGAÑO DE LAS RAZAS

ENTRE CUBANOS

UN CATAURO DE CUBANISMOS
P.O. Box 450353 (Shenandoah Station)
Miami, FL 33245-0353. USA.
Tel. (305) 642-3234
e-mail: ediciones@kampung.net
Fax. (305) 642-7978
See their web page for recent imports from Cuba: http://www.ediciones.com
Electronic mail

acw_AT_afrocubaweb.com [replace _AT_ with @]
[AfroCubaWeb] [Site Map] [Music] [Arts] [Authors] [News] [Search this site]
Copyright © 1997 AfroCubaWeb, S.A.