"Judith Bettelheim has been doing fieldwork in the Caribbean consistently since 1975, focusing on Afro-Caribbean culture and festivals. Her doctoral work was on the Afro-Jamaican Jonkonnu festival. Since 1985 she has been doing fieldwork in Cuba. In preparation for the exhibition "Caribbean Festival Arts", Bettelheim visited six different Caribbean countries. She co-curated and co-authored Caribbean Festival Arts, (University of Washington Press: 1988) with John Nunley of the Saint Louis Art Museum. She received an American Council of Learned Societies fellowship for research on Carnaval in Santiago de Cuba in 1989-90 and has returned to Cuba many times, recently leading a tour to the Havana Biennial 2000. Cuban Festivals: A Century of Afro-Cuban Culture was published in 2001 (Ian Randle Press)." - from her page at San Francisco State University.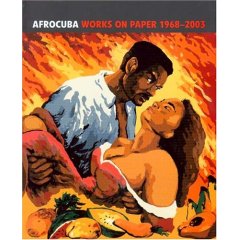 AFROCUBA: Works on Paper, 1968-2003

"Dr. Bettelheim has put together a gallery of art works by 25 noted younger, contemporary, Cuban artists. The closing section is on Belkis Ayon, who died in 1999. A representative work of each of the artists faces a one-page essay on him or her. Many of the pictured works are from the past year or two. The oldest are from the 1970s. It's an eye-opening catalog displaying the liveliness and imagination in Cuban art works on paper over the past 30 years. One sees that Cuban art has not been retarded by U. S. efforts to ostracize Cuban under the Castro regime; and that as far as its art goes, Cuba reflects the latest in modern and contemporary art with respect to content and style, and in some cases political and social perspective. The Afrocuban works on paper contain all of the irony, postmodern collage, and abstract and biological forms of art of any country, while at the same time reflect earthy African roots and the social tensions and artifices of Cuba. A professor of art history at San Francisco State U., Bettelheim's area of concentration is the African Diaspora." - from Amazon.com

The cover is from Elio Rodriguez, a Cuban artist with a tremendo sense of humor.


The following is a list of artists in this book, with links where we have them:
José Julián Aguilera
Joel Aguilera Tamayo
Raúl Alfaro Torres
Belkis Ayón
Diana Balboa
Choco (Eduardo Roca Salasar)
Juan Roberto Diago Durruthy
Nelson Domínguez Cedeño
Alexis Esquivel
Roberto Fabelo
Ramón Haití Eduardo
Jorge Knight Vera
Miguel Ángel Lobaina
Raúl Martínez
Manual Mendive
Ibrahim Miranda
José Omar
Marta María Pérez Bravo
Armando Posse
Rafael Queneditt Morales
Mauricio Reyes Aranda
Arnaldo Rodríquez Larrinága
Santiago Rodríguez Olazábal
Elio Rodríguez Valdes
Israel Tamayo Zamora
Rafael Zarza
AFROCUBA: Works on Paper, 1968-2003


Judith Bettelheim
with contributions by Alexis Esquivel and David Mateo
2005 San Francisco State University
ISBN 0-295-98476-7
University of Washington Press
"AfroCuba" focuses on the rich AfroCuban influence in the visual art of Cuba during the post-revolutionary period. It represents the first opportunity for U.S. audiences to appreciate nearly four decades of artistic production shaped by the influential forces of AfroCuban religion, social struggle, questions of cultural heritage, and personal and diplomatic relations with Africa. Representing the work of twenty-six artists residing in Havana and Santiago de Cuba, "AfroCuba" includes sixty prints and drawings masterfully executed in a variety of techniques, among them lithography, collagraph, woodcut, screen print, and ink and crayon drawing. The book includes essays by curator and art historian Judith Bettelheim, an expert on the African diaspora, with a foreword by Keith Morrison, an essay by Cuban artist and curator Alexis Esquivel, excerpts from David Mateo's Looking at Cuban Printmaking (Havana 2001), and a technical glossary by Sylvia Solochek Walters. Cuban artist and critic Tonel (Antonio Eligio Fernandez) served as curatorial consultant.
Click here for pricing & to order ==>

Cuban Festivals : A Century of Afro-Cuban Culture
Dr. Bettelheim is also editor of CUBAN FESTIVALS: A Century of Afro-Cuban Culture. This valuable book includes the first ever English language translation of Fernando Ortiz's "The Afro-Cuban Festival Day of the Kings," as well as an annotated glossary based on Ortiz's work by Dr. David Brown. Also, an introduction to Ortiz's work by Dr. Jean Stubbs, and two personal recollections of Havana Carnival by Pedro Perez Sarduy. Dr. Judith Bettelheim has written on Santiago de Cuba Carnival in the 1980s and compared it to Carnival during the "special period." She also has a chapter on the celebrations and history of Haitian-Cubans in Oriente Province. Cuban scholars José Millet and Rafael Brea contribute a glossary of popular festivals. The book includes 40 illustrations.
Cuban Festivals : A Century of Afro-Cuban Culture
Paperback
Click here for pricing & to order ==>

Cuban Festivals : An Illustrated Anthology (Garland Reference Library of the Humanities, Vol 1444)
Click here for pricing & to order ==>