Gloria Rolando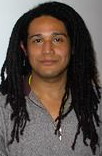 Alexis Esquivel



Amelia Pedroso
we remember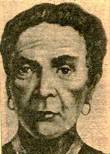 Mariana Grajales - Mother of Cuba and of Antonio Maceo
Jane Bunnett's film Spirit of Havana shown on Canadian TV, 11/8/01

Gloria Rolando's Raices de mi corazon premieres in Havana, receives good press on TV and radio, video crew thanked for breaking the silence on the 1912 Massacre, 2/11
Artist Alexis Esquivel, who organized the Queloides exhibit on race & identity in Cuba, is in residence in Boston. Artists Elio Rodriguez and Andres Montalvan in NY for visit, 3/01
Eleven artists exhibited works on racism at the Centro de Desarrollo de las Artes Visuales in Havana. New photos. See also "Ni musicos, ni deportistas", by the curator, Ariel Ribeaux Diago, for the thinking behind the show, 9/00
Hands Off Assata campaign debuts. See press release on Common, news from the Steering Committee, 4/00

Evaristo Estenoz founded the Independents of Color in 1908 and was murdered by Cuban troops in 1912. We have an autopsy photo with army personel. "Hay que adorarlo como a Martí!" -- Arsenio Rodriguez. 3/00
Egbe Ilu Bata drumming circle debuts in London, 2000
Matancero Olu Aña Felipe Garcia Villamil wins Year 2000 National Heritage Fellowship, releases autobiography.

US - Cuba Sister Cities Association: USCSCA launches web site, 3/00.

The Martí-Maceo Society of Tampa, the oldest AfroCuban organization in the US, founded in 1899, is celebrating its centennial, 1999-2000

Centro de Investigación y Desarrollo de la Música (CIDMUC) has a great atlas of Cuban music: Atlas de los Instrumentos Folklórico-Popular de Cuba
Lisa Brock's 1999 article goes to the heart of the issues around race and Cuba, important for anyone interested in solidarity work: Reflections on Cuba: History, Memory, Race, and Solidarity

The July '99 issue of Essence Magazine has "Why Black Cuba Is Suffering," by TransAfrica's Randall Robinson, which introduces the TransAfrica Report on Cuba detailing the impact of the US embargo on AfroCubans.
Excellent livre de Paris: La Religión à la Havane, bien ecrit avec beaucoups de charme
The publisher Ediciones Universales sent us their catalog with the classics from Lydia Cabrera and Fernando Ortiz as well as modern authors, 10/00

Robert F. Williams' book "Negroes with Guns" reprinted and new book out on Radio Free Dixie, which he ran from Havana in the 60's.
The grand dame of Cuban actresses, Elvira Cervera, has written an autobiography for which she is seeking a publisher.
Miscelanea II of studies dedicated to Fernando Ortiz (1881-1969): an online transcription, includes "On The Relations Between Blacks And Whites" (1943, English). 1998
EL VIAJE RITUAL, poem, 1998, by Tomás Gonzalez Pérez
Huellas yoruba y mayombera, Bohemia, 21/3/1993, de Reynaldo Peñalver: el africanista Rogelio Martinez Fure habla de su reencuentro con una de las raices de la cultura cubana en Nigeria. (PDF 5.6 MB)
Afropop Worldwide's Cuban Music and Popular Culture Seminar, 11/01
Rogelio Scull, founding member of Afrocuba de Matanzas, in Texas jail. Update: due to be released 10/2001, he was looking forward to teaching and performing. He'd appreciate hearing from folks as he still has not been released and does not know why. 11/27/01
Ife-Ile AfroCuban Festival in Miami, 9/28 - 10/6, 2001
Pedro Perez -Sarduy on the rap group Orisha: Marginalization and Representation in Afro-Cuban Hip-Hop, 8/01
The poet El Ambia and Soy Todo, "I am all that" - Pedro Perez Sarduy, 9/01

Nigerian Efiks and Cuban Abakuá re-unite in New York, 8/01

Cuba en una perspectiva caribeña, Eugenio Godfried, 8/01

Cuba travel petition, 8/01

Famed muralist Salvador Gonzalez in Philadelphia, film shown on 7/25/01
Cuban, Black and Gay: an Interview with Tomás Fernández Robaina, 4/01 Blacklightonline.com

Carol Steele's future plans for folkloric studies in Cuba, 3/01
Radio Havana's Eugene Godfried questions Fidel advisors' role on racial issues: Reflections On Race And The Status Of People Of African Descent In Revolutionary Cuba, 2/01
La Comisión Organizadora de la Letra del Año delivers the Sign of the Year - Letra del Año 2001. Another reading comes to us from Ile Tuntun.
Kwame Ture Work-Study Institute and Library announces Spring 2001 Tour AfroCubaWeb endorses Million Man March organizer Bob Brown as he launches drive around Kwame Toure Work Study Institute & Library and US Cuba Sister Cities.

Buena Vista Social Club: the Survival of Cuban Son - article by Eugene Godfried on Cuba's music industry, 11/00
Nice shots of covers for Rogelio Martínez Furé's Diwan: Poetas de Lenguas Africanas, a work on African poets since the 9th century. Published by Arte y Literatura, La Habana and UNESCO, 2000
The Centro de Antropología and the Centro de Investigación y Desarrollo de la Cultura Cubana release the "Atlas Etnográfico de Cuba" CD, 2000
Traditional singer and percussionist Amelia Pedroso passed on to the ancestors on 5/24/00, a victim of the genocidal blockade.

Gloria Rolando's assistant director, Tony Romero, directs his own film in Spain on Dominican immigrants.
The legendary Carlos Aldama is giving classes in San Francisco. Vocal Baobab, featured in Gloria Rolando's Eyes of the Rainbow, came to Atlanta for the Black Arts Festival, filled all their venues. 7/00

Reynaldo Peñalver, a journalist who played an important role in the movement of black social organizations to combat racial discrimination in pre-revolutionary Cuba, died November 29th, 1999.

Site on Florida's 1923 Rosewood Massacre, newsletter from a descendant of survivors, Liz Jenkins.
Caribbean American Children's Foundation in appeal for West Indians in Guantanamo and elsewhere in Oriente

Lisa Brock & Digna Castañeda's book, Between Race and Empire: African-Americans and Cubans before the Revolution, garners great reviews.
More recent books: Changing History: Afro-Cuban Cabildos and Societies of Color in the Nineteenth Century, by Phillip Howard, Insurgent Cuba: Race, Nation, And Revolution, 1868-1898, 352 pgs, 9/29/99, by NYU's Ada Ferrer, and Nationalizing Blackness by Temple's Robin