Andrés Alberto Aguiar Achi
Born in Havana, October 17th, 1941
Graduated, in 1960 of the School of Arts and Crafts in the University of Havana
Graduated as an Architect in the University of Havana, 1964

He studies Plastic arts from 1961 to 1965 in the University of San Alejandro, in Havana. There, he receives courses from prestigious professors in universal cultivation; such as: Loló Soldevilla, Ricardo Porro, Antonio Quintana, José Miguel Gonzalez, and Roberto Segre. He worked as an architect and design director from 1970-2000 in Cuba and the Republic of Mozambique. He also holds a title in an Abakwá potencia, he is the Isunékue of the Efí Kunakwa Nyuáo lodge in Matanzas.

He is currently an independent artist, and since 2004 he has his Atelier in Bremen, Germany.
His paintings are part of private collections in Cuba, Germany, Dominican Republic, USA and Spain.
My Art-
by Andrés Alberto Aguiar Achi
My art explores themes of Afro-Cuban religion from new angles, a concern inspired by the artistic approach of Wilfredo Lam, the most universal of Cuban painters.

My emphasis is on the religious systems that came from the southeast of Nigeria (Calabar Province) and its Cuban variant known as Abakuá. In the Americas, the people from Calabar were known in Cuban as the Carabalíes, who included Efiks, Ibibio, Ekoi and others. The Ibibio people are one group that I represent in my art with all their magic-religious complexities that are common to all Calabar ethnic groups.


I explore the myths and legends artistically in an attempt to transmit their universal values. Some of these legends are reinterpreted in Cuba. For example, that of the princess Sikan, one day approached the Oldan [Ndian] river to collect water, when a sacred fish entered her vase; the fish Tanze represents Abasi, the Supreme Being. According to some, the elders decide to sacrifice Sikan because a woman must not posses an Abakuá secret. This legend is represented in ceremonies through the use of a goat, that that stands for Sikan.

When I paint, I get sensations from all that I have observed and all that lies in my subconscious; from this point, the creative ideas emerge and become visible.

In my paintings, I approach religious themes through personal experiences, with a touch of poetry. I don't literally reflect the images of saints or deities, but instead their essences, the meanings of rituals, myths, legends, signs, and symbols, which I reflect through colors, shapes and movements.

Circles symbolize the world, family union, animals, plants and beliefs; lineal shapes are symbols of rivers; little circles give the idea of eyes, stones; little crosses give the idea of crossroads, power transmission, authority, subordination and deference.

Through my paintings I hope to express the essence of the mysteries living within us, the unknown found in everyday life, and the symbols passed on from one generation to the next.

Mi Pintura
por Andrés Alberto Aguiar Achi
Mi Pintura trata de recrear el tema de la Religiosidad Afrocubana, por un angulo quizás nunca antes abordado, con un tema muy poco frecuentado por los artistas cubanos, basada en un proceder visual que inicio Wilfredo Lam (el mas Universal de los pintores cubanos).



Cuando abordo el Tema del mundo de creencias, me interesa enfatizar el Sistema Religioso de las Etnia procedente del territorio del sudeste de Nigeria (provincia del Calabar), conocido en Cuba como Carabalíes.

Una de estas Etnias que trato desde un punto de vista plástico es la Etnia Ibibio, que asumo por supuesto con toda esa complejidad mágico-religiosa de esas etnias procedente del Calabar.

Interpretando el Mito-Leyenda desde un matiz artistico, tratando de darle un caracter mas humanizado a este sistema complejo de creencias, antiguas leyendas y viejos Mitos.

Algunas de estas leyendas y mitos transculturados a nuestra identidad y reintepretados en Cuba es por ejemplo la leyenda de Sikán, donde esta princesa, que se acerca al rio Oldán a recojer agua en una tinaja en ese mismo momento en la misma tinaja se le introduce el pez Tanzé, representacion de Abasí. Al ver Sikán a Abasí representado por el pez Tanzé deciden matarla, ya que por ser mujer no podia tener el secreto abakúa. Este hecho es la base de un mito, de una leyenda, de una creencia y la imagen de Sikán aparece trasmutada en el proceso de la ceremonia a través del chivo, donde se recontruye esa leyenda, con su sacrificio.

Aprovecho para recordar a una artista que lamentablemente no se encuentra ya entre nosostros la pintora cubana Belkis Ayón, que a través de sus obras toco parte de esa leyenda, citó a Yolanda Wood :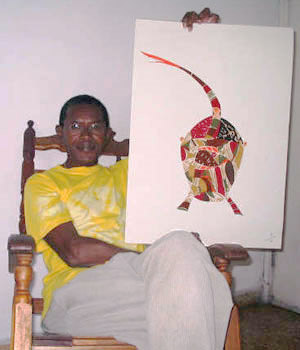 Belkis Ayón " La Resurreccíon de los cuerpos marcados" retomó los fundamentos desde el ámbito del ñaniguismo, que por su condición de secta secreta y masculina, le creaba un mundo de referencialidad mucho mas sobrio y austero, mucho mas enigmático.
Ahora ante la pregunta: Como yo asumo el hecho creativo?

Personalmente no creo que difiera mucho de como lo asumen otros pintores.

Me sensibilizo frente a algo que observo, y esas imágenes las relaciono con algo que esta en mi subconsciente, de esta simbiosis surgen ideas, las cuales veo materializadas en mi mente.

Es algo aparentemente muy sencillo. Inmediatamente trato de plasmar gráficamente esas ideas en un papel, esa Esencia. A partir de ahi hago un boceto y comienzo a pintar.

Ese es mi proceso creativo.

En cuanto a mis Pinturas, quiero abordar algunos aspectos del tema religioso, a traves de vivencias personales, con un toque lirico, de poesia, sin plasmar imágenes de santo, sino expresar las esencias de los Mitos, de los Ritos, de los Signos. Simbolos que reflejan la esencia de la Musica, a través de claves, de colores.

Trato de interpretar los hechos, los misterios. Buscando las vias de representar los detalles de mis ideas a través de simbolos. Con circulos que semejan al mundo, la union de la familia, la union de los pueblos, los animales, las plantas, las creencias.
Trazos de lineas, que semejan rios, pequeños circulos que dan ideas de ojos o de piedras, de pequeños cruces que semejan encrucijadas de caminos de territorio, de tramisión de poderes, de autoridad, de dominio, subordinacion o acatamiento.
En fin aspiro a expresar plásticamente la esencia de los misterios que viven en cada uno de nosostros, lo desconocido con simbolos cotidianos, trasmitido de generacion en generacion.

Andrés Alberto Aguiar Achi



Ireme Eribangando 2009