| | | |
| --- | --- | --- |
| | AfroCubaWeb | |
Zembla: The dubious friends of Donald Trump part 3:
The billion dollar fraud.

Trump and the Russian Mafiya

The Democratic Party has chosen to cater to its neocon wing in attacking Trump on the basis of his collusion with Putin, forgetting the many US collusions with right wing groups around the world to destabilize their countries. Russia is said to have spent $120,000 on Facebook ads while the US spent over $5 billion of publically announced funds on the Ukraine to produce a government full of real WWII nazis.

This has obscured Trump's long history with another part of Russia, the Mafiya, wealthy businessmen whose fortunes are anchored in organized crime. The relationship between these "Eurasian" (FBI speak) mafiya and Putin is usually held to be a mutually beneficial one in the US media, whereas at the beginning of his career, Putin locked up or killed a number of them. However, this Mafiya is largely Jewish, according to Robert Friedman in his book, Red Mafiya. And over time, Chabad Judaism, strong in Russia, played a vital role in merging the Mafiya into modern Russian society, at the top. See The Happy-Go-Lucky Jewish Group That Connects Trump and Putin 4/9/2017 Politico. See also:

Trump's business network reached alleged Russian mobsters 3/28/2017 USA Today: "To expand his real estate developments over the years, Donald Trump, his company and partners repeatedly turned to wealthy Russians and oligarchs from former Soviet republics — several allegedly connected to organized crime, according to a USA TODAY review of court cases, government and legal documents and an interview with a former federal prosecutor. The president and his companies have been linked to at least 10 wealthy former Soviet businessmen with alleged ties to criminal organizations or money laundering."

The Curious World of Donald Trump's Private Russian Connections 12/19/2016 The American Interest: "This suggests that whatever the nature of President-elect Donald Trump's relationship with President Putin, he has certainly managed to accumulate direct and indirect connections with a far-flung private Russian/FSU network of outright mobsters, oligarchs, fraudsters, and kleptocrats. Any one of these connections might have occurred at random. But the overall pattern is a veritable Star Wars bar scene of unsavory characters, with Donald Trump seated right in the middle. The analytical challenge is to map this network—a task that most journalists and law enforcement agencies, focused on individual cases, have failed to do."

Trump investors and suspicious deaths of British spy and Polish President, Wayne Madsen Report, 8/1/17

Mueller's newest prosecutor provides focus on Trump's syndicate ties, Wayne Madsen Report, 8/2/17

Trump business linked to major corruption scandals on 5 continents, Wayne Madsen Report, 8/4/17

Putin's attempts to shore up Trump have been real, although seemingly small scale. The Russians invest wisely and get a better bang for the buck than the Americans. The Alliance for Securing Democracy, "a bipartisan, transatlantic initiative housed at The German Marshall Fund of the United States (GMF)," maintains a site that tracks Russian origin twitter tags defending Trump: dashboard.securingdemocracy.org/

ZEMBLA - The dubious friends of Donald trump: King of Diamonds:
Israeli billionaire Lev Leviev and his blood diamonds

MSNBC's Rachel Maddow explains how we finally know why Mike Flynn lied 11/30/2018 Raw Story: "At this point, Maddow circled back to the Trump Tower Moscow project, which Cohen and others lied about—and which came to an abrupt halt on the very same day that it was revealed Russian hackers were seeking to influence the election. "The story about Russian government hackers being exposed for their role in trying to get into our elections—that was the reason they stopped working on the Trump Tower project that day. The secret project they'd been working on for many, many, many months including direct contact with the Kremlin and planned travel to Moscow stopped that day. Why? What was the connection between those two things?" Maddow asked."

Whitaker, Acting U.S. Attorney General, Was on Board of Firm That Threatened Duped Clients With 'Israeli Special Ops' 11/8/2018 Haaretz: "The FTC complaint stated that the company cultivated "a threatening atmosphere" by sending its victims emails describing a company "security team" of "all ex-Israeli Special Ops and trained in Krav Maga, one of the most deadly of the martial arts,'' the report said. Those emails reportedly threatened people by saying that their company had "the kind of guys who are trained to knockout first and ask questions later." "

Bush backed Kavanaugh to keep election thefts of 2000 and 2004 a secret 10/15/2018 Wayne Madsen Report: "Mr. Bush, knowing full well that as much criminality surrounded his 2004 re-election as did Trump's win in 2016, wanted, as much as Trump, to ensure that Kavanaugh was given a seat on the Supreme Court. It was a similar desire that saw Bush nominate Kavanaugh for a seat on the U.S. Court of Appeals for the District of Columbia in 2006, which is, perhaps, the second-most important federal court in the country. As an Associate Supreme Court Justice, Kavanaugh is in a prime position to ensure that serious criminal charges are never brought against Bush or Trump, or both. One of the reasons the Trump White House and Republicans on the Senate Judiciary Committee resisted in pursuing the release of thousands of documents involving Kavanaugh's time as both Bush Staff Secretary at the White House and deputy to Bush White House counsel Alberto Gonzales is the trove of information on Kavanaugh's work with Rove, Manafort, Davis, Connell, and Averbeck on the 2004 election. Thanks to Freedom of Information lawsuits filed by Senate Judiciary Committee Democrats and the Electronic Privacy Information Center (EPIC), we may see some sunlight shone on what Trump and the Republicans clearly do not want anyone to see."

Trump's declassification will aid Eurasian Mafia 9/20/2018 Intrepid Report: "In 2010, Ohr became the counsel for the Justice Department's Transnational organized crime and international affairs section. One of the chief targets of Ohr's counter-intelligence operations was Russian oligarch Oleg Deripaska, a key figure in Special Prosecutor Robert Mueller's case against Paul Manafort, Trump's 2016 campaign chairman. As one of the Justice Department's key Eurasian mafia crime busters, Ohr worked closely with McCabe, a former supervisory special agent with the Eurasian Organized Crime Task Force in New York. Ohr, McCabe, and Comey also relied on the assistance of Strzok, the lead agent in the FBI's pursuit of Russian intelligence agents, a program code named "OPERATION GHOST STORIES." Some of the agents unmasked by the FBI were deeply embedded in Eurasian mob syndicates in New York, including those dealing with the Trump Organization's activities."

A bombshell that awaits grand juries in probes of Trump Organization 8/30/2018 Wayne Madsen: "Chetrit was accused of assisting BTA Bank's former chairman, Mukhtar Ablyazov, and Almaty's former mayor, Victor Khrapunov, with laundering over $4 billion, including $300 million in city of Almaty funds. Ablyazov is the father-in-law of Khrapunov's son, Ilyas. $10 billion went missing from BTA Bank, the third largest bank in Kazakhstan. One of the matters of interest to prosecutors is whether any of the stolen BTA funds ended up being invested in Trump properties in Manhattan, Florida, Chicago, or Las Vegas, with the knowledge of Trump Organization officials, including Donald Trump and members of his family."

America Is Married to the Mob 8/26/2018 Alternet: "I've devoted a lot of mental effort over the last couple of years to making sense of the "Donald Trump era," suggesting that it inaugurated a new age of revolutionary chaos, or marked the next stage of what Jean Baudrillard called World War IV, the post-9/11 internal conflict within the Western world. I still believe those big-think questions have some salience, but in terms of the current specific situation in American politics, it might be a lot simpler than that. Maybe Trump is just a big old crook, and the lawmen are now hunting him in classic fashion, by following the money. It's worth noting that Robert Mueller and several members of his team have considerable experience in tracking and cracking both organized crime and white-collar crime (which are highly similar in structural terms, albeit with more broken bones and dead bodies attached to the former)."

'The Greatest Intelligence Operation of Our Time': Investigative Journalist Details How Trump Has Been Compromise by Russia for Years 8/15/2018 Alternet: "Unger said the illegal transactions had made Trump an asset of the Russian government and its president, Vladimir Putin — a former KGB operative — because he said there was no meaningful difference between the country's organized crime network and its intelligence agencies." [This is factually incorrect, the mobsters are largely Jewish and not supportive of Putin.]

Documentary filmmaker says Trump started taking Russian money after "series of bankruptcies" 8/3/2018 Salon: "Specifically, filmmaker Jack Bryan told the program that Trump didn't really start getting involved with members of the Russian mob until around 2002, when he claims they started "entering the Trump Organization." Bryan then claimed that Trump had to resort to taking Russian money after a "series of bankruptcies" at Trump properties throughout the 1990s that made it harder for him to raise capital from large American banks. The Russian mob saw this, Bryan said, and "made their move.""

Trump Collusion: How afraid should we be of Mohammed Bin Zayed of the UAE? 5/21/2018 Informed Comment: "The gathering at Trump Tower was arranged by George Nader, a Lebanese-American international fixer with ties to Israeli intelligence as well as to Erik Prince's Blackwater mercenary company. In the past decade, Nader emerged as an adviser to Mohammed Bin Zayed al-Nahyan, 57, of the UAE. Donald Trump, Jr., attended, as did Joel Zamel, head of an Israeli psy-ops firm called Psy-Group specializing in manipulating social media. Zamel appears to have been offered to Trump by the UAE and Nader, and the connection suggests that Mohammed Bin Zayed of the UAE has been deploying Israeli companies for various purposes for some time and offered to let Trump in on the deal. Zamel and Psy-Group are denying working for the Trump campaign according to the Times."

Trump Jr. and Other Aides Met With Gulf Emissary Offering Help to Win Election 5/19/2018 NYT: "After Mr. Trump was elected, Mr. Nader paid Mr. Zamel a large sum of money, described by one associate as up to $2 million. There are conflicting accounts of the reason for the payment, but among other things, a company linked to Mr. Zamel provided Mr. Nader with an elaborate presentation about the significance of social media campaigning to Mr. Trump's victory."

The Trickster & The Trump — The Politics Of America Seen Through The Lens Of Mythology 3/11/2018 Clean Tecnica: "That taken into account, the whirlwind here will probably land the country in quite a different place to the one in Central Europe circa the 1930s — rather than being sacrificed for reasons that you don't understand by a god who's motives are enthralling but never truly clear, while in the haze of racial/tribal mysticism, what Americans likely have in store is simply: "Bankruptcy!" of various kinds — moral, individual, ecological, religious — following directly from the con-artistry, money grubbing, and resource looting, that this country has always been fairly well known for (even if never spoken of in polite company)**. Destitution and then death in the gutter — "because you wouldn't be living on the street if you weren't lazy and didn't deserve it" — seems likely to follow."

Lawmakers question Trump ties to Panama project linked to laundering, trafficking 3/1/2018 Reuters: "He said that he only learned after the Trump Ocean Club project was almost complete that some of his partners and investors in the project were criminals, including some with what he described as connections to the "Russian mafia."

A federal court just unsealed Trump's 20-year-old dirty secrets 2/10/2018 Washington Press: "Trump's former senior advisor and original Russian connection, the mobster Felix Sater. Forbes Media LLC and reporter Richard Behar filed the successful request to reveal Felix Sater's criminal past. Sater's company, Bayrock, developed the Trump SoHo Hotel-Condominium in lower Manhattan and a tower in Fort Lauderdale, which both spawned fraud lawsuits, one of which went all the way to the Supreme Court to partially unseal his criminal past and mafia ties. Now, the 2nd Circuit Federal Court of Appeals has issued a ruling to publicly reveal the court dockets, briefings and records related to Sater's 1998 conviction for running a massive pump-and-dump penny stock scam."

Dutch agencies provide crucial intel about Russia's interference in US-elections 1/25/2018 de Volkskrant: "That's how the AIVD becomes witness to the Russian hackers harassing and penetrating the leaders of the Democratic Party, transferring thousands of emails and documents. It won't be the last time they alert their American counterparts. And yet, it will be months before the United States realize what this warning means: that with these hacks the Russians have interfered with the American elections. And the AIVD hackers have seen it happening before their very eyes."

Worst Thing Steve Bannon Said About Trump? 'Money Laundering' 1/5/2018 Alternet: "You realize where this is going. This is all about money laundering. Mueller chose [senior prosecutor Andrew] Weissmann first and he is a money-laundering guy. Their path to f***ing Trump goes right through Paul Manafort, Don Jr., and Jared Kushner. . . . It's as plain as a hair on your face. It goes through Deutsche Bank and all the Kushner shit. The Kushner shit is greasy. They're going to go right through that. They're going to roll those . . . guys up and say play me or trade me."

Bannon's "Money Laundering" Comment Signals to Trump That His Presidency Is in Danger 1/4/2018 Truth Out: "The real source of Trump's ire is likely something that hits him personally, which is truly the only thing he cares about. Bannon was quoted saying something else that plays into the current state of the Mueller investigation in a way that puts Trump in serious danger: You realize where this is going. This is all about money laundering."

The Republicans' Fake Investigations 1/2/2018 NYT: By Glenn R. Simpson and Peter Fritsch, Fusion GPS - "We suggested investigators look into the bank records of Deutsche Bank and others that were funding Mr. Trump's businesses. Congress appears uninterested in that tip: Reportedly, ours are the only bank records the House Intelligence Committee has subpoenaed. We told Congress that from Manhattan to Sunny Isles Beach, Fla., and from Toronto to Panama, we found widespread evidence that Mr. Trump and his organization had worked with a wide array of dubious Russians in arrangements that often raised questions about money laundering. Likewise, those deals don't seem to interest Congress."

The real reason Trump allies are attacking Mueller 12/19/2017 Politico: "Rather, these people said, the goal is to sow public doubt about Mueller and his prosecutors in advance of upcoming criminal trials — and to give the president political cover if he wants to start issuing pardons to any current or former aides swept up in the Russia scandal. "It is definitely a smarter strategy than outright firing of Mueller, because that is likely to create a firestorm," said Elizabeth de la Vega, a former assistant U.S. attorney from the Northern District of California. "It is also entirely consistent with Trump's modus operandi because he is surprisingly non-confrontational, preferring to be manipulative and, frankly, sneaky.""

The Odd Chabad Connection Between Putin and Trump 11/27/2017 Washington Monthly: "Starting in 1999, [Vladimir] Putin enlisted two of his closest confidants, the oligarchs Lev Leviev and Roman Abramovich, who would go on to become Chabad's biggest patrons worldwide, to create the Federation of Jewish Communities of Russia under the leadership of Chabad rabbi Berel Lazar, who would come to be known as "Putin's rabbi.""

The Trump Family Made Millions from Drug Cartels and the Russian Mafia in Panama City: Report 11/17/2017 Alternet: "A new report shows that for 10 years, a Trump property in Panama City collected millions of dollars from the Russian mafia and Colombian drug cartels. An investigation from Global Witness, an international NGO that probes corruption and money laundering, reveals how the Trump Ocean Club International Hotel and Tower turned a blind eye to crime lords looking for a safe haven to stash their blood money."

FBI files on Trump's father focus on mob ties 11/7/2017 WMR: "Trump's fear and loathing of the FBI may have something to do with what the bureau has amassed in its files over the years. The FBI searches of its arcane file system may have yielded little in the way of files on the Trumps, but the files on the connections of the Trump family to those investigated by the FBI for mob activities could fill an Olympic-size swimming pool."

Manafort and the dominoes: Here's why Donald Trump is losing sleep 10/31/2017 Salon: "Back in May I wrote about Trump's long history of suspicious financial dealing, specifically money laundering, which is extremely common in real estate and gambling. In fact, Trump's Taj Mahal casino in Atlantic City was known as a particular haunt of Russian mobsters and was cited repeatedly for money laundering. Just four months before Trump announced his presidential campaign, Fortune magazine reported that the Trump Taj Mahal had settled charges that it had violated money laundering laws by agreeing to a $10 million civil penalty for violations going back to 2003. The list of possible dirty dealings in Trump's foreign businesses and real estate holdings (including an unrelated FBI investigation into a Russian money laundering ring in Trump Tower) is a long one. By indicting Manafort on charges that fall outside the election collusion investigation, Mueller has put Donald Trump on notice. He's going there."

America's Mobster President—New Evidence in Dutch Public TV Documentary of Trump's International Money Laundering Circles 9/27/2017 Alternet: "President Trump's Manhattan properties and business partners, including former Soviet Union-connected oligarchs, were involved in a larger international money-laundering scheme involving upward of $1 billion, according to Dutch filmmakers whose third installment in an investigative series aired on public TV in Holland Wednesday."

Trump and Manafort get big reminder that pardon power does not extend to state crimes 8/31/2017 WaPo: "In the event Manafort or anyone else is charged under New York law, or threatened with indictment, there will be nothing Trump can do about it. His "power to grant reprieves and pardons" only covers "offenses against the United States," according to Article II, Section 2 of the Constitution."

How Donald Trump Got Involved in a Global Fraud 8/17/2017 New Yorker: "Adam Davidson follows the money trail in one of President Donald Trump's past deals all the way to Vladimir Putin."

Trump's Longtime Business Partner Told Family He and POTUS Are 'Going to Prison': Report 8/17/2017 Alternet: "Sater, who has a long history of legal troubles and cooperating with law enforcement, was one of the major players responsible to for selling Trump's condos to the Russians. And according to Wood's sources, Sater may have already flipped and given prosecutors the evidence they need to make a case against Trump."

5 Major Takeaways from the FBI's Raid on Paul Manafort's Home 8/9/2017 Alternet: "It's not clear what crime FBI agents expected to uncover at Manafort's home, but a New York Times report on the raid offers a clue. The search warrant seeks tax and foreign banking records — which suggests that investigators may look to charge Manafort under the federal Bank Secrecy Act requiring Americans to report their foreign bank accounts."

EXCLUSIVE: '8th Man' in mystery purchase of U.S. Mining Co. 7/21/2017 Mad Cow News: "At the now-famous confab in Trump Towers, Kaveladze was representing Russian billionaire Aras Agalarov, who was paid $20 million to bring Trump's Miss Universe Pageant to his family's Moscow concert hall in 2013. Reports stated Kaveladze began working for Agalarov in the early 1990s. Federal investigators were said to believe he began laundering money shortly thereafter."

Chomsky: Trump is a Distraction, Used by the Deep State to 'Systematically Destroy' America 7/20/2017 Free Thought: "Essentially, Chomsky believes that the contrived pseudo-scandal that is Russiagate only serves as a distraction from the actual scandalous happenings that are taking place on a daily basis in Washington, D.C., and only serve to embolden the "rich and powerful.""

Russian Mob Money Helped Build Donald Trump Business Empire 7/17/2017 MSNBC: "A stunning report in The New Republic alleges that, whether Donald Trump knew it or not, for decades he made a large portion of his personal fortune from Russian mobsters & oligarchs."

Donald Trump's Ties to Russian Gangsters Stretch Back More Than 30 Years 7/14/2017 AlterNet: "But asking if Trump has investments in Russia was never the right question. The question to ask was whether any Russians had investments in Donald Trump."

Trump's Russian Laundromat 7/13/2017 New Republic: "How to use Trump Tower and other luxury high-rises to clean dirty money, run an international crime syndicate, and propel a failed real estate developer into the White House."

Five times law enforcers could have arrested Donald Trump but didn't 6/22/2017 City Paper

Rachel Maddow Previews Bombshell Report Linking Trump to Putin-Connected Money Pouring into His Real Estate Deals 6/21/2017 Alternet: "Maddow revealed that the financial packages created by Sater show a direct link to several Trump real estate projects and an investment firm close to Putin. "We're left with the question — Why'd that happen?" Maddow asked in summation. "Why was money connected to Putin pouring into Trump projects? Why did they do that?""

Did Trump Revive Failed Cold War Cuba Policy to Buy Rubio's Loyalty? 6/19/2017 Common Dreams: "What does Trump potentially get out of this deal? Rubio defended Trump from questions raised by former FBI Director James Comey in the Senate Intelligence Committee hearings."

The Truth About Trump's Golden Boy 6/17/2017 Truth Out: "Federal and congressional investigators announced that they were looking into Kushner's meeting in mid-December with Sergey Gorkov, a Russian banker whose financial institution has ties to Russian intelligence under Vladimir Putin and is under sanction from the US As the investigation into the Trump campaign's suspected dealings with Russia continues, the Democrats have kept a narrow focus on these allegations, to the exclusion of Trump's other crimes. But as inadequate as the Democrats' "opposition" has been, it's also easy to see why Trump and Co. could be suspected of corruption."

How a Crew of Hardliners Hijacked Donald Trump's Cuba Policy 6/16/2017 Mother Jones: "Rubio had at least one ally inside the bureaucracy: Mauricio Claver-Carone, who is arguably the most vocal pro-embargo activist and lobbyist in Washington, was working on the inside. A onetime Rubio adviser, Claver-Carone has spent most of his adult life blasting the Castro regime for its human rights abuses and fighting any effort to open diplomatic relations between the United States and Cuba. As the head of the US-Cuba Democracy Political Action Committee, he lobbied to help defeat several measures in 2005 to permit more humanitarian travel to Cuba and allow toothpaste and soap to be included in gift packages sent to the country."

Trump's new Cuba policy is extortion on behalf of the Trump Organization 6/15/2017 Intrepid Report: "Trump is re-imposing sanctions on travel to Cuba to further the business interests of his Trump Organization, which wants a piece of the hotel and real estate action in Cuba. By maintaining the economic blockade of Cuba, which includes levying harsh fines on foreign companies doing business in Cuba, Trump is using the White House to advance his own development plans for the island."

Special counsel is investigating Jared Kushner's business dealings 6/15/2017 WaPo: "The White House has said that the subsequent meeting with the banker was a pre-inauguration diplomatic encounter, unrelated to business matters. The Russian bank, Vnesheconombank, which has been the subject of U.S. sanctions following Russia's annexation of Crimea, has said the session was held for business reasons because of Kushner's role as head of his family's real estate company."

With shift on Cuba, Trump could undercut his company's hotel-industry rivals 6/15/2017 WaPo: "But as the owner of a real estate company with a big stake in hotels and resorts, Trump brings an added element to an issue that is unique to his presidency — the ability, through his official actions, to undermine a growth area for his industry rivals who have raced in recent years to establish a foothold in a lucrative new market."

Why Is Robert Mueller Probing Jared Kushner's Finances? 6/15/2017 Atlantic: "Flynn, Kushner, and Manafort were already under varying levels of scrutiny by federal investigators. Within days of his appointment as special counsel, Mueller assumed control of a federal grand-jury probe in eastern Virginia looking into Flynn's lobbying relationships on behalf of Turkish officials as well as a long-running Justice Department investigation into Manafort's business relationships with Ukrainian political parties aligned with Moscow. His command of both inquiries could give Mueller powerful leverage in the broader Russia investigation if either probe gathers enough evidence to warrant criminal charges."

Donald Trump Isn't Just Being Investigated for Collusion with Russia 6/15/2017 Alternet: "The Times report corroborates a separate bombshell Washington Post article, published Wednesday, that said in addition to possible obstruction, investigators are also "looking for any evidence of possible financial crimes among Trump associates."

What does Robert Mueller's team tell us about the Russia investigation? 6/15/2017 The Guardian: "One of the more recent recruits is reported to be Lisa Page, a justice department trial attorney with a substantial record of investigating Russian and former Soviet organised crime and in particular its reputed godfather, Semion Mogilevich."

Trump's Russia problems got a whole lot worse in the past 24 hours 6/15/2017 Vox: "From the beginning, the entire saga has centered on possible connections between members of the Trump campaign and Russians. The New York Times reported Wednesday night that investigators are looking into a specific type of connection: money laundering. If they find evidence that members of the Trump team received money from Moscow and then tried to hide it, the implications would be hugely significant. It would show there were money transfers worth hiding — and you don't do that if what you're doing is lawful."

Special counsel is investigating Trump for possible obstruction of justice, officials say 6/14/2017 WaPo: "The move by special counsel Robert S. Mueller III to investigate Trump's conduct marks a major turning point in the nearly year-old FBI investigation, which until recently focused on Russian meddling during the presidential campaign and on whether there was any coordination between the Trump campaign and the Kremlin. Investigators have also been looking for any evidence of possible financial crimes among Trump associates, officials said."

Trump Duped by RU/US Mafia at Trump SoHo/Florida 5/14/2017 Cryptome: "Plaintiffs, members in and creditors of Bayrock limited liability companies, direct ly and derivatively seek relief from Arif, Satter, Schwarz, for violations of substantive and conspiracy provisions of the Racketeer Influenced and Corrupt Organizations Act."

Trump's Been Talking About His Business Interests in Russia for 30 Years 5/10/2017 The Atlantic: "Well, we don't rely on American banks," Eric allegedly responded. "We have all the funding we need out of Russia." (Eric Trump denied that this happened.)"

The Happy-Go-Lucky Jewish Group That Connects Trump and Putin 4/9/2017 Politico: "This third way may explain the affinity Trump has found with a number of Chabad enthusiasts—Jews who shun liberal reform Judaism in favor of traditionalism but are not strictly devout. "It's not a surprise that Trump-minded people are involved with Chabad," said Torossian. "Chabad is a place that tough, strong Jews feel comfortable. Chabad is a nonjudgmental place where people that are not traditional and not by-the-book feel comfortable.""

The Happy-Go-Lucky Jewish Group That Connects Trump and Putin 4/9/2017 Politico

Trump's business network reached alleged Russian mobsters 3/28/2017 USA Today: "To expand his real estate developments over the years, Donald Trump, his company and partners repeatedly turned to wealthy Russians and oligarchs from former Soviet republics — several allegedly connected to organized crime, according to a USA TODAY review of court cases, government and legal documents and an interview with a former federal prosecutor. The president and his companies have been linked to at least 10 wealthy former Soviet businessmen with alleged ties to criminal organizations or money laundering."

Russian mafia figure Felix Sater now appears to be blackmailing Donald Trump on Putin's behalf 2/19/2017 Palmer Report: "In a bizarre new twist to the deepening Trump-Russia scandal, it appears Vladimir Putin is now using a Russian mafia figure – who once stabbed a man in the face – to blackmail Donald Trump into ousting the president of the Ukraine so his replacement can surrender Crimea to Russia. That's the upshot of a new revelation which also involves Trump's previously Russia-implicated implicated attorney Michael Cohen, and naturally, the recently exposed Russian operative Michael Flynn."

The Curious World of Donald Trump's Private Russian Connections 12/19/2016 The American Interest: "This suggests that whatever the nature of President-elect Donald Trump's relationship with President Putin, he has certainly managed to accumulate direct and indirect connections with a far-flung private Russian/FSU network of outright mobsters, oligarchs, fraudsters, and kleptocrats. Any one of these connections might have occurred at random. But the overall pattern is a veritable Star Wars bar scene of unsavory characters, with Donald Trump seated right in the middle. The analytical challenge is to map this network—a task that most journalists and law enforcement agencies, focused on individual cases, have failed to do."

A real estate empire built on corruption: The trouble with Trump's foreign-cash connection 11/2/2016 NY Daily News: "How did it come about that Trump Organization projects came to be financed with dirty money originating with international financial criminals from Russian, Ukraine, Kazakhstan, the former Soviet Republic of Georgia and other Eastern European and Central Asian sources? The answer is simple: It had no choice, if it wanted to survive. After four business bankruptcies, nearly all the legitimate U.S. banks realized that any further loans to Trump would be reckless. The Trump business empire was on the verge of collapse. Salvation was found in Russian money of questionable origin."

How White Nationalists Learned To Love Donald Trump 10/25/2016 Politico: "Perhaps surprisingly, it wasn't Trump's initial campaign announcement about Mexican "rapists" that cemented his support: It was his steady, consistent push for an anti-immigration platform, one of the central policy pillars of the nationalist right. And as white-nationalists began to rally around Trump as its closest political ally in a generation, they began to detect what members called "wink-wink-wink" communications from the candidate. There was his retweet of bogus murder statistics that exaggerated black crime; two separate retweets of a racist Twitter feed called @WhiteGenocideTM; and the interview that sealed the deal: the moment on CNN when—just days before the Louisiana primary—Trump dodged the question of whether to repudiate the endorsement of former Ku Klux Klan leader David Duke, which one commenter on the white nationalist site Stormfront called "the best political thing I have seen in my life.""

Former Federal Prosecutor Says Trump Blocked Mafia Investigation 10/19/2016 WNYC: ""Even though Donald Trump lied to law enforcement about his relationship and lying to federal agents is a federal crime, he basically got a pass at that point," he said."

ARE CHABAD CENTERS USED AS MOSSAD SAFE HOUSES ? 4/6/2014 Wide Awake Gentile: "This candid question was presented to Meir Dagan, the former director of the national intelligence agency of Israel, during a private meeting in Jerusalem, on Tuesday. His reply:"You will be surprised to know how many haredim serve in the Mossad." Dagan added that aside from the employment of chassidim in a professional capacity, the Chabad organization provides spiritual assistance at Mossad's Central Command in Tel Aviv."

Lubavitchers in the Israeli Mossad? 2/11/2014 COL Live: "Chabad gets a Yashar Koach (kudos) because thanks to them the synagogue at the Mossad command was renovated and we now have a luxurious shul."

President Vladimir Putin declared war on russian mafia. 6/1/2013 European Security News: "According to the Ministry of Interior in Russia, the mobsters meeting should decide the issue of the 'coronation' of three kingpins from Belarus to the mobster status of 'vor v zakonye'(thief in law, who obeys the thieves code)."


December 22-25, 2017 -- Trump's Puerto Rico psychopathy, Wayne Madsen Report
When it comes to the U.S. Commonwealth of Puerto Rico, a territory of the United States where the residents are all U.S. citizens, Donald Trump maintains an extreme psychopathy. Trump's volatile and manipulative behavior toward Puerto Rico and its people has been on full display. This includes Trump's misogynistic post-Hurricane Maria treatment of the mayor of San Juan to his colonialist attitude toward Puerto Rican manufacturers now faced with an effective 12.5 percent tariff on goods "exported" to the U.S. mainland.

Trump is ambivalent, at best, toward the plight of Puerto Ricans faced with no electricity until May 2018 and lives of Puerto Ricans left homeless by Maria and who now exist day-to-day in Florida motels with questions about how long the Federal Emergency Management Agency (FEMA) will continue to pick up the tab.

Puerto Rico's Governor, Ricardo Rosselló, has discovered that it was fruitless for him to act as one of Trump's stage props during the president's belated visit to the island after Hurricane Maria. Puerto Ricans will always remember that Rosselló played the Charlie McCarthy puppet to Trump's "comedy act" of tossing paper towels to Puerto Ricans at a food warehouse in San Juan. Rosselló, burned by Trump in the Republican tax bill and the award of an electricity restoration contract to a three-person company headquartered in Interior Secretary Ryan Zinke's hometown of Whitefish, Montana -- the capital of America's Fourth Reich of neo-Nazis and white supremacists -- is now organizing Puerto Ricans on the mainland to vote against the GOP in next November's election.

It is true that Trump does not care for people of color, whether they are African-American, Hispanic, Native Americans, or even American citizens in Puerto Rico who Trump sees as "foreigners." But there is a deeper psychopathy with Trump when it comes to Puerto Rico. This manic reaction to Puerto Rico stems from Trump's involvement, with New York billionaire Jeffrey Epstein, with a child sex trafficking operation in Manhattan in 1993.

Trump admitted to New York magazine in October 2002 that by 1994, he had known Epstein for seven years. Trump told the magazine in a telephone interview: "I've known Jeff for fifteen years. Terrific guy . . . He's a lot of fun to be with. It is even said that he likes beautiful women as much as I do, and many of them are on the younger side. No doubt about it -- Jeffrey enjoys his social life." Epstein was criminally charged in 2005 after a Palm Beach mother claimed that Epstein paid $300 to her 14-year old daughter for sex. Epstein pleaded guilty of soliciting sex from a 14-year old girl and received a light prison sentence and a non-prosecution agreement from Alex Acosta, the U.S. Attorney for southern Florida who was rewarded by Trump by being named his Secretary of Labor.




In a lawsuit filed by Jane Doe, later identified as Katie Johnson, it was charged that Trump knew that 13-year old Johnson was that age when he allegedly assaulted and raped her in 1993. Johnson said it was Trump who initiated contact with her at four different parties at Epstein's residence in Manhattan. The suit states that at their fourth encounter at an Epstein party: "Defendant Trump tied Plaintiff to a bed, exposed himself to Plaintiff, and then proceeded to forcibly rape Plaintiff. During the course of this savage sexual attack, Plaintiff loudly pleaded with Defendant Trump to stop but with no effect. Defendant Trump responded to Plaintiff's pleas by violently striking Plaintiff in the face with his open hand and screaming that he would do whatever he wanted."

Johnson claimed that at two parties, Epstein raped her, once, after she had been raped by Trump. During the second encounter with Epstein, Johnson stated that Epstein raped her "anally and vaginally despite her loud pleas to stop." She stated that Epstein attempted to strike her on the head "with his closed fists," while he angrily screamed at that he [Epstein], rather than Trump, should have been the one who took the girl's virginity.

According to the suit, Trump told Johnson that if she ever revealed the sexual encounter with Trump, the girl and her family would be "physically harmed if not killed." Johnson also stated that Epstein periodically reiterated to her Trump's earlier threat that if she were to "reveal any of the details of his sexual and physical abuse of her or else," she and her family would be "seriously physically harmed, if not killed."

After filing her first complaint against Epstein and Trump in California on April 26, 2016, Johnson said she began receiving threatening phone calls on her cell phone from blocked numbers.

On July 23, 2016, "Joan Doe," a classmate of Johnson during the 1994-1995 school year, signed an affidavit avowing that Johnson told her during the summer of 1994 about the sexual assaults by Epstein and Trump.

Tiffany Doe signed an affidavit in support of Johnson's suit on June 18, 2016. Tiffany Doe stated she was hired in 1990 by Epstein, when she was 22, to "provide entertainment" for his various "guests." In 1991, Tiffany Doe was hired by Epstein as a "party planner" to, among other duties, entice "attractive adolescent women" to attend Epstein's parties. Tiffany Doe stated she personally witnessed Trump's sexual assault and rape of Johnson during four encounters.

Johnson also stated in the suit that Trump told her that she "shouldn't ever say anything if she didn't want to disappear like Maria, a 12-year-old female that was forced to be involved in the third incident" with Trump. Johnson said she had not seen Maria after the third sexual encounter with Trump. Tiffany Doe said she witnessed Johnson and 12-year old Maria perform oral sex on Trump.

WMR has succeeded in identifying "Maria," who is still alive. Although our investigation is still in progress, we can report that Trump's psychopathy involving Puerto Rico likely revolves around the fact that "Maria" hails from Ponce, Puerto Rico. A psychotic like Trump obviously was mentally triggered when Puerto Rico was struck by Hurricane Maria, a reminder that a 12-year old girl who he raped and knew as Maria, someone who is now 37, has in her possession the details that could very well bring down Trump and his administration. Trump has good reason to fear Puerto Rico, a storm and a woman named "Maria," and a history of sexual assaults, not only of adults, but of children.

Like the young girl Cosette in Victor Hugo's Les Miserables, "Maria," which is not her actual name, could be the most important Puerto Rican in the history of the United States, an individual born in abject poverty who is in a position to help oust a despotic American president.


ZEMBLA - The dubious friends of Donald Trump: the Russians
August 4-6, 2017 -- Trump business linked to major corruption scandals on 5 continents, Wayne Madsen Report
Justice Department Special counsel Robert Mueller has impaneled a grand jury in Washington, DC that could be looking into Donald Trump's complicated but suspicious financing of his businesses, as well as his presidential campaign. The U.S. Senate has recognized the gravity of the grand jury probe of Trump and his campaign and White House advisers by maintaining the body in "pro forma" session throughout the August recess. The move prevents Trump from firing Attorney General Jeff Sessions and replacing him with a recess appointee who could fire Mueller.

WMR has identified a number of corruption cases in the United States and abroad in which money launderers were identified as purchasing Trump real estate in an attempt to launder their ill-gotten gains. One such case was the 2009 U.S. convictions of Peter Kiritchenko and former Ukrainian prime minister Pavlo Lazarenko for laundering hundreds of millions of dollars in the United States, including through purchases of Trump condominiums in Sunny Isles Beach, Florida. Because the Trump Organization is a privately-held firm, there is no incentive for corporate "due diligence" applied by many publicly-traded firms in terms of audits and Securities and Exchange Commission oversight. The Trump Organization appears to be as corrupt in allowing the laundering of dirty money as individuals like Kiritchenko and Lazarenko, who have hidden away "black money" in Trump real estate.

Others who have stashed money in Trump properties, including condos in the Trump Tower in Manhattan, have been involved in illegal gambling activities. These include Anatoly Golubchik and Michael Sall, who were involved in high-stakes poker involving the notorious Trincher-Taiwanchik criminal syndicate. Some of the illegal poker games reportedly occurred in Plaza Hotel and the Trump Tower on Fifth Avenue in Manhattan. When, during the 2016 presidential campaign, Trump complained that the FBI had his building wiretapped, it was primarily because of illegal poker games and related organized crime activity occurring in the Trump building. Trump argued that his and his family's privacy was violated while ignoring the fact that the Trump Tower welcomed as condo owners organized crime elements under continual surveillance by the FBI.

The FBI discovered that many illegal bettors in the 5th Avenue poker games lost their companies to pay off their gambling debts to the Trincher-Taiwanchik syndicate. One man, Peter Skyllas, lost his firm, Titan Plumbing, to cover a $2 million gambling debt. Another indebted gambler, referred to as "NYD Dave," tried to cover his debts by turning over 10 percent of his fashion company, worth $1.2 million, to the syndicate. Among the details being looked at by federal investigators and those working for New York state Attorney General Eric Schneiderman and Manhattan District Attorney Cyrus Vance, Jr., is whether the Trump Organization benefited from illegal gains by the Trincher-Taiwanchik Organization, including the acquisition by the criminals of plumbing and fashion companies' assets. Trump businesses include a residential real estate maintenance company and several fashion entities, including those owned by Donald Trump and First Daughter Ivanka Trump.



Trump Sunny Isles Beach, Florida is rife with dirty cash from abroad

Other illegal foreign cash that was very likely involved in the purchase of Trump properties, including Trump SoHo in Manhattan and the Trump condo in Las Vegas, originated in Kazakhstan, Iceland, Cyprus, Venezuela, Colombia, Kyrgyzstan, Indonesia, Mexico, Panama, Uzbekistan, Israel, Seychelles, Russia, Georgia, Turkey, China, and Azerbaijan. Trump condo buyers include a Venezuelan oil executive and a Mexican bank swindler. One of the banks that is alleged to have helped launder funds into the Trump Organization is the Baltic International Bank, which is headquartered in Riga, Latvia and has branches in Moscow, Kiev, and London. The bank has been accused of laundering dirty money from a Mexican drug cartel and embezzled state funds from Kyrgyzstan. Donald Trump, Jr. spoke at a Baltic International Bank conference in 2012.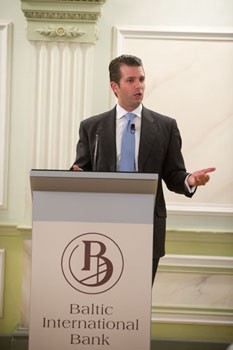 Donald Trump, Jr. speaking at a Baltic International Bank conference in 2012. Special Counsel Robert Mueller is investigating Trump, Jr.'s links to Russian entities. President Trump dictated from Air Force One his son's official statement concerning a June 16, 2016 meeting at Trump Tower between Trump, Jr. and various Russians connected to syndicates. President Trump told his son to report that the meeting concerned "Russian adoptions" by American citizens.

Mueller and his investigative team have crossed Trump's "Rubicon," a red line drawn by Trump that forbids Mueller from looking into Trump's finances and those of his various businesses. Trump's syndicate activities are his Achilles Heel. Richard Nixon truthfully said he was "not a crook" during the Watergate scandal. It is a fact that Nixon did not benefit financially from the scandal that doomed his presidency. Trump, on the other hand, is a crook, a fact that may soon be demonstrated by Mueller in potential indictments of Trump and his family members for money laundering, emoluments clause violations, and structured financing to evade taxes.
August 2-3, 2017 -- Mueller's newest prosecutor provides focus on Trump's syndicate ties, Wayne Madsen Report
Special Counsel Robert Mueller has appointed as a 16th investigator on his team a former federal prosecutor in Brooklyn who helped prosecute a number of gangsters who also invested in properties owned by Donald Trump. Greg Andres served as the head of the criminal division of the US Attorney's Office in Brooklyn and is known as an expert on organized crime syndicates. Mueller's appointment is a further indication that Mueller's investigation is focusing not on national security issues involving Russia but Trump's long association with money laundering operations involving financial investments in his properties.

One problematic Trump-marqueed property, the Trump International Hotel and Condominium in Panama, may have laundered money from the Medellin drug cartel through both its development funding and purchases of its condominiums. Former Panamanian President Ricardo Martinelli, a Trump friend, is currently in jail in Miami awaiting extradition to Panama to face criminal proceedings for corruption. The Trump administration is reticent to extradite Martinelli in the event he starts to "sing" about the Trump Panama complex to prosecutors.

Andres is married to U.S. Judge for the Southern District of New York Ronnie Abrams. Last year, Abrams ordered Trump and his billionaire convicted underage sex predator Jeffrey Epstein to appear before her court in December 2016 in a civil suit brought by Katie Johnson, who alleges that Trump and Epstein sexually assaulted her in 1994 when she was a 13-year old teen model. Johnson dropped the suit after she said she and her family were physically threatened. Recognizing the conflict-of interest in being married to Andres, Abrams recused herself from two emoluments lawsuits brought against Trump by Citizens for Responsibility and Ethics (CREW) and White Plains attorney William Weinstein.


August 1-2, 2017 -- Update 1x. Trump investors and suspicious deaths of British spy and Polish President, Wayne Madsen Report
Two investors in Donald Trump real estate properties, Soviet Jewish emigre and Brooklyn conman David Bogatin and Kazakhstan Trio member Alexander Mashkevich, a Kazakh-Israeli national and notorious oligarch, figure in two suspicious deaths.

Bogatin, a naturalized U.S. citizen who founded the corruption-ridden First Commercial Bank in Lublin, Poland in 1990, invested around $5 million in five condominiums in the Trump Tower in Manhattan. Lech Kaczynski, who was the chief of Poland's Supreme Audit Office, Najwyższa Izba Kontroli, or NIK, investigated all of Bogatin finances and interviewed him personally before Bogatin was extradited to the United States and convicted of fraud and tax evasion. Kaczynski, who, as Poland's chief auditor, knew where Russian oligarchs had cached their ill-gotten gains, was later elected Poland's fourth president. In April 2010, Kaczynski, his wife, and 95 of Poland's top government and military officials died when their delegation's plane crashed while approaching Smolensk airbase in Russia. They were flying to Russia to commemorate the Katyn massacre of Polish military officers during World War II. Had Kaczynski lived, he would have had intimate knowledge of the investments that Bogatin and other members of the largely Jewish "Eurasian mafia," as it is known by the FBI, made in Trump's worldwide properties.

Mashkevich, along with his billionaire business partners Patokh Chodiev and Alijan Ibragimov, were the subjects of a British police investigation of the bizarre death of British Government Communications Headquarters (GCHQ) and Secret Intelligence Service (MI6) agent Gareth Williams. The decaying body of Williams was found stuffed into a gym bag in his apartment in Central London in August 2010, three months after the crash of Kaczynski's aircraft. Williams, an encryption expert, was known to have a relationship with Furkat Ibragimov, the 25-year old son of Alijan Ibragimov. British police investigated Williams's links with Furkat. There is speculation that the Kazakhstan Trio's businesses and investments were the subject of MI6/GCHQ surveillance. Trio member Mashkevich was a significant investor in the Trump Soho complex in Manhattan, a development that also involved Jared Kushner.

Update 1x. In April 2015, just two months before Trump announced his presidential run, two executives of Eurasian Natural Resources Corporation (ENRC), the mining giant owned by the Kazakhstan Trio, were found dead in their respective rooms at a hotel in Springfield, Missouri. The dead men were South African national Gerrit Strydom, 45, the former head of ENRC's Congo Cobalt Corporation subsidiary, and fellow South African James Bethel, 44, the head of ENRC's copper cobalt in the Democratic Republic of Congo until September 30, 2014. ENRC went private in 2013 after the Kazakhstan Trio's business ties forced the London Stock Exchange to begin an inquiry into the firm's practices. The Greene County coroner determined after an autopsy that both South African men died from "natural causes" and that there was no foul play.


Electronic mail
acw_AT_afrocubaweb.com [replace _AT_ with @]
Copyright © 1997-2013 AfroCubaWeb, S.A.