| | | |
| --- | --- | --- |
| | AfroCubaWeb | |
Oriki Omi Odara

Schedule for Oriki Omi Odara

Pupy's Classes

Discography

Links

Felix "Pupy" Insua
Oriki Omi Odara

Pupy is a dance teacher who teaches at Djoniba Dance and Drum Centre. Pupy was a former lead dancer of Yoruba Andabo, and according to one of his students, "is not only a great dancer and thoroughly knowledgeable about Yoruba culture, he is also the most inspiring, encouraging, and energetic teacher I have ever had." -- batadrums.com

He will be offering new classes in Sept 07, check out his schedule.

Pupy re-formed his group Oriki Omi Odara after arriving from Havana to New York.

See his site at www.orikiomioddara.com in collaboration with Roman Diaz.


Oriki Omi Oddara (Homage to the Blessed Waters) is a New York City based Afro-Cuban Performance Ensemble under the Artistic Direction of Founder and legendary Cuban Performer, Choreographer, and Master Teacher Felix "Pupy" Insua. The Ensemble is comprised of professional dancers and musicians from Cuba as well as dancers from the US trained under Insua in the folkloric tradition. Roman Diaz is the ensemble's Music Director. Rosalia Gamboa, an extraordinary performer is the principal dancer along with Insua. Famed percussionist and singer, Pedro Martinez accompanies the ensemble.

Insua's repertoire includes works that range from authentic traditional pieces based on the Yoruba, Congo, Dahomey and Carabali Cultures to genuinely original and fresh interpretations motivated by the folkloric utilizing a dance vocabulary ranging from classical and contemporary ballet, modern, and jazz. Performances illustrate the chronology of the Cuban rhythms beginning with the sacred music, dance and song of the traditions and their transformation into Son, Rumba, and Mambo. Given his mastery of the Afro-Cuban dance mixed with his professional training, Insua's choreography steps outside of the realm of traditional dance forms.

With its explosive and masterful musical arrangements or rhythms and vocals and innovative choreography, the ensemble tells Cuba's story beginning in Africa. Prejudice is bred by ignorance. Education, inspiration and enlightenment are the undercurrents of this ensemble. The mission of Oriki Omi Oddara is to beak down cultural barriers through the arts, creating acceptance and compassion through the recognition and upliftment of all peoples and cultures everywhere.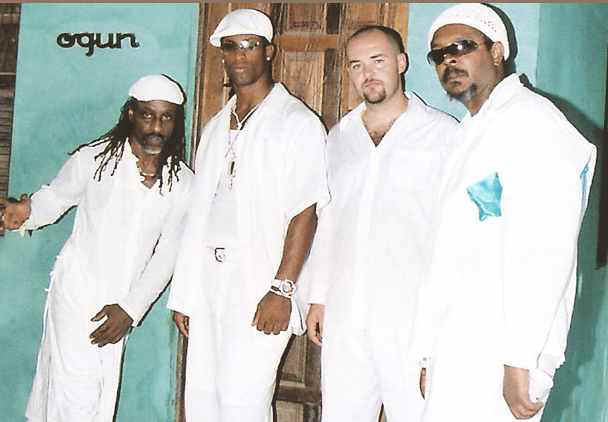 At an Ogun temple, San Salvador, Brazil. Left to right: 'Pupi', Filberto Armenteros, Diego Lopez, Roman Díaz.

SEPTEMBER

"COMIENZO DE LA VIDA"
A full length performance of dance, music and song celebrating the forces that began life. A celebration honoring Yemaya, Oshun, and Obbatala.

FRIDAY, SEPTEMBER 14TH at 7:00 pm
SATURDAY, SEPTEMBER 15TH at 8:00pm
BAAD! Bronx Academy of Art and Dance
841 Barretto Street, Hunts Point, The Bronx, NYC
Tickets on-sale now!

For more information email to: jennifer_AT_orikiomioddara.com [replace _AT_ with @]
DECEMBER

"NACIMIENTO DE SHANGO"
This production is Oriki's New York Season production in conjunction with the Feast Day for Shango. A two-hour production of dance, music and song that centers around the life and ever-present forces of Shango. Special guests to be announced.

FRIDAY, DECEMBER 7TH at 8:00pm
SATURDAY, DECEMBER 8TH at 2:00pm
SATURDAY, DECEMBER 8TH at 8:00pm
SUNDAY, DECEMBER 9TH at 2:00pm
SUNDAY, DECEMBER 9TH at 7:00pm
The Theater at JKO
120 West 46th Street (Between 6th Avenue and Broadway)
New York City, NY

ON-GOING

SATURDAY RUMBA AT ZAZA'S!
Free!
ZaZa's Restaurant
745 Hunts Point Avenue, The Bronx
(#6 train to Hunts Point Avenue)
10:00pm

2005
5/7/05 - LaGuardia Performing Arts Center, Long Island City, 7:30PM
Pupy teaches regular weekly classes in the New York City area. Classes are open-level and walk-in. Classes focus on the Afro-Cuba traditional dances and Rumba mixed with a modern dance technique warm-up.

SATURDAY 1:30-3:30
SUNDAY 1:30-3:30
$18.00/CLASS (Cash Only)
BATTERY DANCE STUDIO
380 BROADWAY, 5th Floor (Corner of White Street - 2 blocks South of Canal Street)
Trains: N/R/Q/W or #6 to Canal Street
CONTACT INFORMATION
FOR MORE INFORMATION ABOUT THE ENSEMBLE; CLASSES; SPECIAL EVENTS
PLEASE VISIT OUR WEBSITE AT WWW.ORIKIOMIODDARA.COM
OR EMAIL TO: OBBALUBBE_AT_ORIKIOMIODDARA.COM [replace _AT_ with @]
For English email to: JENNIFER_AT_ORIKIOMIODDARA.COM [replace _AT_ with @]
PHONE: 1-718-824-0316
Raices Habaneras
Universal Latino

released 5/02

Click for pricing & to order ==>
Electronic mail

acw_AT_afrocubaweb.com [replace _AT_ with @]
[AfroCubaWeb] [Site Map] [Music] [Arts] [Authors] [News] [Search this site]
Copyright © 1997 AfroCubaWeb, S.A.