Pedro Pérez-Sarduy at the Salon du Livre
Paris, March 2009
Pedro Pérez-Sarduy attended the Salon du Livre. His French publisher, Ibis Rouge, came out with the French translation of his novel, Las Criadas, as Les Bonnes de la Havane.
See Calendar of the Salon du Livre, PDF, 89kb and Librairie Afrique & Caraibes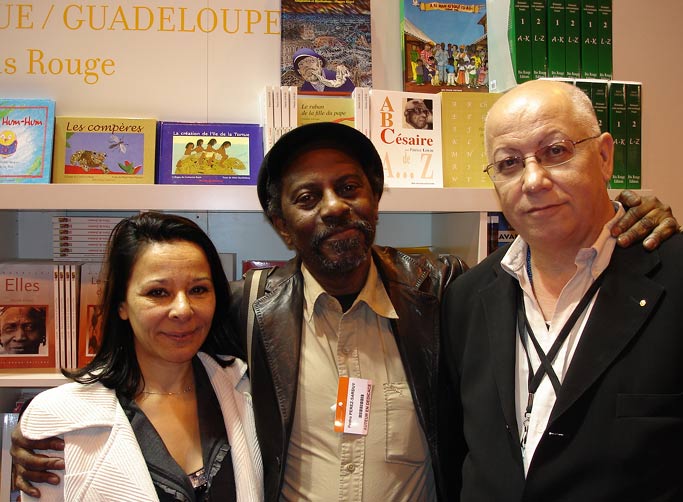 Left: Pedro with Dora Carbonnel, French singer (one of the two daughters of Walterio Carbonell), and Jean-Louis Malherbe,
Pedro's editor and owner of Ibis Rouge Editions at Le Salon du Livre de Paris. Malherbe recently published the French edition of his novel Las Criadas as Les Bonnes de la Havane
Yolaine Parisot (in pink blouse with the microphone), leading presentations and discussion about our novels. Here with French/Guadaloupean Gisele Pineau to the right of her.
Yolaine Parisot is a Maitre de Conferences, Universite Rennes 2 in France. Doing a voluntary cultural job during the Book Fair, she read our novels and lead a presentation/discussion with the public.

Acclaimed writer Gisèle Pineau was born in Paris in 1956 of parents from Guadeloupe. Due to her father's military career, Pineau spent the first fourteen years of her life living in Guadeloupe, the Congo, Martinique, and primarily Paris. At the age of five her family visited their native Guadeloupe during her father's leave of absence, returning to Paris shortly after in the company of Pineau's grandmother Man-Ya. Man-Ya filled the cultural void of Pineau's virtually non-existent Guadeloupean identity, providing direct access to an Antillean heritage that became a powerful tool in combating the adversity of a racist métropole.

Pineau's family residence in the Parisian suburb of Kremlin-Bicotre exposed young Gisèle to intense racial persecution by her peers. She was the only student of color in an all-white classroom and frequently encountered white classmates who cried "dirty negresse" and commanded her to "return home" (Sourieau 172), forcing her into a psychological state of displacement. Consequently, Paris is represented as a Mecca of despair, a milieu of exclusion and open hostility towards immigrants, in Pineau's novels. At the age of fourteen, Pineau returned with her family to Guadeloupe and attended St. Joseph's at Cluny. After three years on the island, she returned to Paris, where she enrolled in the University at Nanterre. She studied classical literature, which became influential in her own style of writing without overshadowing the Antillean oral tradition. Her subject matter leans toward the thematic nature of Pineau's own alienated, displaced and marginalized identity. Despite her devotion to literature, she was forced to end her studies due to a lack of finance, dropping out and entering a psychiatric nursing program at the centre Hospitalier de Villejuif, while continuing to write.

Pineau is recognized as a prominent member of the Creolité movement in which Caribbean writers re-examine their position in a world that has pejoratively displaced them. Subjected to a life experience of migration between France and the French Caribbean, Pineau's work adds to a collective diasporic discourse on displacement by immigration. The strength in Pineau's writing is recognized in her ability to mask themes with vivid metaphors. Her stories communicate an attempt to identify the essential meaning of home. In the characters' construction of home, their struggle is directly linked to recovering a solid definition of a continuously evolving cultural identity. Her most striking theme conveying the concept of home as displaced or absent of a sedimentary identity is incest. 
Maryse Condé (1934-, bottom right pic with mike )  - original name Maryse Boucolon Guadeloupean author of epic fiction, best-known for her historical novel SÈGOU (1984-85). Condé's multifaceted novels question stereotypical images of literary characters, colonialism, sex and gender. She has also published children's books, a booklet about Guadeloupe, book-length essays about francophone women writers and oral literatures in Martinique and Guadeloupe, critical booklets about Aimé Césaire's Cahier d'un retour au pays natal, Antillean fiction, and numerous articles mainly about Caribbean literature and cultural studies.

    "She was a young woman who was pretty in an odd way. Her lovely blond hair hidden under a sombre hood fuzzed up and formed a luminous halo around her head. She was wrapped in shawls and blankets as though she were shivering despite the warm, stuffy air in the cabin. She smiled at me and in a voice as pleasant as the waters of the River Ormond she said: so you're Tituba? How cruel it must be to be separated from your own family. From your father, your mother, and your people.'" (from I, Tituba, Black Witch of Salem, 1986) 
Maryse Condé was born in Pointe-à-Pitre, Guadeloupe, a small French/Creole-speaking Caribbean island. In 1953 she was sent by her parents to Paris, where she was educated at Lycée Fénéleon and Sorbonne, majoring in English. In 1958 she married Mamadou Condé, an African actor; they divorced in 1981. From 1960 to 1964 she was instructor at École Normale Supérieure, Conakry, Guinea. Then she worked at Ghana Institute of Language in Accra (1966-68) and Lycée Charles de Gaulle, Saint Louis, Senegal (1966-68).