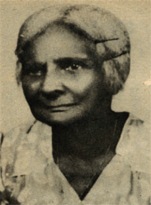 © 2000 Pedro Perez Sarduy
Inocencia Valdés, "La Niñita"
Inocencia Valdés, "La Niñita," was the daughter of a tobacco worker, a Mambi resistance fighter, a union organizer, and a communist. The Mambi army was the Army of Liberation that drove the Spaniards out of Cuba in 1898. After they basically defeated the Spaniards, Teddy Roosevelt came with his Rough Riders to seize the glory. Even then, the US's Buffalo Soldiers did most of the fighting against a Spanish enemy severely weakened and all but defeated by the Mambi Army of Liberation. Mambi is said to be a Congo term.
Julio Antonio Mella founded the Cuban Communist Party in 1925 and served as its first Secretary General. AfroCubans such as La Niñita, Carlos Balino, Lazaro Pena and Blas Roca rose to leadership positions in the Cuban Communist Party and the labor movement in Cuba. The Party is perhaps the only vehicle for black liberation after the disaster of 1912, when the Cuban Army massacred over 6,000 AfroCubans in their successful effort to destroy the Independents of Color.
This image is part of Pedro Perez Sarduy's seminar series.