Links
CARLOS MANUEL PIAR and PEDRO LUIS BRION:
CURAÇAOANS STRUGGLING TOGETHER WITH
SIMON ANTONIO BOLIVAR Y PALACIOS
FOR LIBERATION FROM COLONIALISM AND RACISM

Carlos Manuel Piar, Simón Bolívar and Palacios Pedro Luis Brión

CARIBEAN UNITY AND INTEGRATION
Eugène Edward Godfried Presilia
Caribbean Specialist/Journalist/Researcher
Julianadorp, Curaçao June 17 year 2006
1. Introduction

We notice a significant increase in discussions among peoples of Curaçao, Venezuela, Caribbean and other parts of the world regarding the liberation and integrationist struggles of the formerly Spanish colonized territories on the American continent.

President Hugo Rafael Chávez's government and the Bolivarian revolution of Venezuela are calling world attention to historical personalities like Simón José Antonio de la Santísima Trinidad Bolívar y Palacios.

In Curaçao and Dutch colonized territories, at last, the process is taking better shape, stimulating thoughts and debates on Admiral Pedro Luis Brión and Carlos Manuel Piar, two Curaçaoans proven to be exemplary figures.

What was their significance as persons in the struggle for anti-colonial liberation? What was their position on the abolition of the system of enslavement of human beings and its racist ideology? A lot had happened in this light, which humanly could be understood. But, it could also be useful as instruction material and warnings for us now and in the future.

Special thanks to Djibo Sobukwe, professor of African and African diaspora studies and PACEP (Pan African Community Education Program), Temple University, Philadelphia, Pensylvania, United States of America.

Words of gratitude also for Yomini Rosangela Adelaika Godfried, Latin-American and Caribbean specialist, trained at Leiden University, Holland.

Eugène Godfried

Caribbean specialist/author/
Researcher
Saint Ann, Breedestraat, Otrabanda, Willemstad, Curaçao

2. Otrabanda and its historical value

Otrabanda, located at the western region of the capital of Willemstad is of historical importance to the humble, exploited and oppressed people. One of its characteristics was that this was the area where enslaved people used to move up and down. Otrabanda was the point of encounter between poor people and people originating from other parts of the world, e.g. Venezuela. The Roman Catholic Church Saint Ann was located right in Otrabanda. That church was a center of power which dealt with the affairs of the enslaved people. The hierarchical structure of the Roman Catholic Church determined that the Dutch colonies were under the diocese of Coro, Venezuela. Cultural contact with Venezuela was a fact. Saint Ann was the church of the enslaved people, therefore of the people of color. It was the institution which was responsible for the pastoral as well as the social, cultural, and economic affairs of this social category. The Roman Catholic Church of Saint Ann, undoubtedly, also counted with the inclusion of descendants of Europeans among its members. Some even occupied elitist privileged positions within the hierarchical ecclesiastic structures. E.g. we could mention the father of Pedro Luis Brión, who held the position of 'kerkmeester,' a position supervising and taking care of the properties of the church.

Church of St Ann, Otrabanda
(c) 2006 Yomini Godfried, Yomini's Production
3. Pedro Luis Brión and Carlos Manuel Piar, exemplary Otrabandistas

Pedro Luis Brión was born on July 6, 1782 and died on 27 of september 1821 on the island of Curaçao. Carlos Manuel Piar was born on 28 of April 1774 in Curaçao and passed away on October 16 of 1817 at San Félix de Angostura, presently Ciudad Bolívar, Venezuela..

According to baptism documents found, both persons were baptized at Saint Ann's church. They grew up right in the middle of the Otrabanda environment. From this side of the bank of the entrance of the Santa Ana Bay they could see Fort Amsterdam, seat of the colonial power. They could see in its midst the tower of the protestant church which was reserved for slave merchants, descendents of Europeans, so called whites: a militarily well protected center of power surrounded by a wall. From there decisions were imposed to eliminate rebellious enslaved Africans to be executed at Rif in Otrabanda. This consciousness was present with the Curaçaoans Carlos Manuel Piar and Pedro Luis Brión.

4. Pedro Luis Brión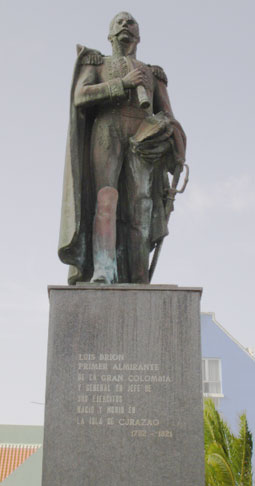 Statue of Pedro Luis Brión
(c) 2006 Yomini Godfried, Yomini's Production
Brión was the son of the merchant couple Pedro Luis Brión and his wife María Detrox, Dutch, native of Flanders, nowadays pertaining to Belgium. They resided on the island of Curaçao since 1777. In 1794 his parents sent him to Holland for further education. During that period, he joined the armed forces of the Batavian Republic to combat the British invasion of Holland. Among important battles in which he participated we must mention: Bergen, 19 of September 1799, and Castricum, 16 of October 1799. There he became a prisoner of the British until the signing of the Alkmaar convention.

Once back in Curaçao he took part in an insurrection movement of revolutionary character which existed on his island of birth in the month of September 1800 just shortly before the British invasion. Brión managed to flee from the English invaders and went to the United States of America where he studied nautical sciences and maritime trade.

After Holland recovered its control over Curaçao he returned to this island to devote himself to trade. Between 1803 and 1806, he led several actions to prevent the English from reconquering Curaçao.

In 1807, as a consequence of all these struggles Brión was forced to go and live in exile on the island of Saint Thomas, then a Danish colony.

In 1813 Brión joined the cause of the independence of Venezuela and accepted the Venezuelan nationality. One year later, Simón Bolívar granted him the grade of captain of frigate.

In 1815 he went to England to look for the corvette Dardo, 24 canons, 12 guns and other ammunition to help the patriots of Cartagena de Indias. In a meeting with Bolívar in revolutionary Haiti, he became captain of warships and organized his squadron with which he carried out expeditions on the coast of Venezuela. On may 2nd 1816, he knew his first victory over Spanish battleships in the naval battle of Los Frailes. On the same date Bolívar appointed him admiral of the Republic.

From the island of Margarita which fell in the hands of the patriotic liberation forces, Brión established in January 1817 an operation - base of forces which he commanded as admiral. He also introduced a naval infantry. On August 3rd of the same year he managed to enter far into the river Orinoco with a squadron to wage the battle of Cabrián. In this battle he captured 14 of the 28 Spanish ships. A total of 1.500 Spanish soldiers became his prisoners.

Once Guayana was liberated on November 5th 1817, Brión was appointed President of the Council of Government. In 1819 he went back to reside on the island of Margarita from where he organized an expedition of 22 vessels which attacked the coast of Nueva Granada, along with forces which were deployed by land under the command of Mariano Montilla. The ports and bays of Baranquilla and Santa Marta were captured. But, in the month of may 1821, a contradictions arose between Brión and especially Montilla about the conduct of operations both on land as by sea. He traveled to Maracaibo. Surprised by tuberculosis he decided to return to his native island where he died the day after his arrival. On April 1882 his remains were transferred to the Nation Pantheon of Venezuela.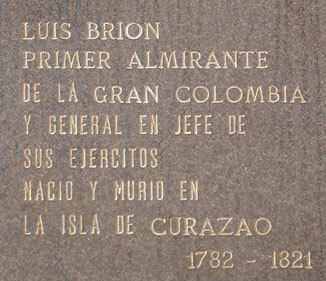 Dedication on Brion's Statue
(c) 2006 Yomini Godfried, Yomini's Production

5. Simón Bolívar and Pedro Luis Brión visiting the Haitian Revolution

Simón Antonio de la Santísima Trinidad Bolivar y Palacios together with Pedro Luis Brión visited revolutionary Haiti in 1816. Over there they met, among others, with Alexandre Pétion, who showed the first real sign of solidarity with the liberation struggle of Gran Colombia. That was an extended territory in what is now Venezuela, Colombia, Peru, Ecuador and Bolivia. The Haitian revolutionaries put only one condition in order to give their support to the men Bolívar brought with him: abolition of the system of enslavement of Africans and all people in their lands. Consequently, Pétion and his revolutionary government offered Bolívar ammunition, men, ships and other provisions. This act of Pétion also teaches the true meaning of tolerance. For, Bolívar and Brión could notice the existence of the principle of unity of anti-colonial struggle and of the abolition of the system of enslavement: two inseparable elements. Bolívar was put in the position to take a clear stand against his own class of origin, the mantuanos, slave-owning cocoa producers on the coastline of Venezuela. Brión, descendant of Europeans, Flemish/Dutch, could convince himself of the great lie that the slave society represented all over the world, leading necessarily to its destruction in all countries.


General Carlos Manuel Piar

6. Carlos Manuel Piar and anti-colonial and antiracist struggle

Piar was an ardent fighter against colonialism, euro-centrism and its racist ideology in the eastern region of Venezuela, near Guayanas by the Orinoco river. He was known as the protector and defender of the indigenous and African factors who suffered severe persecution by the Spanish colonialists. He himself was of color and was proud of that. He knew that he could count on the support and appreciation of the vast majority of coloreds of that region. It is understandable that up to now Carlos Manuel Piar is considered THE LIBERATOR OF ORIENTE/ GUAYANAS. A regrettable contradiction with Simón Bolívar ended in a death sentence dictated by a Court Martial which his fellow countryman Pedro Luis Brión presided over. Carlos Manuel Piar was executed at San Felix de Angostura, 1817. We will have a closer look at this in the next section.

7. A review of Piar's military career

Piar Statue
(c) 2006 Yomini Godfried, Yomini's Production
In 1804 Piar entered the militia to fight against the British in Curaçao. In 1807 he went to Haiti and participated in the revolution on that island, commanding a warship.

In 1810, motivated by both his military experience and his desire to gain independence from colonial governments he decided to join the independence struggle of Venezuela against Spain. He started with the navy and was stationed at Puerto Cabello. He took part in several battles against the Spanish navy as a commander, such as the Battle of Sorondo in 1812 on the Orinoco river.

Due to adverse conditions and losses on his side, Piar was forced to go into exile for some time in neighbouring Trinidad. Back in Venezuela in 1813 as Colonel of the army, he defended with great success Maturín and helped liberate the eastern part of Venezuela from Spanish military force.

The next year Piar led troops as Brigadier General struggling in the provinces of Barcelona, Caracas, and Cumaná. He waged tough battles against the forces of José Tomás Boves near El Salado.

After his promotion as Major General, he participated in the successful expedition of Los Cayos and the battles of Los Frailes and Carupano.

In the year 1816 he defeated the army of Francisco Tomás Morales at El Juncál. From that site Piar departed for Guayana, with the intention of liberating that province. In the beginning of 1817, he imposed a state of siege in Angostura. On April 11, his forces knew great victories over the forces under the command of Spanish General Miguel de la Torre y Pando in the battle of San Félix. A month later he was promoted to the rank of General in Chief.

8. Confllict between Piar and Bolívar , fatal sanction, and his execution

Simon Bolivar, Willemstad, Curazao
(c) 2006 Yomini Godfried, Yomini's Production
During that period of great military victories and successes, Piar ran into conflicts with his 'criollo' superiors, thus of Spanish descent, called whites, including Bolívar. These frictions led to the decision to demote Piar and separate him from the command of the armed forces. As a reaction to that procedure, Piar resigned. His resignation was also approved and enacted on June 1817.

Piar stood for independence, but at the same time also for equal rights for people of color, whom Spanish domination always had trampled down. Since he remained without the armed forces to command, Piar decided then to devote his time struggling for the well-being of the people of color who were victims of the Venezuelan white elite's racism.

Yet, there were other 'white' military chiefs who also had contradictions with Bolívar, such as José Félix Ribas, Santiago Mariño, and José Franscisco. The question remains that why didn't those figures receive the same treatment by the leadership of the revolution?

Bolívar, however, ordered the arrest of Piar and demanded his condemnation, accusing the General of desertion, insubordination and conspiracy against the government. Piar was arrested on September 28th , 1817. Pedro Luis Brión presided over a Court Martial which judged against him and found him guilty on all charges. They passed the death penalty on Piar October 15th. Simón Bolívar as Supreme Commander confirmed the sentence that same day. General in Chief Carlos Manuel Piar was executed the following day by a firing-squad against the wall of the cathedral of Angostura. Before his death during the hot days of the conflicts, Piar himself declared that Bolívar did neither like nor want him because of the color of his skin and being of African descent.
9. Pedro Luis Brión and Carlos Manuel Piar, not recognized by the Dutch colonial slave-owner elite

Pedro Luis Brión is known for his great military deeds in Holland, Belgium, Kabrietenberg, Caracasbaai, and Curaçao. He had also shown his impeccable military loyalty. For his merits Bolívar appointed Brión Great Admiral of Gran Colombia: a position of honor. But, what else can we say of this son of Otrabanda? Curaçao together with the other Dutch possessions in the Caribbean were societies of enslavement of human beings and active in the trade of Africans. Brión and Piar were conscious of that historical fact. They turned their backs on the Dutch slave traders and the slave-owners' hegemonism, and they opted for the liberation struggle of all people in the region.

Even at a certain moment when Admiral Pedro Luis Brión visited the island on board a Venezuelan warship, he was denied official permission to go on shore. The Dutch authorities told him that he could only touch soil in civil conditions not as a military. What did the Dutch slave-owners government fear? Would Pedro Luis Brión nurture pro-abolition ideas and also the liberation of his homeland too? Not too long before, a revolutionary process broke out in Curaçao on 17th of august 1795 led by enslaved Africans Tula, Karpata, Pedro Wacao and Luis Mercier. Could it be that those burning facts were still bothering the minds of the dominant elite? And, more annoying to them now, a descendent of Europeans, catholic not white protestant, is standing on the side of the abolition of the system of enslavement and in favor of the independence of nearby countries like Venezuela, Colombia, Peru, Ecuador and Bolivia. They were eager to stop that process, ensuring that it not take place nor have any influence on the enslaved Africans on this and other islands in the Caribbean under Dutch control.

10. Hysteria and misinformation by the dominant elite

The hysteria in the area increased ever since the Haitian Revolution became a fact. The Haitian liberation process started in 1791 and the system of enslavement was abolished by its own force in 1793. Consequently, the Haitian revolutionaries proclaimed total independence from France which was then ruled by the racist Napoleon Bonaparte in 1804. All colonial powers, including the United States, became outraged. They became very oppressive and persecuted all expressions of liberation struggle. The case of solidarity with Venezuela that was pledged by Alexandre Pétion and the revolutionary government of Haiti is regarded in the same manner by the colonialist governments. That is the basis precisely their fear: FRIENDSHIP AND SOLIDARITY among oppressed peoples in struggle for their LIBERATION.

11. Precursors of anti-colonial and anti-imperialist struggle for Regional Integration

The elite in Curaçao and other Dutch colonial dependencies in the Caribbean located right at the doorstep of Venezuela, Colombia etc., consider those territories important only if they have material benefits from them. In earlier times that was cocoa, nowadays mainly petrol and other minerals and commerce. In that case their class should be the only ones making profits and reaping benefits. On the other hand, before the European countries used to sell textile to those countries, now they are selling finished commodities produced with raw material drawn from these countries. They would not want and will always try to obstruct the unity between us people, because that would affect their interest according to them. They suspect that we will be able then to see through their ill intentions and objectives. Carlos Manuel Piar, Pedro Luis Brión, and before the two of them, Josef Caridad Gonzales and many other unknown fighters taught us that colonialism and imperialist domination of capitalism is like an octopus. Each one of its many legs should be combated from different positions. If we do not succeed here at this spot then we will succeed further away over there or yonder. The ferocious monster has to be defeated by all means. They are all heroes and precursors of the anti-imperialist struggle for Peace, Friendship, Solidarity and Cooperation among all people in unity. Their noble and good loving example will live on forever.

Eugène Edward Godfried Presilia
Caribbean Spesialist
Journalist/author/researcher
17 di Yini aña 2006
Julianadorp
Korsou
Photos by Yomini Godfried, Yomini's Production
yominigodfried_AT_hotmail.com (replace _AT_ with @)


Eugène Edward Godfried Presilia
Caribbean Spesialist/Journalist/Researcher
Julianadorp/Curaçao/ June 17 year 2006

CONSULTED AND RECOMMENDED LITERATURE

- KORSOU DEN SIGLO XX
Desaroyo di un pueblo o tragedia?
Amado E.J. Römer
Sèptèmber 1997

- PEDRO LUIS BRION
W.Brada o.p.
Curaçao, 1954
Drukkerij Scherpenheuvel

- CARLOS MANUEL PIAR
W.Brada o.p.
Curaçao, 1955
Drukkerij Scherpenheuvel

- JOSÉ MARTÍ I RASISMO
Su bishita na Kòrsou
Eugène Godfried
www.afrocubaweb.com

- THE CARIBBEAN WHOSE BACKYARD
Cheddi Jagan

- SIMON BOLIVAR
Entrevista con radio caracol de Colombia
Habana, Cuba

- ORUNO LARA
Les Caraibes en construction, espace, colonisation, resistance