Assata Shakur News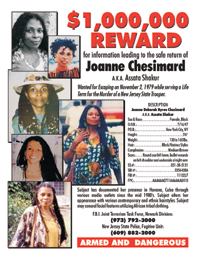 The million dollar bounty
Assata Shakur: from civil rights activist to FBI's most-wanted 7/13/2014 Guardian: by Bim Adewunmi , whose blog is Yoruba Girl Dancing
Assata Shakur to be honored at the fifth annual Freedom Dance 10/31/2013 Amsterdam News, NY. Celebrations took place in NY, DC, Philly, Houston and Oakland.

Sister Assata: This Is What American History Looks Like 5/11/2013 Alice Walker: "I don't know why, given where we are with dronefare, but I didn't expect the man making the announcement about Assata Shakur being the first woman "terrorist" to appear on the FBI's most wanted list to be black. That was a blow. I was reminded of the world of "trackers" we sometimes get glimpses of in history books and old movies on TV. ...And then there were the "trackers" who helped the pattyrollers during our four hundred years of enslavement. When pattyrollers (or patrols) caught run-away slaves in those days they frequently beat them to death. I've often thought of the black men whose expertise at tracking fugitives helped bring these terrors, humiliations and deaths about. When I was younger I would have been in a rage against them; not understanding the reality of invisible coercion, and mind and spirit control, that I do now."
Target Assata: How the FBI and Cuba Bashers Are Going After a Black Liberation Activist 5/9/2013 Alternet: by Bill Fletcher Jr - "In the aftermath of the reelection of President Obama whispers started to be heard suggesting that there might be efforts to take Cuba off the list of countries that support terrorism. There were other whispers that further suggested that there may be efforts aimed at normalizing relations with Cuba. The frenzy in connection with Assata Shakur is precisely the sort of step that those who wish to derail such efforts could either implement or celebrate."

Why add woman to terrorist list now? 5/9/2013 The Tennesean: by DeWayne Wickham - "The three people in the car were members of the Black Liberation Army, one of many black organizations whose activities the FBI distorted in a secret campaign of disinformation that lasted 15 years until COINTELPRO was exposed and ended in 1971. While the FBI created its list of most wanted terrorists in 2002, it waited 11 years to put her on it. Why? Probably because the agency's decision was as politicized as when Director J. Edgar Hoover launched the controversial COINTELPRO.
Not Your Daddy's COINTELPRO: Obama Brands Assata Shakur "Most Wanted Terrorist" 5/8/2013 Black Agenda Report: "It's been a week now since the $2 million dollar bounty and "most wanted terrorist" announcement. In that time, not a single nationally noted African American "leader" has raised his or her voice. Not Ben Jealous. Not a single black mayor or member of the Congressional Black Caucus. Not Rev. Jesse L. Jackson, and certainly not the presidential lap dog Al Sharpton. Sharpton has worn wires for the FBI more than once, and is credibly accused of trying to get close to people who were rumored to be close to Assata Shakur in the 1980s. Those people wisely avoided Rev. Al. Such is the pressure of subservient conformity among the black political class that not a single African American politician, religious leader, or personage of national note has opened his or her mouth in Assata Shakur's defense, with the solitary exception of Angela Davis, once a political prisoner and fugitive in the days before the word "terrorist" had been coined. Lockstep conformity like this is hard to shake. In their 45 minutes in an otherwise excellent Democracy Now show mostly devoted to Assata Shakur's case, neither Shakur's attorney Lennox Hinds nor Angela Davis could bring themselves even to hint that the president and attorney general were responsible for branding her as the nation's "most wanted terrorist."

TONIGHT 5/7 10 PM Pacific Time: Internet radio discussion of Assata 5/8/2013 CubaNews: HANDS OFF ASSATA!

Reflections on Anti-Cuban Terror 5/8/2013 MRZine: "The United States recently simultaneously announced that Cuba will remain on its list of terror-sponsoring states and that, conveniently enough, Assata Shakur was being placed on the FBI's ten "most wanted terrorist" list, as well as that the bounty for her capture and return to the United States was raised to $2 million. Many legal observers, however, remain highly critical of the prosecution and trial in 1977 through which she was convicted of murdering a New Jersey policeman. Considering that Cuba is quite blameless, refusing to engage in tit-for-tat, one may ask: Why have terror attacks against Cuba continued?"

NLG Urges FBI to Respect Political Asylum Status of Assata Shakur 5/7/2013 CubaNews: "Through her writing, Assasta Shakur has educated generations about how the FBI operated with impunity to neutralize the Black Panther Party. Labeling Assata a terrorist and putting a bounty on her head is a clear attempt by U.S. authorities to hide this chapter in history," said NLG Executive Director Heidi Boghosian."

What's behind renewed attacks on African American freedom fighter Assata Shakur? 5/7/2013 Pambazuka News: "This latest provocation against Shakur, 65, is directed not only against the veteran Black Panther Party (BPP) and Black Liberation Army (BLA) member, but represents an overhaul attack on the struggle of African Americans against racism and national oppression in the United States."

How to find a most wanted terrorist 5/7/2013 Renew America: "In a press release attacking the FBI, a group called the Center for Constitutional Rights (CCR) asked, "Should the many who support Assata Shakur now expect to be targeted for providing her 'material support?'" The question is a serious one. It is against the law to harbor a fugitive. In the United States, it is also against the law to provide material support to terrorists, with "material support" defined as including expert advice or assistance and communications equipment. This is why the CCR is concerned about her designation as a Most Wanted Terrorist. The CRR, funded by George Soros, is part of the "Hands off Assata Shakur!" movement which wants to protect Chesimard's status as a fugitive cop-killer living in Communist Cuba. In effect, they are supporting a terrorist. To understand how the law works, consider that Lynne Stewart was convicted of providing illegal support to a client, terrorist Sheik Omar Abdel Rahman, responsible for the bombing of the World Trade Center in 1993. She is now serving 10 years in prison. Her legal defense was underwritten in part by the Open Society Institute of George Soros."

Assata Shakur Is Not a Terrorist 5/7/2013 The Nation: ""It's incredibly frustrating that the first woman to be on the FBI's most wanted terrorist list, the same list as Osama bin Laden, would be a 65 year-old grandmother in Cuba," writer and filmmaker dream hampton told radio host Davey D. I would add that it's also incredibly frightening. We have seen the way this country has prosecuted the "war on terror," even after moving away from using that specific phrase, with a blatant disregard for civil liberties, human rights, international law and the rights of sovereign countries. It's enough to make one very concerned for the safety of Shakur and those around her. If deemed dangerous enough, could an invasion of Cuba be far behind? A drone strike? How far is this government willing to go to capture (kill?) someone whose guilt in the crime for which she was convicted is not clear and poses no threat to the country's security?"

Assata Shakur 40 Years On 5/5/2013 Huff Post: Video interviews.

Finally, Cuba Is Harboring a Terrorist! 5/4/2013 Havana Times: "It seems unlikely that the announcement of her transformation from criminal to terrorist coincidently occurred the day after the State Department was supposed to release its annual report "justifying" the continued inclusion of Cuba on its list of countries that "provide critical support to non-state terrorist groups and repeatedly provides support for acts of international terrorism." The publication of this report has been delayed; perhaps to update it with this new information."

Assata Shakur: Understanding the politics behind the FBI's new attack 5/4/2013 Liberation: "Assata had been, following police instructions, standing with her hands in the air, when she was shot by Trooper Harper more than once, including a bullet to the back. Trooper Harper lied and said he had seen Shakur reach for a gun, a claim he later recanted. He also claimed she had been in a firing position, something a surgeon who examined her said was "anatomically impossible." The same surgeon said it was "anatomically necessary" for her arms to have been raised for her to receive the bullet wounds she did. Tests done by the police found that Shakur had not fired a gun, and no physical or medical evidence was presented by the prosecution to back up their claim that she had fired a gun at Trooper Harper."

Hip-hop's Infatuation With Assata Shakur: It's Complicated 5/3/2013 All Hip Hop: "Shakur holds a major distinction that probably contributes to the ire of her detractors. Simply put, she got away."

FBI Billboards not about Assata Shakur, it is about politically repressing the Black community 5/3/2013 Black Talk Radio: "Is Assata Shakur in New Jersey? No, she is not and the FBI and the Obama administration know exactly where she is, in Cuba where she has lived since being granted political asylum by its government in 1979 after escaping from prison. This is not about Assata Shakur, it is about sending a message to the Black community and those that live within it who stand up to police violence, oppression and murder of residents, one of the very reasons for the formation of the Black Panthers. It is about the political repression of those who advocate on the behalf of the many political prisons being held by the United States government often in torturous conditions. It is about sending a message to anyone who would take up arms in defense of life, liberty and true freedom in a country that is home to the largest prison population in the world which the federal government and various corporations use as slave labor."

CCR Condemns FBI's Adding of Former Black Panther Assata Shakur to Its "Most Wanted Terrorist" List 5/3/2013 Center for Constitutional Rights: "Forty years later, the government continues to bend the law to silence dissent, from increased surveillance, to the occupation of Black and Latino communities by aggressive police forces, to the passage of vague and overbroad material support laws and the expanding use of the term terrorist to redefine what should be state-level crimes. Should the many who support Assata Shakur now expect to be targeted for providing her "material support"? Now that our government routinely targets and kills people around the world without any due process, what can we expect next? "Forty years later, the government continues to bend the law to silence dissent, from increased surveillance, to the occupation of Black and Latino communities by aggressive police forces, to the passage of vague and overbroad material support laws and the expanding use of the term terrorist to redefine what should be state-level crimes. Should the many who support Assata Shakur now expect to be targeted for providing her "material support"? Now that our government routinely targets and kills people around the world without any due process, what can we expect next?"

Angela Davis and Assata Shakur's Lawyer Denounce FBI's Adding of Exiled Activist to Terrorists List 5/3/2013 Democracy Now: "It seems to me that this act incorporates or reflects the very logic of terrorism," Davis says. "I can't help but think that it's designed to frighten people who are involved in struggles today. Forty years ago seems like it was a long time ago. In the beginning of the 21st century, we're still fighting around the very same issues — police violence, healthcare, education, people in prison."

Assata Shakur in Her Own Words: Rare Recording of Activist Named to FBI Most Wanted Terrorists List 5/3/2013 Democracy Now: "As a result of being targeted by [the FBI program] COINTELPRO, I was faced with the threat of prison, underground, exile or death," Shakur said at the time. "I am not the first, nor the last, person to be victimized by the New Jersey system of 'justice.' The New Jersey State Police are infamous for their racism and brutality." Hear Shakur read the letter in full on SoundCloud."

Why the Hunt for Assata Shakur Matters 5/3/2013 Huff Post: "First, by elevating this 40-year-old case to top priority, Obama's Justice Department is actively memorializing the struggle for black freedom of that era, but in a way that offers us a criminalized, even militarized interpretation of it. How we understand the past has bearing on our political present, and making Shakur, a symbol of black militancy of the 1960s and '70s, into a high-level national security threat serves to criminalize the greatest movement for democracy in the 20th century. What's more, fashioning this morality tale erases the central role of the FBI's COINTELPRO in her controversial case, a willed forgetting of the well-documented framings, murders, and false imprisonments aimed at the black liberation movement and others of that era, as opposed to a clear-eyed assessment of the disputed facts on the ground."

Political calculus keeps Cuba on U.S. list of terror sponsors 5/3/2013 LA Times: "But nothing that Cuba has done suggests its government is plotting harm against Americans, national security experts say. And they criticize as counterproductive the State Department's decision, disclosed this week, to keep Cuba on its list of "state sponsors of terrorism." "We ought to reserve that term for nations that actually use the apparatus of statehood to support the targeting of U.S. interests and civilians," said Juliette Kayyem, a former assistant secretary for intergovernmental affairs at the Department of Homeland Security and now writing and lecturing on national security in the Boston area. "Yes, Cuba does a lot of bad things that we don't like, but it doesn't rise to anything on the level of a terrorist threat."

Why Is 'Assata Shakur' On The FBI's Most Wanted Terrorists List? 5/3/2013 Roland Martin Reports: "Roland Martin talks with journalist Dream Hampton about 'Assata Shakur' being placed on the FBI's Most Wanted Terrorists List."

The FBI's Political Decision to Put Assata Shakur on Its List of 'Most Wanted Terrorists' 5/3/2013 The Dissenter: "If we look at the trial, we'll find that she was victimized, she was shot. She was shot in the back. The bullet exited and broke the clavicle in her shoulder. She could not raise a gun. She could not raise her hand to shoot. And she was shot while her hands were in the air. Now, that is the forensic evidence. There is not one scintilla of evidence placing a gun in her hand. No arsenic residue was found on her clothing or on her hands. So, the allegation by the state police that she took an officer's gun and shot him, executed him in cold blood, is not only false, but it is designed to inflame."

Tupac Shakur's Godmother Assata Shakur Is First Woman on FBI's Most Wanted Terrorists List 5/3/2013 The Drop: "Assata Shakur, who is the godmother and aunt of the late Tupac Shakur, has been recognized as a "political prisoner," and praised for her activism by rappers like Common and Chuck D of Public Enemy."

Assata Shakur on FBI List 'Reflects the Very Logic of Terrorism 5/3/2013 The Root

Supporters Say 'Hands Off Assata' Shakur 5/3/2013 The Root: "Many prominent blacks, from Angela Davis to Roland Martin, are speaking out in support of Shakur, and many folks on Twitter are expressing displeasure at the FBI as well. The hashtag #HandsOffAssata is being used to show support for Shakur online. Some of the tweets from the hashtag are below."

Why Assata? Why now? 5/2/2013 Al Jazeera

40-year fugitive is first woman on FBI's 'Most Wanted Terrorists' list 5/2/2013 All Voices

Woman Makes Most-Wanted List 40 Years After Murder 5/2/2013 Newser: "The reward for the former member of the Black Liberation Army has been doubled to $2 million, reports the Record, which spoke with the State Police superintendent, who reveals he still has two detectives on the case. What officials know: She enjoys "rock star status" in Cuba, complete with a free place to live, thanks to her willingness to be an anti-American "propaganda specialist" for the Castro regime; she has even been invited to greet foreign delegations that arrive in the country."

Mujer entra a la lista de terroristas más buscados 5/2/2013 Nuevo Dia: "El Negociado Federal de Investigaciones (FBI) incluyó por primera vez a una mujer en la lista de los terroristas más buscados. Se trata de Joanne Chesimard, acusada y convicta en ausencia por el asesinato de un policía de Nueva Jersey exactamente hace 40 años, informó el FBI en un comunicado."

U.S. officials: Cuba will be kept on list of nations that sponsor terrorism 5/1/2013 Miami Herald: "Opponents of U.S. sanctions on the island's communist government have been lobbying hard for months to remove Cuba from the State Department's list of state sponsors of terrorism as a gesture toward improved bilateral relations. The Boston Globe reported in February that U.S. diplomats had concluded Cuba should be taken off the list. Another news report a month later said Cuba's removal might be announced when the Country Report on Terrorism, also managed by the State Department, is issued."

Diluting the terror watch lists 4/29/2013 Boston Globe: "The Boston Globe's Bryan Bender reported this year that Secretary of State John Kerry was reviewing the policy, hoping to thaw relations with Cuba and make the terrorist state sponsor list be about terrorism. It's not clear if Kerry's views will prevail."

Assata Shakur: Terrorist or victim of terrorism? 3/27/2013 Mumia Abu Jamal on YouTube

32 Years of Assata Shakur and The Prison Industrial Complex 11/2/2011 Black Youth Project: Assata - "Never in our history has critical resistance to the status quo been more important. The growth of the Prison-Industrial complex has been appallingly rapid and the escalating repression that has accompanied it is totally alarming. What future lies ahead of us? What are the implications for our children?"

Hip-Hop N' Politics: The Anniversary Of Black Panther Assata Shakur Escaping Prison And Fleeing To Cuba - Video & Text 11/2/2011 Hip Hop Wired

How Fox News Uses "Big, Scary Hip-Hop" to Race-Bait Its Viewers 5/19/2011 Truth Out

The Frivolous Attacks on Obama and Common . 5/18/2011 Black Voice News

Jon Stewart and Bill O'Reilly faceoff over White House's poetry invitation to rapper Common 5/17/2011 NY Daily News: "Stewart argued that the Grammy-winning artist wasn't "celebrating" Assata Shakur, who was involved in a deadly New Jersey shootout, but simply believed she was convicted unjustly and expressed that in the song. Further, the Comedy Central host argued, O'Reilly's standard of outlawing White House performances by any musical defender of convicted killers would mean that Bob Dylan, Bono and Bruce Springsteen couldn't perform at the White House either."

Common gets a bad rap on Assata Shakur 5/14/2011 Guardian: "So, cue conservative outrage over Michelle Obama's inviting rapper Common to a White House poetry reading, because Common wrote an adulatory song about Black Panther Assata Shakur. The New Jersey state police protested. Is it possible that the vile New Jersey police – just this week it was announced that Newark's police department is being investigated by the justice department for multiple civil rights violations – and their rightwing puppetmasters do not know about COINTELPRO? That while Soviet tanks crushed Prague's spring, in America, police assassins, provocateurs and slanderers felled our saints as they slept?"

NJ Cops Protest Common's White House Visit Over Assata Shakur Track 5/11/2011 All Hip Hop: "The head of the union that represents the New Jersey State Police has spoken out against Common's visit to the White House tonight (May 11th). Common is among the guests to attend the White House's celebration of American poetry, which is being hosted by President Barack Obama and First Lady Michelle Obama... During an interview with NBC New York, David Jones, President of the State Troopers Fraternal Association Union, took offense to the lyrics in Common's track "A Song for Assata."

White House Defends Invite of Political Rapper to Poetry Event 5/11/2011 Fox News

Common A Song for Assata Shakur (2pac's aunt) 11/5/2010 YouTube: "assata shakur (2pacs aunt) had to flee to cuba after being charged of crimes she did not commit, she fled to cuba under political asylum. and the u.s. gov't poasted a 1 million dollar reward for the return of assata, who fled the country in the 80's. a million dollar reward calling her a terrorist. common prety much sums up the truth in this song."

Ask the President if Assata Shakur is a Political Prisoner Too 5/1/2009 Black America Web: "Ah, political prisoners in Cuba! Is Obama sure he wants to go down that road? It might get kind of embarrassing for us here in the United States. What if the Cubans ask, rightly, "What happens to Assata Shakur and other Americans now residing in Cuba who were political prisoners in the United States?"And make no mistake about it, Shakur – also known as Joanne Chesimard – was a political prisoner when she was held by the state of New Jersey."

President Obama Asked to Extradite Assata Shakur 4/23/2009 Blackademics: "Nothing enrages the American injustice system more than an escaped slave. When Harriet Tubman was liberating Black people from institutionalized genocide, rape and servitude, the state offered a reward of $40,000 to any bounty hunter who could bring her to "justice." And if you think $40,000 goes a long way now, imagine what it did in 1875. Tubman was so vigorously desired by the state, not only because she broke the laws of chattel slavery (she was legally a thief, who ran away with thousands of dollars worth of what they considered to be stolen property), but also because she represented a revolutionary ideology."

ASSATTA SHAKUR (LIVE FROM CUBA) rare pt1 4/26/2008 YouTube

Happy Birthday Assata Campaign 3/28/2008 Scheme: "On November 2 2006, Mos Def, Sonia Sanchez and the Malcolm X Grassroots Movement helped to kick off the Happy Birthday Assata Campaign, a national mobilization effort to commemorate the revolutionary icon's 60th birthday. Well over one hundred supporters gathered at SEIU 1199 in midtown Manhattan to rally support for Assata and for the many political prisoners detained throughout the United States and abroad."

Letter from Assata on her 60th Birthday Celebration 3/27/2008 HOA: "I am 60 years old and I am proud to be one of those people who stood up against the ruthless, evil, imperialist policies of the U.S. government. In my lifetime I have opposed the war against the Vietnamese people, the illegal contras – war in Nicaragua, the illegal coup in Chile, the invasion of Haiti and of Granada, and every other illegal, immoral and genocidal war the U.S. government has ever waged. I have never been a criminal and I never will be one. I am 60 years old and in spite of government repression, in spite of the media's lies and distortions, in spite of the U.S, government's COINTELPRO Program to criminalize and demonize political opponents, I feel proud to count myself as someone who believes in peace and believes in freedom. I am proud to have been a member of the Black Panther Party although the U.S. government continues try to distort history and continues to persecute ex-members of the Black Panther Party. Just recently, the U.S. government has indicted and arrested 8 ex-Black Panthers in a case that was dismissed 30 years ago. The case was dismissed some 30 years ago when it became obvious that the most vicious forms of extreme torture were used to extract false confessions from some of the so-called defendants."

Assata Shakur 3/26/2008 Gazette, Langston University: "On Common's "Like Water for Chocolate" album, released in 2000, there is a song titled "A Song for Assata," which shines light on Shakur's life. There are also many videos available on Youtube.com that depicts this strong, yet unheard of woman whose resilience led to her freedom."

Common's "A Song for Assata" 5/1/2007 YouTube

Joanne Chesimard Still a Priority 10/3/2006 Police News: published 5/06 - interestingly enough, all the comments on this police site are favorable to Assata…

An Interview with His Lawyer, Stephen Bingham - The Murder of George Jackson 2/23/2006 Counterpunch: "I suspect the governor himself was relatively clueless about who George was, as he was winning bodybuilding contests in the 1970s and beginning his decidedly unpolitical acting career. The question is who were the minions in the state Department of Justice (run by top Democcrat Bill Lockyer) or the governor's office itself who decided it was important to mention Williams' admiration for George, as well as Nelson Mandela, Angela Davis, Malcolm X, Assata Shakur, Geronimo Pratt, Ramona and John Africa, Leonard Peltier and Dhoruba al-Mujahid. It's significant that these people of color with highly advanced political agendas--whether you agree with the politics of some of them or not--are clearly viewed as a real threat to our governmental institutions, even though several are still in prison. That the governor refused clemency in part because Williams admired these people makes his execution one of the most political executions in modern history."

Assata Shakur: The government's terrorist is our community's heroine 10/2/2005 Socialism and Liberation: by Mos Def - "For those of us who either remember the state of the union in the 1960s and 1970s or have studied it, when we consider Assata Shakur living under political asylum in Cuba, we believe that nation is exercising its political sovereignty, and in no way harboring a terrorist. Cubans sees Assata as I, and many others in my community do: as a woman who was and is persecuted for her political beliefs. When the federal government raised the bounty on her head this May 2, one official declared that Assata was merely "120 pounds of money." For many of us in the Black community she could never be so reduced. For many of us in the Black community, she was and remains, to use her own words, an "escaped slave," a heroine, not unlike Harriet Tubman."

Assata Shakur: Woman, Exile, Artist, Mother 9/18/2005 HOA

What Is The Hands Off Assata Campaign? 9/18/2005 HOA

Hands Off Assata Chicago Petition to City Council, 8/05 9/17/2005 AfroCubaWeb

Assata - Rap Icons Godmother Still Gaining Support 8/25/2005 Thug Life Army: "Dear Mayor Palmer: Let me introduce myself by saying that ASSATA SHAKUR is my sister, friend, and comrade in the struggle for human rights of all oppressed people. When three "Freedom Fighters" boldly took action in 1979 and entered the Clinton Correctional Facility and liberated Sister ASSATA from the chains and shackles of her jailers, I rejoiced. I was proud to be apart of a generation of young African Americans that were courageous and committed enough to go up against America and didn't give a damn about odds."

Assata Shakur coverage in the Black press by JR, Minister of Info of the POCC 8/17/2005 SF Bay View

Assata Shakur's appeal attorney explains her case Lies are being manufactured to convert Assata into a terrorist to justify the $1 million bounty on her head by Evelyn A. Williams 8/10/2005 SF Bay View: "New Jersey State Assembly Speaker Albio Sires, a longtime member of CANF (Cuban American National Foundation, representing Cuban exiles), said: "If Cuba's citizenry could be informed of the $1 million bounty and the real story of Chesimard's crimes, there is an increased likelihood of her being brought to justice…. We want the Cuban people to know the real story about Joanne Chesimard and not the deceptive representation advanced by the Castro regime. We want people to realize that she is not a hero and she is really a violent criminal who is wanted for killing a state trooper and escaping justice." By falsely asserting that Assata shot Foerster in the head while he lay helplessly on the ground, killing him "execution style," the U.S. Justice Department hopes to strip Assata of any of the sympathy and political support she now receives in the United States and from the citizens of Cuba. By labeling her a cold-blooded cop killer, the hope is that the real circumstances of the NJ Turnpike as well as all the years prior to that event, during which time Assata was relentlessly hunted with the stated purpose of killing her on sight for having committed crimes of which the government knew she was innocent, will be forgotten."

Black August '05 Tribute to Assata, Mumia, Evelyn Williams, Esq., Lynne Stewart, Esq., and Zolo Azania by Sundiata Acoli 8/10/2005 SF Bay View: "Lynne Stewart, Esq., our White comrade and a 65-year-old grandmother, not only commands our highest respect, but her present situation also demands our strongest support. She has been on the front lines over 30 years unflinchingly defending political people of all nationalities, particularly Black and other people of color, and oppressed peoples in general. Because of Lynne's staunch defense of unpopular political defendants, her own freedom now hangs in the balance. She was recently convicted of violating "special administrative measures" in her defense of the blind Egyptian Sheikh Omar Abdel Rahman and now faces up to 30 years in prison. Her sentencing date is scheduled for Sept. 23, 2005. Lynne urgently needs all the "letters to the judge" that we can write to try to convince him that Lynne's age (65 and counting), her 30 years of service to communities that rarely see vigorous lawyering, and the weakness of the government's charges and proof should lead to a sentence of no incarceration."

'Hands Off Assata' meeting held 7/23/2005 Worker's World

M1 of dead prez on the case of Assata Shakur 7/20/2005 SF Bay View

Hands Off Assata Seeks to Educate Black Community About Shakur Case 7/13/2005 Black America Web

Rap Icons Godmother Target of Amendment 6/18/2005 Thug Life Army: "Many prominent and influential politicians, hip-hop and rap artists and community groups have stepped forward to show support for Assata and her struggle. There is an attempt to further the kidnapping of Tupac's godmother and political activist Assata Shakur. We received the following from a member of the Congressional Black Caucus today."

Congress attempts to further Assata Kidnapping, 6/1505 6/15/2005 HOA: "Reps. Vito J. Fossella, R-N.Y., and Peter T. King, R-N.Y. will offer an amendment providing that, of the funds made available for diplomatic and consular affairs for the U.S. Interests Section in Havana, an appropriate amount of such funds would be used to disseminate the names of fugitives, such as Joanne Chesimard (Assata Shakur) and William Morales, who are residing in Cuba, as well as provide any rewards for their capture."

Rocky's policy on Cuba earns anger of Eastern mayors 6/14/2005 Salt Lake Tribune: "In seeking to pass a resolution to normalize U.S. relations with Cuba, Salt Lake City Mayor Rocky Anderson faced indignation - not from Cuban exiles, but from New Jersey mayors. During the U.S. Conference of Mayors annual meeting last week in Chicago, four mayors from the Garden State attacked the resolution while it was being discussed in the conference's international affairs committee, The Trentonian reports. Trenton Mayor Doug Palmer told the newspaper the resolution was a "slap in the face to law enforcement." The reason: A woman [Assata Shakur] who killed a New Jersey trooper in 1973 escaped from prison and fled to Cuba, where she has been protected from extradition, according to the newspaper. The mayors' committee eventually tabled Anderson's proposal, which says the U.S. economic embargo harms children and the elderly and that the policy has further isolated Cuba. It "urges the normalization of diplomatic and economic relations." "

Assata Shakur Offers Reward 6/8/2005 Rap News: "If Assata's the Bandit Queen of the Black Liberation Army, then Donald Rumsfeld is the Bandit Queen of the U.S. Army," declared Mary Margaret McNurtz, president of the new Hands Off Rummy Brigade, which has also come up with its own attractive t-shirt."

Castro Strikes a Nerve 6/3/2005 Alternet: Assata, Posada, the Cuban 5, and the US criminal justice system, by Soffiyah Elijah, Deputy director of the Criminal Justice Institute at Harvard Law School.

ASSATA: THE STAKES ARE RAISED, WEEK OF MAY 26-JUNE 1, 2005 5/31/2005 Wilmington Journal: a reprint of the Final Call article, with this note - "EDITOR'S NOTE: Assata is the granddaughter of the late Mr. Frank and Mrs. Lula Hill of Wilmington. She spent many summers here in Wilmington In the 500 block of South Seventh Street."

National Conference of Black Lawyers 5/27/2005 Black Commentator: "The announcement that a $1 million bounty has been placed on the head of exiled freedom fighter Assata Shakur sends a clear, unmistakable message that the U.S. government will stop at nothing to perpetuate the systemic denial of the most basic human rights of African people born and/or residing in the Americas. The National Conference of Black Lawyers (NCBL) demands that the U.S. government immediately withdraw the bounty offer, and permanently cease its pursuit of Assata Shakur as such is both illegal and unjustifiable under international human rights laws."

Mos Def, Talib Kweli, dead prez Speak Up For Assata Shakur 5/26/2005 All Hip Hop: "Rappers Mos Def, Talib Kweli and dead prez spoke in support of former Black Panther Assata Shukur at a press conference yesterday (May 25) at New York's City Hall. Charles Barron, councilman from Brooklyn's East New York called the meeting as a response to a million dollar bounty on the political fugitive, who now resides in Cuba. Barron also introduced a resolution that seeks presidential clemency for Shakur, claiming that she the victim of "trumped-up charges and a kangaroo court with an all-white jury." Both Mos and Kweli stated that they feel Shakur was unjustly convicted for the murder of a police officer in 1973."

Barron Seeks Clemency for Cop Killer 5/26/2005 NY Sun: "Infuriating law-enforcement organizations and his colleagues, a City Council member, Charles Barron, introduced a resolution yesterday urging clemency for a convicted and escaped cop-killer, Assata Shakur, formerly known as Joanne Chesimard."

N.Y. Politicians, Black Activists Rally in Support of Assata Shakur 5/25/2005 Black America Web: "Several members of the New York City Council and black community activists assembled on the steps of City Hall in Manhattan Wednesday to condemn the federal government's $1 million bounty on Black Liberation Army member Joanne Chesimard, who is now known as Assata Shakur, and living in Cuba."

Hip-Hop Artist Get Involved For Assata 5/24/2005 Thug Life Army: "On Wednesday, May 25th at 1:30PM, Brooklyn City Councilmember Charles Barron, prominent hip-hop artists and community groups will hold a press conference on the steps of City Hall condemning a one-million-dollar bounty offered May 2nd for the capture of exiled Black Liberation fighter Assata Shakur; the godmother of the late rap icon Tupac Shakur. "I'm infuriated that a bounty has been put on her, placing her in danger," said Councilmember Barron – who called for Wednesday's press conference – "She is a shero to our community, its long overdue for her to receive clemency and come home." "

Assata Shakur is No Terrorist By Hands Off Assata Campaign 5/20/2005 Political Affairs

Assata Shakur: The Government's Terrorist Is Our Community's Heroine 5/19/2005 All Hip Hop: by Mos Def

Assata Shakur: The Government's Terrorist is Our Community's Heroine 5/18/2005 Pacific News

Assata and Posada: Two different colors, two different stories 5/18/2005 SF Bay View: "The generally unacknowledged factor of Posada and Bosch's blowing up of the Cubana airliner, however, is this. If tourists to Cuba take the time to visit Havana's Sport's Palace, guides will inevitably take them to the memorial wall. From there, visitors will be greeted by row after row of young, mostly Black faces staring back at them – photographs of Cuba's Olympic athletes who were returning from the Pan American Games in Venezuela and were on board the airliner Posada and Bosch likely bombed. Therefore, by putting a $1 million bounty on Sister Shakur, who, they say, is linked to the killing of one white person, while allowing Posada and Bosch remain free in the U.S. after killing at least 73 mostly Black people, the U.S. has once again exposed itself as a government that continues to capitulate to and accommodate itself to racism."

Assata: The stakes are raised 5/16/2005 Final Call: "Attorney General Alberto Gonzalez, according to Newsday, personally approved the money from the Justice Department. It will be paid for information leading to her safe capture, but not if she is killed in the process."

Official Response to Announcement of $1 million Bounty and the Listing of ASSATA SHAKUR on Domestic Terrorist Watch List 5/15/2005 HOA: "Former New Jersey Governor, Christie Todd Whitman, curried political favor with the state's police when she announced a bounty of $25,000 for Assata and later doubled it to $50,000. She was duly rewarded by President Bush who appointed her in 2001 to be the head of the Environmental Protection Agency. The bounty was quietly increased by the FBI to a million dollars as it crept around the country looking for relatives, friends and associates to enlist in its scheme to kidnap Assata and return her to the United States. Time and time again, the FBI offered them a million dollars for their services. To some, they stated that there was no limit to how much they would pay for Assata's return."

New Campaign For Rap Icon's Godmother 5/6/2005 Thug Life Army: "The following information is provided by The Talking Drum Collective of Stone Mountain, Ga. The Hands Off Assata Campaign is a coming together of organizations and individuals who are outraged by the heightened attempts by the federal government, congress of the united states and the State of New Jersey to illegally force thru kidnapping a return of Assata Shakur from Cuba to the plantation United States…"

From Assata to Emmett, Timing of Old Cases' New Emphasis Questioned 5/4/2005 Black America Web: "But Rev. Jesse Jackson and other civil rights activists question the timing and the motives of the Bush administration's efforts, maintaining that when it comes to the nation's priorities. there are more pressing issues to be considered. "It is interesting how they are exhuming these old cases," Jackson told BlackAmericaWeb.com Wednesday afternoon. "While they are planning to exhume Emmett Till's body to find the killers 50 years later, they are refusing to deal with current issues -- like a five-year-old being handcuffed in St. Petersburg or a man shot four times by the police in Chicago.""

$1,000,000 bounty for Assata Shakur 5/4/2005 SF Bay View: "I'm going to jump on it," said professional bounty hunter Louis Faccone, who attended the press conference Monday announcing the reward. "My guys can get (into Cuba) in the middle of the night by boat from the Florida Keys."

Selling out Assata by Mumia Abu-Jamal 5/4/2005 SF Bay View: scroll down for this article originally published 9/98.

Commentary: NJ Troopers Have Selective Amnesia About How They Victimized People Like Assata Shakur 5/3/2005 Black America Web: "I'm dubious because the New Jersey State Police had then –– and still have –– a reputation for being notoriously racist. In many cases, stopping someone for a busted tail light tends to be more of an excuse to target someone, namely black people, for harassment rather than to advise them to get the light fixed. And while neither I nor any of the white people who convicted Shakur were there when Foerster was shot, it's rather interesting that up until that time, she only had a record of organizing free breakfast programs and other community empowerment programs, and not a record of provoking violence. I'm dubious because, as much as people like Fuentes are calling for justice for Foerster, some of their own are still doing the same injustices to black people as they did in Shakur's day. In 1998, troopers on that same New Jersey turnpike upon which Shakur was stopped shot and wounded three unarmed black and Latino men whom they suspected were carrying drugs. They weren't. The next year, the New Jersey Attorney General's Office issued a report that found that racial profiling by the troopers was rampant. And as recent as 2003, the Philadelphia Inquirer reported that internal affairs officers for the New Jersey State Police looking into racial and sexual harassment allegations found a T-shirt with the letters LOD. The initials, which stand for "Lords of Discipline," represent a secret society that many black and women officers say is sexist and white supremacist. I'm also dubious because Shakur was convicted by an all-white jury –– a jury that was, at that time, probably was more consumed with administering punishment to black people than in administering justice to them. Some bounty hunter in Florida said he plans to try and capture Shakur. I hope he fails. I hope he fails not only because I believe that Shakur was wrongly convicted, but because I believe it is the height of hypocrisy for the Bush administration to put her on the same terrorist watch list as Osama bin Laden. It is also hypocritical because right here in the United States, we are harboring a number of fugitives and murderers from other countries. And it's sheer political lunacy to compare Shakur to bin Laden; she hasn't killed 3,000 people, nor does she have the capability of carrying out terrorist attacks against the United States."

U.S. Government Declares $1 Million Bounty For Assata Shakur, Tupac's Godmother 5/2/2005 All Hip Hop News: "Rappers like Paris and Common have written sympathetic, reflective songs about Assata ["Assata's Song" and "A Song For Assata" respectively]. Common explained his support of Shakur. "The reason I was even connected to this woman is because of her humanity and her passion for people," the Chicago native told AllHipHop.com. "And when I met her on a Black August trip four years ago and I learned she was innocent and that all the pain and hate that had been placed upon her, she'd overcome. There's no way than anyone in this world should want to harm her. She's such a beautiful human being.""

Assata Shakur: Flight from justice 11/21/2004 New York Daily News

Bard, Bound - Poet and political prisoner Marilyn Buck dreams beyond the walls of her cell. 10/6/2004 East Bay Express: Bucks is incarcerated for alleging having helped Assata Shakur to escape.

U.S., keep your hands off Assata! Interview with Assata Shakur, part 2 7/9/2003 SF Bay View

U.S., keep your hands off Assata! Interview with Assata Shakur, part 1 7/2/2003 SF Bay View

From exile with love - Former Black Panther Assata Shakur speaks to America from Cuba 6/11/2002 Final Call: "Final Call Staff Writer Nisa Islam Muhammad traveled to Cuba with a group of 15 journalists under the guidance of DeWayne Wickham and the Institute for Advanced Journalism Studies. They are documenting the African influence in the Americas. While there, she was granted an exclusive interview with exiled former Black Panther Assata Shakur."

My interview with Assata Shakur 6/11/2002 Final Call: "I am moved by her commitment as expressed in a poem she wrote: "It is our duty to fight for our freedom. It is our duty to win. We must love each other and support each other. We have nothing to lose but our chains."

Attorneys Visit With Sundiata/Reflections on Organizing! 12/23/2001 Afrikan Identity: Sundiata, along with many other political prisoners, was put in lockdown after 9-11. He is still heavily restricted, as per his attorney - "Sundiata was not informed that his social visits and mail was reinstated, so Soffiyah believe the administration may have lied to her. i'm encouraging everyone to continue to write Sundiata. He is only let out of his cage upon visits, he showers in the cage as well, anyone thats on his visiting list that can, please go and visit with him." Sundiata was in the car with Assata when they were assaulted by a Nazi cell in the NJ State Police.

New Jersey Trooper Billboards Ask for Praise, Not Profiling Complaints 11/13/2001 AP: We have documented the role of Nazi cells in the New Jersey State Police.

HER NAME IS ASSATA!! 7/21/2001 Afrikan I-dentity: "[Mr. Dunbar:] Your masters may find your bootlicking and pathetic stance becoming and reassuring, but we, the people who continue to resist, do not…"

What was Al Sharpton doing in Cuba? 12/1/2000 AfroCubaWeb: "What was the Reverend Al doing in Cuba? As is clear from his recent forays, he is trying to build up a national reputation. The news about the hip-hop ventures may also be seen as an effort to restore credibility on the streets and on the left. The Reverend Al appears to have gained ground in erasing his earlier career as an FBI informant, having lunch with Fidel Castro and organizing a large hip-hop exchange with InterScope records, among others. However, the road has sometimes been rocky: folks in Detroit prevented him from achieving much there by posting these Newsday articles below from 1988. Basically they outline how he was an FBI informant and tried to set up Assata Shakur for capture."

Is Cuba A "Racial Democracy?" 3/10/2000 Planete Afrique: "Columbia University historian Manning Marable visits Cuba frequently, meeting with Afro-Cuban leaders and American expatriates like former Black Panther Assata Shakur, who sought asylum in Cuba after escaping from prison on the United States. "Since Afro-Cubans have been at the bottom of the social and class hierarchy before the revolution, they have gained the most from the vast societal changes which have occurred," Marable says. "A quarter-century after the revolution, employment, infant mortality, and life expectancy rates were better off for Blacks in Cuba than for Blacks anywhere in the world, even in the United States." Although supportive of the Revolution's progress, Marable is aware that it's difficult to eradicate "old habits and attitudes" in a society in which slavery existed for centuries. "The struggle to destroy racism still remains a central challenge in Cuba," he admits. "But on balance, the Cubans are far more honest about their shortcomings, and have achieved greater equality for Blacks than we have in the U.S.""

Republican Bob Franks (NJ) sponsors bill on Assata 5/1/1998 AfroCubaWeb

Poem to Assata in Exile by Comrade Askia M. Touré 4/27/1998 AfroCubaWeb