Carlos Ricardo: un marinero en la caliente



Liliana Valencia en Cardenas, 6/23/22

Cantos de Tumba Frances al PIC

Cameroon: ancestral lands at risk



Victor Fowler on Harvard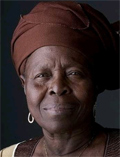 Sophie Olúwọlé
Ìyánífá, Filosofa

Daymé Arocena sobre Hansel Hernández

Desde mi balcon: Quinto round
Zurbano y el rol de las religiones

Descarge: Reyita, sencillamente de Daysi Rubiera

Aracelio Iglesias
1901 - 1948
2da Jornada Cubana de Articulación Afrofeminista. 7/14/2023 Literacy Project Archive. Highlights the Articulación Afrofeministas Cubana, dedicated to Sarah Gomez and Gloria Rolando.

Programa de la II Jornada cubana por el día internacional de la mujer afrolatina, afrocaribeña y de la diáspora. Dedicada a las cineastas Sara Gómez y Gloria Rolando, 20 julio, 2023 - 29 julio 2023. La Habana. Articulación Afrofeministas Cubana,

Boletín Comisión Aponte # 95 & 97, 2023

Cuban Daymé Arocena Releases Tribute to Puerto Rico Para Mover Los Pies 5/3/2023 Afropop: "Afro Cuban soul star Dayme Arocena recently moved to Puerto Rico and she is super inspired in her new life in San Juan and feels deeply connected with the culture there. See our page on Daymé Arocena.

The XXI International Conference on African and Afro-American Culture, Fernando Ortiz African Cultural Center, Santiago de Cuba, 4/12/2023 - 4/16/2023

XXI Conferencia Internacional de Cultura Africana y Afroamericana, Santiago de Cuba, 12/4/2023 - 16/4/2023

Strange Fruits: The Cuban Halloween Harvest of 2022, by Roberto Zurbano Torres, translated by Pablo D. Herrera Veitia. 11/1/22

Boletín Especial Comisión Aponte, 4/11/2022. Declaración de la Comisión Aponte por hechos ocurridos en Holguín

Boletín Comisión Aponte # 92. Agosto, 2022

Matanzas: El Incendio de 2022 - The Fire of 2022. A major disaster still unfolding though the fires are almost out, opportunities to help. Un marinero en la caliente."No te alcanza una flecha si no vas al campo de batalla". Yoruba. 8/9/2022 Emilio Emilito O'Farril Almendariz, RBA, Afroarte: [La Marina es un barrio portador de tradiciones africanas en Matanzas, donde hay la Red Barrial Afrodescendiente]

#hiphophavanaberlin. Urban counter-cultures and social movements in the Black Atlantic. From Cuba: Roberto Zurbano, Aracely Rodríguez, Rodolfo Rensoli, La Reyna y La Real, Sandra Álvarez. 7/29-7/30, 2022

La mujer afrocaribeña: mirada desde dentro. Dialogo entre cultura, historia, y decolonialidad. 22/6/2022, Instituto de Filosofia

Boletín Comisión Aponte # 90. Junio, 2022: Esteban Morales, Fátima Patterson, Francia Marquez

Presentación de "El racismo y yo" por la periodista afrocolombiana Liliana Valencia en el sede del Wenilere Cardenense, Cardenas, Matanzas, 6/23/2022. Parte de la 4ta. Jornada de Herencia Africana con una conmemoración de La Escalera, feria de afroemprendimientos, y la agrupación Afro-Cuba de Matanzas.

Boletín Comisión Aponte # 89. Marzo-Mayo, 2022 con articulos sobre Gloria Rolando, Silvio Castro, y la Afroferia de Intercambio del Red Barrial Afrodescendientes.
Boletín Comisión Aponte # 88. Febrero, 2022

«Cosas de negros, negocios de blancos» 6/9/2022 La Joven Cuba: Alberto Abreu entrevisando a Roberto Zurbano.

Falleció el 25/05/2022 Danilito Pérez, omo Elegguá, omo Yemayá, tata nganga, bailarín y coreógrafo, jubilado de Afro-Cuba de Matanzas.

May, 2022, is the 110th anniversary of the 1912 Massacre of the Party of the Independents of Color. Mayo de 2022: conmemoración de los 110 años de la Masacre del Partido de los Independientes de Color en 1912

Revista Cubana de Ciencias Sociales No. 54 12/8/2021 Instituto de Filosofía: Coordinada por Aracely Rodríguez Malagón - "Este número 54, además de los acostumbrados artículos y reseñas bibliográficas, incluye el dosier «Raza y racismo: narrativas contrahegemónicas». Y en la sección de archivos, recuperamos textos de bell hooks, Roberto Zurbano y Pablo González Casanova."

Boletín Comisión Aponte # 83. Julio-Agosto, 2021: - Almeida en el recuerdo, por Heriberto Feraudy Espino; Antirracismo y reparación; Los hechos y su interpretación: un duelo entre narrativas divergentes. Cuba, sincronizando narrativas sobre el 11-J, por Zuleica Romay

It's Time: The People, Cuba, and Radical Solidarity on Zoom, Black Lives Matter, Monday July 26, 2021. with Liz Oliva Fernandez, Nancy Morejon, Roberto Zurbano, Akinyele Umoja, Danny Glover, Obi Egbuna Jr., Tanya Saunder. Moderators: Karlene Griffiths Sekou - BLM, James Early - Institute for Policy Studies. Materials forthcoming. First in a series.

El Movimiento por Vidas Negras se solidariza con el pueblo cubano y el espíritu de la revolución cubana, 7/2021 M4BL The Movement for Black Lives is in solidarity with the Cuban people and the spirit of the Cuban revolution. 7/23/2021 M4BL

Black Lives Matter and Cuba: Statement on Cuba 7/15/2021 BLM Instagram; Traducción de la declaración de BLM sobre Cuba; Traduction de la déclaration Black Lives Matter sur Cuba.

The Mother of Humanity® Monument Foundation, Inc. and ARK Jammers Connection, Inc.: Land expropriation among the Batanga people in Kribi, Cameroon. Are Black Americans joining in the Françafrique exploitation of a traditional African people related to Abakuá? 6/29/21

Joint Statement on Human Rights in Cuba 6/1/2021 English/ español/ portugues. From 3 Harvard centers. For the context, see San Isidro and Racism. Para el contexto, ver San Isidro y el racismo. For a response from Cuba, see A Painful Document by Victor Fowler, 6/5/2021. Por una respuesta desde Cuba, ver Un documento penoso 6/5/2021 de Victor Fowler.

Boletín Comisión Aponte # 82. Mayo-Junio, 2021: Victor Fowler, Nancy Morejón, Dr. C. José Antonio Rodríguez Ben, Heriberto Feraudy (Cartas de Martí a Maceo), Pedro Ríoseco (Aracelio Iglesias).

Red de Mujeres en la Comisión José Antonio Aponte 4/30/2021 por Dr Gisela Arandia

Una propuesta notable y no binaria sobre San Isidro y la crisis de raza en Cuba: Contra la rabia política: una vacuna y una propuesta 4/25/2021 Sin permiso, de Roberto Zurbano.

Boletin Aponte #81, abril 2021 con Miguel Díaz-Canel, Fidel Castro

El llamado caso San Isidro 4/19/2021 Moncada, Esteban Morales

Boletín Comisión Aponte #80. Marzo, 2021 con Victor Fowler y Zuleica Romay

Hoy acaba de llegar a la venerable edad de 80 años Eliseo Altunaga, por Roberto Zurbano, 21/3/2021

Otorgan Medalla Alejo Carpentier a destacados intelectuales y artistas cubanos 3/6/2021 Cubadebate: "1. Nancy Morejón Hernández 2. Víctor Fowler Calzada…"

8 de Marzo : Compromiso del Estado de la Diáspora Africana, Dia internacional de la mujer: "Por eso, hoy no estamos de fiesta, estamos en lucha." Dr. Rosa Campoalegre.

Boletín Comisión Aponte # 79. Febrero, 2021. Malcolm X, un revolucionario inclaudicable por Esteban Morales.

Secretos de un hombre público, Tomas Fernandez Robaina: 80 años de aportes y resistencias, 5 de marzo, 2021. El inquieto Tomasito o retrato de un historiador del presente, por Roberto Zurbano. Tomas Fernández Robaina, por Georgina Herrera

Union Cinema Presents THE MALI CUBA CONNECTION 2/22/2021 Eventive: free premiere in the US.

Se puede actualizarse con los números más recientes del Boletín Comisión Aponte, incluyendo el boletín de enero.

Las Iyanifá - The Ìyánífá, Iya 'madre', Iyanifá 'madre de Ifá' - Iya 'mother', Iyanifá 'mother of Ifá', 1/2021. Women babalawo have long existed in Nigeria and now in the Americas but are rejected by some in Cuba, perhaps a result of colonization.

Sophie Bọ́sẹ̀dé Olúwọlé,

Ìyánífá, Philosopher/Filosofa (1936-2018). Nigeria. One of the greatest on Yoruba philosophy. Gran maestra de pensamiento Yoruba.

The Cinema of Sara Gómez: Reframing Revolution. Edited by Susan Lord and María Caridad Cumaná, 2020. With Victor Fowler Calzada. Contributions by Inés María Martiatu Terry, Lourdes Martínez-Echazábal, Odette Casamayor-Cisneros, Sergio Giral, Luis García Mesa, Devyn Spence Benson, Rigoberto López, Joshua Malitsky, Ana Serra, Iván Arocha Montes de Oca, Ricardo Acosta, Alan West-Durán and Sandra Abd'Allah-Alvarez Ramírez.

"Así son los Grandes Hombres / Mi Amigo Chavez", 28/7/2020 de Alberto Lescay. Y de Venezuela: El testamento africano y afrodescendiente de Hugo Chávez 7/28/2020: por Jesus Chucho Garcia - Pero más allá de Venezuela estoy pensando en la integración de América Latina, de esta Afroamérica que está dispersa por todas estas tierras, por todas estas aguas y con Cuba hemos estado avanzando en ese trabajo, con Jamaica, con el Caribe oriental que aunque más del 90% de esos hermanos hable inglés son afrodescendientes."

Boletin Comision Aponte Edición Especial 15-6-2020
Príncipe negro para George Floyd, Nancy Morejón
A Black Prince Rose for George Floyd, Nancy Morejón
Declaración de la Comisión Aponte de la UNEAC
Floyd: réquiem y diagnóstico, Pedro de la Hoz
Después de George Floyd, Victor Fowler
EE.UU. es un experimento social fallido, Cornell West
Donald Trump, ¿el Hitler Norteamericano? Heriberto Feraudy Espino
Por Floyd: contra el racismo represor y anticultural, UNEAC Matanzas
Mucho más que COVID-19 en blanco y negro: George Wallace está otra vez a cargo, Nicolás Hernández Guillén
Propuesta de Alden Knight
Racismo, Victor Fowler

Crimen y permisibilidad del racismo antinegro, 3/6/2020 Gisela Arandia

Postpandemia en Cuba 5/25/2020 PCN. Población afro de Cuba: sus retos en la postpandemia 5/26/2020 IPS

Monika Gosin is assistant professor at William and Mary and the author of a key book: "The Racial Politics of Division: Interethnic Struggles for Legitimacy in Multicultural Miami". A talk she gave in April via the Sonja Haynes Stone Center in North Carolina is now available.

El Programa Nacional contra el Racismo y la Discriminación Racial 3/10/2020 Mesa Redonda. Ver tambien Programa de Gobierno de Cuba contra el racismo y la discriminación y Pedro de la Hoz, participante.

Román Díaz Rumba Ensemble [scroll down to Román Díaz] 3/26/2020 UMASS, Amherst: "Master percussionist, scholar, and composer Román Díaz is regarded as a "living repository" of Afro Cuban music. As a member of the seminal rumba ensemble Yoruba Andabo and mentored by the great Pancho Quinto, he aided in the creation of the sound that has defined rumba since the 1980's. His mastery of Batá along with his rock solid groove on congas is present on countless recordings worldwide. His ensemble gives a profound and unforgettable cultural experience, presenting its own unique repertoire with a broad and deep sound that draws upon its tradition, and all the stations along the evolutionary journey of Afro-Cuban music." [See his page on AfroCubaWeb. The traditions live on.]

Cátedra identifica manifestaciones racistas en Cuba 2/23/2020 IPS: "Invisibilidad, lenguaje peyorativo, escaso acceso a empleos en el sector privado, estereotipos en el imaginario social y los medios de comunicación, son manifestaciones de racismo en Cuba, que quiere contribuir a eliminar la Cátedra Nelson Mandela." Ver Rosa Campoalegre.

Republicanismo Popular y Racialización en los Andes y el Caribe, 1/2020 Conferencia en la Habana

"Aponte's legacy in Cuban popular culture." Afro-Hispanic Review. V. 37, n. 2 (Fall, 2018, 1.2MB, PDF) by Ivor Miller

Contra la opresión imperialista: cumbe, palenque y quilombo 2/5/2020 La Ventana: por Zuleica Romay - "El plan de acción aprobado en la sesión fundadora del Cumbe Internacional incluye un foro especializado sobre Reparaciones, el cual se constituirá el próximo mes de marzo; la firma de acuerdos de colaboración del Centro de Formación e Investigación con instituciones académicas y científicas de todo el mundo; la creación de una biblioteca panafricanista; y el desarrollo de una red de comunicación al servicio de los pueblos afrodescendientes y africanos."

----


Letra del Año - Proyecto Orunmila, based in Regla, Cuba, has the largest collection of these annual Ifa readings anywhere.

Check out some great video clips at esquinarumbera.blogspot.com, includes Los Muñequitos, Celeste Mendoza, Afro-Cuba de Matanzas, others.

Support the artists: get Pello's sheet music for bata, Flor Amalia's script, and Gloria Rolando's films. This is legal trade that benefits these artists.

Gordillo page featuring Kongo Cruzado: Cuban Lukumi and Kongo Identities in the Art of Francisco "Gordillo" Arredondo by Ivor Miller, 9/16/2006. AfroCubaWeb is holding 11 of his paintings for sale, see his Gallery.

"Útero y maternidades en la poética cinematográfica de Gloria Rolando" 11/7/2023 Conferencia En Línea de Maydi Estrada.

AfroCubaWeb Home Page Archive for past years
Andrés Chacón y el grupo Iré Iré, out on YouTube, 7/9/23

(Anti-)racismo y republicanismo negro en Cuba 6/1/2023 Colección CLACSO-CALAS.

Haiti & Cuba: The Politics of US Immigration Policy 6/15/2023 Massachusetts Peace Action. Zoom meeting, free registration. See also Haiti in Cuba.

Hermanas de Corazón - Premier ICAIC, 11 de mayo, 2023. La Habana.

Afro Roots Fest Gainesville, FL April 7-8th, 2023: ODARA, Afro-Cuban Convening. Cast includes Roman Diaz, Sandy Perez, and Ivor Miller. With members of Raices Profundas | Yoruba Andabo | Grupo Afro Cuba & Conjunto Folkorico National de Cuba, in workshops and multiple concerts. Mix of free and ticketed events. Tickets required before Friday 7th via Eventbrite.

Black and Cuba, released in 2016, available free on YouTube. "A must see for people of all colors!" Eduardo Bonilla-Silva, Author, Racism without Racists, now banned in Florida. "By the end of their travels, the students realize that Cuba is neither a red menace nor a revolutionary utopia."

Declaración fundacional de la red internacional de voces afrofeministas (RIVAS) Marzo 14 de 2023

Los medios cubanos se enfocan en la vida y carrera de Gloria Rolando. 3/7/2023

Boletín Comisión Aponte # 93, diciembre, 2022 y #94, enero, 2023

Hermanas de Corazón - 2023. Panel, Casa de las Americas, La Habana. Tres décadas de cine, treinta años de amor - dedicado al 70 cumpleaños de la investigadora y cineasta Gloria Rolando, 15 de febrero, 2023. Presentaciones de Hermanas de Corazón y debates - 16 y 17 de febrero, 2023. Cine 23 y 12, La Habana. Gloria Rolando y Grupo de Video Imagenes del Caribe

Cultural Stones in the Cross River Region and its Atlantic Diaspora." The Bakor Monoliths, Factum Foundation, Ivor Miller, 2022. Ékpè and Abakwa continuity.

Fallece el gran etnólogo y africanista cubano Rogelio Martínez Furé. Fundo el Conjunto Folklorico Nacional.10/10/22. The great Cuban ethnologist and africanist Rogelio Martínez Furé passes to the ancestors. He founded the National Folkloric Group. 10/10/22.

Voice of the Leopard: African Secret Societies and Cuba: Reviewed by Gwendolyn Midlo Hall, Emerita, Rutgers University, American Historical Review, Feb, 2010

"A Marinero* in the hot zone." "You can't get hit by an arrow if you don't go to the battlefield." Yoruba. Nigeria. by Emilio O'Farril Almendariz, Matanzas, concerning a severely burned firefighter from La Marina, steeped in African traditions.

Primera Jornada por la Mujer Afrolatina, Afrocaribeña y de la Diáspora, La Habana, 18-25 de julio, 2022. Se puede inscribir su trabajo hasta el 15/7/2022. Programa completo. Concurso por el Día Internacional de la Mujer afrodescendiente 7/10/2022 SEMLAC

41 Festival del Caribe. Santiago de Cuba, 3 al 9 de julio de 2021. Se le dedica al 40 aniversario de la fundación de la Casa del Caribe, al Septeto Turquino, al grupo de teatro Macuba, cuya directora es Fatima Patterson, coordinadora, Taller de Teatro "Rumbos del Teatro Caribeño", y al grupo Tumba Francesa La Caridad de Oriente.

"Lo llevamos rizo", más allá de lo impuesto 6/24/2022 Cubadebate: Ver tambien Lo llevamos rizo.

LA CULPA ES DE LAS TOTÍ!!, 6/2020 por Aracely Rodríguez Malagón. Todavia de actualidad.

II Coloquio Internacional de Estudios sobre Afroamérica, del 14 al 17 de junio, 2022: articulos, 34 videos en YouTube.

El padrino inocente Cantos de Tumba Francesa a los Independientes de Color. 6/15/2022 YouTube, Casa de las Américas La_Habana_Cuba: "video clip en recordación y homenaje a las víctimas de la masacre del Partido Independiente de Color," Lic. Yasmani Castro Caballero

"Hay un tesoro desconocido en los saberes de las negritudes": Rosa Campoalegre 6/10/2022 Pie de Página Feminismos negros: aprendizajes y posicionamientos desde Cuba 5/30/2022 Jiribilla por Rosa Campoalegre Septien.

Esteban Morales falleció, 18/5/2022. Esteban Morales passed to the ancestors, 5/18/2022. Hasta siempre Esteban, por Gisela Arandia Covarubia, 26/5/2022. Obituario por DrC. Eduardo Alfonso Ortega Delgado, Universidad de la Habana

Factores para una solucion de la problemática racial en Cuba. Esteban Morales. UNEAC. 15/5/2022 [Su ultima publicacion sobre la problemática racial en Cuba, de 2013.] "¿Continuamos estando en presencia de un tema tabú? Yo creo que aun sí. Y es muy lamentable que así sea; porque conflicto de nuestra realidad social, que no abordemos, termina virándose contra nosotros mismos."

Barrios, desigualdad y estrategias en Cuba 2/16/2022 Joven Cuba: Con Gisela Arandia, Roberto Zurbano, Alberto Abreu.

"Ékpè 'leopard' association songs from the Cross River region." International Journal of Linguistics and Communication. I. Miller, M. Òkôn. 2020, University of Calabar. Ékpè is Abakwa in Calabar.



AfroCuban poet Georgina Herrera passes to the ancestors: well known for her feminist and AfroCuban themes. 12/13/21

Who threw the chalk? Political discourse, hip hop and research in Cuba 11/20/2021 Maikel Pons Giralt

CUB@FRO (N1, Julio 2021), Centro de Investigaciones Psicológicas y sociológicas. Cátedra Nelson Mandela, Grupo de Trabajo CLACSO Afrodescendencias y propuestas contrahegemónicas

Black Lives Matter: a Declaration or an Alliance? by Roberto Zurbano, 7/21 Black Lives Matter: ¿declaración o alianza?, 7/2021

This document on the role of criticism in solidarity has gotten favorable reviews in senior Cuban government circles: Solidarity with the Cuban Revolution 7/22/2021. "...the dialectic in Cuba is stuck."

Against Political Rage: A Vaccine and a Proposal by Roberto Zurbano, 7/2021: an insightful treatment of the San Isidro Movement which has been influential in the current July protests.

40 Festival del Caribe, Fiesta del fuego, Santiago, 3 al 9 de julio, 2021. Este festival virtual se queda en el web con sus multiples eventos ricos.

El festival del Caribe y yo, 8 de julio, 2021, por Tomas Fernandes Robaina

Cruzando el parque: Hacia una política racial en Cuba 2/15/2021 Humania del Sur: por Robero Zurbano - "Cuba lanza Programa Nacional Contra el Racismo y la Discriminación Racial en 2019, primera política racial post-1959, pues el dogma marxista ocultó durante décadas el racismo. Sólo el activismo recuperó el significado político del antirracismo. Tal política racial es resultado de acciones y organizaciones ciudadanas que desbordaron la comprensión y permisibilidad del Estado, hasta definir por qué y para quién tiene sentido una política racial en Cuba hoy. La tradición antirracista, los resultados de investigaciones y la nueva voluntad política se re-insertan en una batalla local y global donde Cuba debe jugar un importante rol."

Alberto Jones on the scope of the Helsinky Human Rights Agreement and Cuba: A Cuba in Diaz Balart's Image or that of Today's Miami, 1998.

Recurrencias e insurgencias del debate racial cubano 2/21/2021 Afrocubanas. Por Zuleica Romay.

Felicitaciones a la Maestra por su cumple de 70 años: Fátima de la Caridad Patterson Patterson, 6/2/2021 Ver los articulos, con videos.

Marginalización y disidencia en Cuba 1/20/2021 IPS: por Gisela Arandia

Día Mundial de la Cultura Africana y de los Afrodescendientes 1/20/2021 La Ventana, Casa de las Americas: [con videos] por Zuleica Romay. Con Fania Noël del Colectivo Mwasi, Paris.

Israel Berriel González, Cantante, Los Muñequitos de Matanzas. 1937-2020, por Caridad Diez Ferrer. Singer, Muñequitos de Matanzas. 1937-2020, English translation by Ned Sublette, 12/18/2020

Zuleica Romay: Elogio de la altea 10/29/2020 Afrocubanas: Descargar Elogio de la Altea, Fondo Editorial Casa de las Américas, 2014. Descargar reseña «Elogio de la altea, la racialidad en discusión«. Temas, n. 79, 117-119, julio-septiembre de 2014.

Afrocubanas. La Revista No. 2: Desmontando legados occidentales para construir caminos de emancipación, 10/11/2020

"The Relationship Between Early Forms of Literacy in Old Calabar and Inherited Manuscripts of the Cuban Abakuá Society." Calabar on the Cross River: Historical and Cultural Studies. Eds. D. Imbua, P. Lovejoy, and I. Miller. Trenton, N.J.: Africa World Press. A wonderful document on old Abakwa writings in Calabar and Cuba.

Belly of The Beast is a Havana-based project made up of Cubans and foreigners. It is unique in countering parachute journalism and providing stories directly from the island for a Western audience in English. Executive producers: Oliver Stone and Danny Glover. They have released 3 episodes.

Afrocubanas. La Revista No. 1: Que podamos respirar, 10/10/2020

En blanco y negro 7/5/2020 Granma por el destacado científico Ernesto Estevez Rams: "El racismo, cuya causa histórica está en la búsqueda de la explotación más brutal como modo de enriquecimiento, es también en su esencia y necesariamente un fenómeno cultural. Por eso no se acaba con eliminar las bases económicas que lo sustentan."

Hansel Ernesto Hernández Galiano es el joven afro matado por un policia afro en Guanabacoa, la Habana, 24/6/2020. La famosa cantante Daymé Arocena publico sobre Hansel Hernández en su cuenta Facebook. Ella conoce bien a Guanabacoa, se hizo santo allí.

Quinto round: desde mi balcon: Doce parrafos de memoria contra la pandemia del olvido, 19/6/2020, parte de una serie nueva que se encuentra en su pagina Roberto Zurbano. El Quinto trata de las religiones, punto clave en la resistencia. DESDE MI BALCON: DOCE PARRAFOS DE MEMORIA CONTRA LA PANDEMIA DEL OLVIDO (SEXTO ROUND, donde parece que tiro la toalla) 6/25/2020 Desde mi balcon: diez parrafos de memoria contra la pandemia del olvido (Septimo round, ¿Final?) Incluye sobre Hansel. 7/3/2020 AfroCubaWeb

La pandemia racializada - Debates desde la afroepistemología (II) 6/15/2020 Ancestralidad, antirracismo y actualidades: "La continuidad de la serie "La Pandemia racializada: debates desde la afroepistemología", tiene lugar en un contexto histórico de resistencias, muy especial. América Latina y el Caribe han devenido en el epicentro de la pandemia COVID-19 y se globalizan las movilizaciones populares de repudio ante la histórica brutalidad policial contra el pueblo afroamericano, asentada en el racismo estructural, a raíz del asesinato impune de George Floyd. Editor: Rosa Campoalegre

The translation of the great classic, Afrocubanas: historia, pensamiento y prácticas culturales is Afrocubanas: History, Thought, and Cultural Practices (Creolizing the Canon), published 5/2020, and now available. It was originally edited by Daisy Rubiera Castillo and Inés María Martiatu Terry, in 2011. Devyn Spence Benson organized and edited the US edition.

Proceso de Comunidades Negras, Colombia, Colección Dinamicas Organizativas del Pueblo Negro en Colombia, Universidad de Texas, 1978-2019. El gran grupo de la resistencia afro en Colombia.

Agustín Laó Montes: Contrapunteos diaspóricos, cartografías políticas de nuestra Afroamérica, Universidad del Externado, Colombia, 2020. Integra un conjunto de estudios y ensayos cuyo hilo conductor es el entrelace entre poder, cultura y política en Nuestra Afroamérica. Ver la grabacion de su lanzamiento.

Libro para descargar: Reyita, sencillamente de Daysi Rubiera 3/8/2020 Negra Cubana: "En el año 1996 salió a la luz el libro Reyita, sencillamente, de la escritora e historiadora afrocubana Daysi Rubiera Castillo, el cual es el testimonio de Maria de los Reyes Castillo, madre de la también historiadora.

Únete al grupo/Join the group Facebook Familia de BarbarA's Power. Based on Barbara's Power - Barbara's Fashion, a clothing store in Havana.

"Conocernos cara a cara tras pandemia" 5/5/2020 Mujeres: "Mujeres conversó con Rosa Campoalegre Septien, coordinadora del Grupo de Estudios de Familia del Centro de Investigaciones Psicológicas y Sociológicas (CIPS), sobre un proyecto que une a la academia, organizaciones de masa, sociales y líderes comunitarios en el enfrentamiento a la COVID-19." Ver Rosa Campoalegre.

Únete al grupo/Join the group Facebook Asere Red Barrial Afrodescendiente!

Boletin Comision Aponte #71 Febrero 2020 y Boletin Comision Aponte #70 Enero 2020, Ver Comision Aponte para las tablas de contenido.

Descargas: Exploring Identity in Rogelio Martinez Furé's Afro-Cuban Poetic Forms 9/1/2018 Afro-Hispanic Review: by Rosemary G. Feal, visiting scholar, David Rockerfeller Center for Latin American Studies, Harvard University, executive director emerita, the Modern Language Association of America. PDF 2 MB. See also Rogelio Martínez Furé.

Convocatoria: I Taller Internacional "Diversidad afroamericana: estrategias educativas, culturales y comunicacionales para la lucha anticolonial" 1/25/2020: "Esta actividad participativa convoca a docentes, promotores culturales, líderes barriales, comunicadores sociales y académicos para desarrollar talleres interculturales, muestras y presentaciones de libros, proyección de audiovisuales, exhibición de posters y encuentros profesionales." Casa de las Americas, 6/2020, fecha límite 3/10/2020

Call for Papers: "Afro-Cuban Legacies: Visual Arts, Literature, Theatre, Music, and Religion" 1/5/2020 Repeating Islands: "An international conference to be held at the University of Missouri, April 7-10, 2021. The conference includes the participation Juan Roberto Diago, Alberto Lescay Merencio, Nancy Morejon, Fatima Patterson, Albertico Lescay Castellanos, and Zule Guerra. The deadline for submitting proposals is November 15, 2020." Juanamaría Cordones-Cook.
Founded 1997
May, 2022:
22,000 visits

AfroCubaWeb Updates - Actualizaciónes

Buy Gloria Rolando's films
descarga/download

1912, Breaking the Silence: Gloria Rolando
VOD Download
Voces para un silencio, 3 capitulos
Se descarga

Oggun: An Eternal Present celebrates the life of Lazaro Ros, Yoruba singer. English subtitles.
Dowload Descarga

Gloria Rolando: History of Cubans and Cayman Islanders,
VOD Download
Pasajes del Corazón y la Memoria.
Descarga

Gloria Rolando and Imágenes del Caribe: Raices de Mi Corazon - Roots of my Heart, on the 1912 Massacre. Download Descarga



El Alacrán: a comparsa in the Havana carnaval, English subtitles. Photo gallery. Directed by Gloria Rolando.



Los Marqueses de Atarés, un video nuevo de Gloria Rolando, en Español. Galeria de fotos. En español. Gloria Rolando, director.




My Footsteps in Baragua: English speaking West Indian communities in Cuba. In English. Photo gallery. Gloria Rolando, director.

Gordillo Arredondo
These products from Cuba are legal in the US under the Berman Amendment. The artists get their share of the proceeds.