| | | |
| --- | --- | --- |
| | AfroCubaWeb | |


Order your DVD for $25 In English/Spanish with subtitles.

My Footsteps in Baragua Photo Gallery

Introducing the West Indian Welfare Center

Los Hijos de Baragua ~ My Footsteps in Baragua
1996, English, 53 min

An English language documentary by the independent video group
Imágenes del Caribe
Gloria Rolando, Director: Havana, Cuba

Migration has been and is a constant theme in the life of the people of the Caribbean. In the municipality of Baragua, in the present province of Ciego de Avila, Cuba, the stories and customs of the English speaking West Indians and their descendants still remain alive. Today, they are a part of Cuba. For some, there is always the nostalgia for the country to which they will never return; others express their total rootedness in today's Cuba. The youngest will nevertheless be able to learn of their ancestry and better understand the origins of the English surnames they have.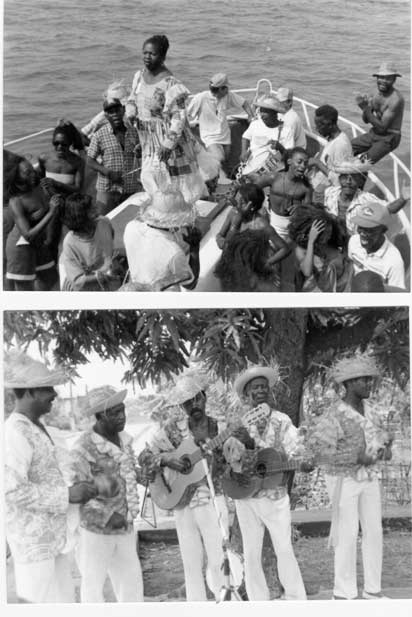 In the style of the documentary are merged family memories in a process very familiar to other Caribbean people: for example the trip from Jamaica, Barbados, and other islands to Panama and subsequently to Cuba which started the heady development of the sugar industry in the early years of this century. Direct testimony does not preclue the poetry present in the charm of the environment of the old sugar barracks, the re-creation of the traditional music and dance such as the Maypole, and the use of old photos that allow us an imaginary approach to that past.
These immigrants brought two cultures: that of the English colonizers and the genuine one born under the Caribbean sun with the mixing of African rythms. In Baragua, all the roots merge into a common trunk. That is how time marked it, and that is what happens with the interlocked cotton trees that are a liet-motif throughout the documentary.
The video is dedicated to 3 important Caribbean intellectuals: Nicolas Guillen (Cuba), George Lamming (Barbados), and Rex Nettleford (Jamaica). "My Footsteps in Baragua" is a contribution to the history of the Africans in Cuba, and to the study of the African diaspora at the end of this century.
Images of the Caribbean is an independent Cuban film making group, with many of the people who worked with me on "Oggun." We gratefully accept all suggestions and support for the development of future documentary projects.
Fax: 53-7-33 28 09 (National Video Movement of Cuba)
Gloria Rolando, voice: 53-7-62 79 04.
On the set in Baraguá: Demosthenes, Tony, Raoul, Gloria
Electronic mail

acw_AT_afrocubaweb.com [replace _AT_ with @]
[AfroCubaWeb] [Site Map] [Music] [Arts] [Authors] [News] [Search this site]
Copyright © 1997 AfroCubaWeb, S.A.