| | | |
| --- | --- | --- |
| | AfroCubaWeb | |
Daymé Arocena in NY, March 21-23, 2016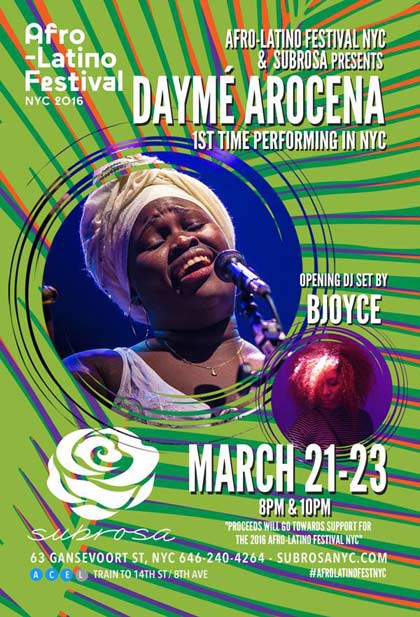 Cuban Jazz sensation Daymé Arocena 1st U.S. Tour - 3-Nights in NYC March 21-23

March 21 Opening Night, Afro-Latino Festival: Cubana DJanes BJoyce, who will be spinning the new sounds of Cuba. She is one of the first female DJanes / Producers in the Electronic Music scene in Cuba.

Before 8 & 10PM Daymé Arocena Shows

Check out the sounds of DJane BJoyce: www.bjdcmusic.com/html/artists/?en&name=bjoyce

March 22 AfrolatinTalks Spring Edition- An Intergenerational Dialogue between Daymé Arocena and Dr. Marta Moreno Vega of the Caribbean Cultural Center and African Diaspora Institute
6-7PM

March 23: Complimentary Cocktails provided by Van Brunt Stillhouse
7-8PM

Afro-Latino Festival, 63 Gansevoort St, New York, NY. Subrosanyc.com

FOR IMMEDIATE RELEASE
WEDNESDAY FEBRUARY 10, 2016

AFRO-LATINO FESTIVAL OF NEW YORK ANNOUNCES 2016 DATES AND SPRING FUNDRAISING EVENT FEATURING DAYMÉ AROCENA, MARCH 21-23

The Afro-Latino Festival of New York (www.afrolatinofestnyc.com) is pleased to announce the dates for the 2016 Festival which will take place July 8-10, 2016. This year the Festival will expand the AfrolatinTalks to a full day symposium and increase the number of film screenings focused on the Afrolatin@ and Afrodescendant communities of Latin America, the Caribbean and ‎the United States.

We will be hosting a number of pre-Festival events to raise money for production costs and to build momentum and excitement for July. Our first event in collaboration with Subrosa NYC will present for the first time in New York City, sensational Cuban singer, composer, arranger, and band director, Daymé Arocena. Hailing from the Havana Cultura family (Ibeyi, Los Van Van, Gente de Zona, Danay Suaréz) and recently signed to Gilles Petersen's Brownwood Recordings, Arocena seemlessly blends jazz and neo-soul with Afro-Cuban musical traditions. This exclusive 3-night engagement takes place Monday March 21-23, 2016 at Subrosa NYC 63 Gansevoort St. New York, NY 10014. Each evening Daymé Arocena will perform two sets at 8 and 10pm (Doors open at 7 and 9:30pm respectively). Proceeds from this event will go towards production costs for the 2016 Festival.


Read the amazing reviews of Daymé Arocena's EP, Nueva Era (2015):

NPR: "With a voice that is a rich as the deep Cuban mahogany called cahoba, she is steeped in the Afro-Cuban Santeria tradition and she sings with a combination of a jazz sensibility and African-American gospel fervor. The result is an album full of material that basically redefines what you might think of as Cuban music.

BILLBOARD: "Her voice pouring liquid over hectic conga beats before breaking out in soulful celebration of the storied perfect combination of Cuban music and jazz. While U.S. and Cuban politicians currently struggle to find common ground, Arocena's big voice finds harmony in the two countries' shared musical history. (…) Arocena (…) seems ready to join the ranks of commanding female artists often described as global divas."

THE GUARDIAN: "At 22, Daymé Arocena has all the makings of being the next major Cuban star".


THE AFRO-LATINO FESTIVAL OF NEW YORK:

The Festival of N.Y. celebrates the contributions of Afrolatin@s through networking, cultural exchange, artistic showcases, culinary presentations, and education. It serves as an important opportunity for organizations working within Afrolatin@ communities to raise social awareness and highlight their work. Our mission is to present a positive live event that celebrates the diversity of the black and Latin@ experience. Each year the ‎Festival commemorates the International Decade for People of African Descent declared by the U.N (2015-2024) and its principles of "justice", "recognition" and "development".

SUBROSA NYC:

An eclectic listening room dedicated to showcasing music, art, and culture. Located in New York's Meatpacking District, with live music nightly, the venue's focus is to provide a unique creative hub for the finest artists in Latin & World Music disciplines and beyond - in an intimate environment for musicians and fans alike.

FOR FAQ OR 2015 HIGHLIGHTS: www.afrolatinofestnyc.com

FOR MEDIA INQUIRIES: mprado@afrolatinofestnyc.com

FOR SPONSORSHIP INQUIRIES: sponsorships@afrolatinofestnyc.com


La cubana Daymé Arocena: "Una negrita con suerte" 2/29/2016 Havana Times: con videos - "De Daymé Arocena había oído comentarios, incluso de amigos y no tan cercanos, amantes del jazz como yo, no la habían escuchado y me preguntaban por sus videos o discos para hacerse una idea de su música. La "negrita con suerte", nativa de 10 de Octubre e hija de Yemayá, comparte el mismo sino de varios músicos de la Isla: no ser profeta en su tierra. Lo cierto es que luego de conversaciones por Internet, entre conciertos en Canadá e Inglaterra, pude conocerla en La Habana y disfrutar una tarde con ella, sintiéndome parte de su círculo de amigos, entre risas y acompañadas de un jugo de mango, me hablaba de sus experiencias en su sorprendente y meteórica carrera musical."

Daymé Arocena, un fenómeno 2/26/2016 On Cuba: "Luego de recorrer el mundo con su primer disco en solitario Nueva Era –incluido entre los 50 mejores álbumes del 2015 por la Radio Pública Nacional de Estados Unidos (NPR)– esta joven jazzista quiere que en Cuba se conozca su obra, quiere compartir con el público de su país la música "que sale del corazón", esa en la que se mezclan sus raíces, su fe religiosa y una sinceridad consigo misma que la desborda."

Teatro Trianon acogerá concierto de la jazzista Daymé Arocena (+ Video) 2/24/2016 Cubadebate: "Daymé, que junto a otros artistas como Danay Suárez y el dúo Ibeyi forma parte de la familia de Havana Cultura, lanzó en 2015 su álbum debut Nueva Era, disco perteneciente a la casa discográfica BrownswoodRecordings, del discjokey británico Gilles Peterson, material que ha recibido elogiosos comentarios de importantes críticos y medios de prensa especializada."

Daymé Arocena review – impressive Cuban scat and balladry 12/1/2015 The Guardian: "Barefoot and dressed in white, she began her set with one of the most inventive and furious displays of scat singing I can remember. Yelping and growling noises were mixed with fine soulful vocals and percussive effects achieved by hitting shakers, cowbells or her own body as she launched into a furious praise song for the deities of the Santeria faith. She was backed by a four-piece band, with two percussionists and bass, driven on by the British jazz pianist Robert Mitchell, whose earlier excursions into Cuban fusion have involved work with Omar Puente."

INTRODUCING Daymé Arocena 7/22/2015 Ebony: "Unplug from your busy day with the smooth, jazzy stylings of Cuban singer Daymé Arocena. Her new video, "Don't Unplug My Body," is a visual treat of liquefying colors and the beautiful Arocena scatting and gracefully sashaying in all white. The 22-year-old vocalist/arranger is the latest signee to London DJ Gilles Peterson's venerable Brownswood Recordings—a soulful talent already popular in Cuba, whom Peterson encountered while on one of his many trips to pre-American embargo-lifted Cuba. Working with Arocena on his Havana Cultura project to develop and connect promising Afro-Cuban artists with an international phalanx of music-makers led to Peterson releasing her debut album, Nueva Era, in June."

Daymé Arocena: Nueva Era review – a new rich and powerful voice from Cuba 6/11/2015 The Guardian: "At 22, Daymé Arocena has all the makings of being the next major Cuban star – if her songs are as distinctive as her rich and powerful voice. She's a follower of the Afro-Cuban Santería faith, and her best material echoes the African-influenced religious chanting she has known since childhood. The opening Madres starts with the twanging of a thumb piano, then a thumping bass line and a dash of funk organ as she launches into the slinky anthem, backed by her own multi-tracked vocals – a technique that also works well on the soulful title track."

Havana's Daymé Arocena Bridges Gap Between Cuban & American Music 4/2/2015 Billboard: "On her cover of the classic "Cry Me A River" (not the Justin Timberlake track), the 22-year-old from Havana sings to a ritualistic rumba beat, her voice pouring liquid over hectic conga beats before breaking out in soulful celebration of the storied perfect combination of Cuban music and jazz. While U.S. and Cuban politicians currently struggle to find common ground, Arocena's big voice finds harmony in the two countries' shared musical history."

Cuban Jazz Artist Tonatiut Isidron Live 3/21/2015 Havana Times: "After performing next to musicians of the stature of Wynton Marsalis, Roy Hargrove, Horacio Hernandez, Orlando Sanchez and Marcos Printup, Tonatiut Isidron recently offered his first concert at Cuba's National Fine Arts Museum. Scenes from the film Cinema Paradiso were projected as he played his version of Ennio Morricone's piece for the movie. A 2008 graduate from Cuba's Amadeo Roldan Conservatory (where he majored in trumpet playing), the young composer and performer treated us to his music and charm, next to two guests: the charismatic Dayme Arozena and Jorge Felix, two artists with powerful and melodious voices."

Cuba-infused Women's Jazz at Canadian Festival 8/7/2014 Havana Times: "Those women are highly talented musicians hailing from various parts of Cuba, brought together with the assistance of singer/composer Daymé Arocena. As the story goes, Jane was at a jazz festival in Cuba, heard her sing and was blown away. The wheels started turning and, before long, they were working together to assemble the ensemble that became Maqueque."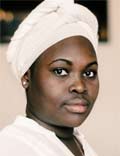 daymearocena.bandcamp.com/

itunes.apple.com/us/album/nueva-era/id976166981

havana-cultura.com/en/music/dayme-arocena

www.gillespetersonworldwide.com/artist/dayme-arocena

Electronic mail
acw_AT_afrocubaweb.com [replace _AT_ with @]

[AfroCubaWeb] [Site Map] [Music] [Arts] [Authors] [News] [Search this site]
Copyright © 1997-2013 AfroCubaWeb, S.A.