| | | |
| --- | --- | --- |
| | AfroCubaWeb | |
Gisela Arandia Covarrubias


Gisela Arandia is an author and researcher on issues of race and identity based out of UNEAC, the Cuban Union of Artists and Writers. She has made many contributions through the course of a long career, and currently is head of the Ejecutivo, ARAC (Articulación Regional Afrodescendiente de América Latina y el Caribe, Capítulo Cubano), the Cuban civil rights organization. She is also known for organizing Cuba y los pueblos afrodescendientes en América, an important conference in 2011. She manages the UNEAC end of the Concha Mocoyu Yoruba Cultural Center, an innovative project which brought foreign funding down to the neighborhood level in Havana in order to support a critically needed self-apprenticeship of the African roots.

She holds a degree in Journalism and has been a researcher and writer about race and black people in Cuba since 1989. She published her book "Afro-Cuba Today" in 2013 (Spanish edition, Poblacion afrodescendiente cubana actual, Havana, UNFPA, 2012). She also researches black feminism, black communities in poor neighborhoods and the impact of mass media on the self-esteem of afro-descendent people. She does action research and combines academic work and social activism. Between 1991 and 1997 she was a Research Associate of the Center for United States Studies at the University of Havana. In 1995 she was at the École des Hautes Etudes en Sciences Sociales in Paris. In 1997 she was at the Center for Cuban Studies, Florida International University on a Rockefeller Fellowship and studied the black Cuban community in Miami. She has participated in many international conferences on Afro-descendants in Africa, Latin America and the Unites States.

In 2017, Gisela Arandia received her doctorate from the University of Havana:

Investigación cubana antirracista recibe premio académico 2/2/2018 Genesis Cuba: ""La investigadora Gisela Arandia recibió un reconocimiento por su estudio teórico sobre la discriminación racial en Cuba, un problema sensible que alcanza, por primera vez, un escaño en las premiaciones científicas anuales de la Universidad de La Habana (UH)... El estudio de Arandia propone "una síntesis que permita superar la negación del racismo como el obstáculo más determinante en un país donde la sociedad está aferrada a un imaginario que rechaza aceptar la presencia del racismo y la discriminación racial cuando aún se trata de un fenómeno cotidiano". "

Un estudio científico para no perder de vista 1/26/2018 Alma Mater: "Es un estudio teórico de la autora Gisela Arandia, con el cual alcanzó a la categoría de Doctora en Ciencias Filosóficas. En la investigación Estudio teórico sobre el racismo, un modelo de análisis epistésmico y político para el contexto cubano su autora ofrece «una síntesis que permita superar la negación del racismo como el obstáculo más determinante en un país donde la sociedad está aferrada a un imaginario que rechaza aceptar la presencia del racismo y la discriminación racial cuando aún se trata de un fenómeno cotidiano»."


Gisela Arandia has visited the US on a number of occasions, when she has presented on the following themes:

the future of race relations in Cuba
grass roots cultural organizations in Cuba
the presence of AfroCubans in the mass media
Black women in Cuba

Curriculum vitae

English Summary

SOCIAL ACTIVISM

Member of the Sección Identidades, Diversidades y Comunicación Social, Cuban Psychological Society
Member, Red de Mujeres Afrodescendientes Latinoamericana, Caribeña y de la Diáspora.
Head of the political committee, ARAC (Articulación Regional Afrodescendiente de América Latina y el Caribe, Capítulo Cubano)
Consultant, UN, Afrodescendiente
2013 Managua. Reunión Centro América y Caribe (2013)
2013 República Dominicana. Asamblea Red Mujeres Afrodesc. CEPAL XII Conf. Regional Mujeres
2012 Managua. Foro Centro América y Caribe. Red de Mujeres Afrodescendiente
2011 Venezuela. Encuentro de movimientos y liderazgos afrodescendientes.
2011 Pretoria. Sudafrica. Conference on African Renaissance, Integration, Unity and Development
2010 Panamá Red de Mujeres Afrodescendientes (various meetings, the last in 2010)
2010 Brasil CEPAL XI Conferencia Regional Sobre la Mujer
2010 Brasil Conferencia Mundial Seguridad Social
2008 Ginebra, Grupo de Expertos preparatoria para encuentro
2006 Perú, Comisión de Expertos Chincha
2005 Venezuela Grupo de Trabajo Afrodescendientes
2005 Brasil Conferencias y Grupo de Expertos (2005, 2006, 2007, 2008)
2004 Honduras (La Ceiba) Grupo de Minorías
2001 Durban Tercera Conferencia Mundial
2000 Santiago de Chile. Pre-Durban


ACADEMIC PARTICIPATION

2012 Published Poblacion afrodescendiente cubana actual, Havana, UNFPA
2011 ACALAN, African Academy of Languages: Conference on African Renaissance, Integration, Unity and Development. Pretoria. Organizada por University of South Africa.
2011 Organized and moderated the conference Cuba y los pueblos afrodescendientes en América, Instituto Cubano de Investigación Cultural Juan Marinello
2008 LASA, Montreal. Panel on raciaal issues in Cuba, from the point of view of an afrodescendant woman
2005 Venezuela Encuentro de Intelectuales. Entre Africa y A. Latina
1997 Rockefeller Fellowship in the Humanities to conduct a study of Black Cubans in Miami in association with the Cuban Research Institute of Florida International University. -
1989 - present. Studies of the Black Population in Cuba, using interviews, questionnaires, primary and secondary historic research.
1995 Seminar at the Centre d'etudes africaines, Ecole des Hautes Etudes En Sciences Sociales de Paris with Professor Elikia M'Bokolo, director d'Histoire et Civilisation de l'Afrique.
1993 to present. Participant in the Cuba/North America Philosophy Conferences sponsored annually by the University of Habana.
1990 to present. Research Associate at the Center for the Study of the United States (CESEU) of the University of Habana. · 1989 to present. Workshops, papers, presentations on Cuban Culture, Race Relations, Women, Religious practitioners and Homosexuality given to various Academic groups visiting Cuba from France and the United States.
1980 Graduate course in Dramaturgy at the Instituto Superior de Arte.
1976 - 1977 Paris University VII Latin American Literature.
1966 - 1971 B.A. in Journalism, University of Habana.

ESSAYS, PUBLICATIONS, INTERVIEWS

Poblacion afrodescendiente cubana actual, 2013, Havana, UNFPA

Espacios para dejar sin espacio el racismo en América Latina 6/1/2013 Jiribilla

Expertos pidieron mayor atención para problemas de racismo en la región 5/30/2013 TeleSur

Construcción de consensos 4/13/2013 Jiribilla: por Gisela Arandia

Sobre Color Cubano, AfroCubaWeb, 10/3/2009

Black Cubans are still faced with racism, Dallas Morning News, 1998, featuring Clinton Adlum and Giselia Arandia

CBS "This Morning." Interview on Religion In Cuba. 1997

"National Identity and Multiracial Society." Contributions in Black Studies. University of Massachusetts, Amherst. 1994. Published as Strengthening Nationality: Blacks in Cuba

"Asi na'ma: Cuba la Africana." Interview in a documentary by Daniel Pino of France. 1994

"Race In Cuba." Chapter in Fin de Siecle a la Havane. Authors Beltran Rosenthai and Jean-Francois Fogel conducted extensive interviews with me and used them in this chapter. 1994

"Cuba Confronts the Black Question." Le Monde Diplomatique. Interview by Francis Pisani. 1992



Alden Knight y Gisela Arandia,
(c) 2002 by Pedro Perez-Sarduy

Articles/Articulos

Un libro reafirma la urgencia de debatir sobre racismo en Cuba 3/24/2018 IPS: "La negación del conflicto de la racialidad ha mermado lucidez a los desafíos por la equidad y empobrecido la posibilidad de encontrar soluciones dentro del modelo revolucionario, afirmó la intelectual Gisela Arandia en su libro Población afrodescendiente cubana actual."

Investigación cubana antirracista recibe premio académico 2/2/2018 Genesis Cuba: ""La investigadora Gisela Arandia recibió un reconocimiento por su estudio teórico sobre la discriminación racial en Cuba, un problema sensible que alcanza, por primera vez, un escaño en las premiaciones científicas anuales de la Universidad de La Habana (UH)... El estudio de Arandia propone "una síntesis que permita superar la negación del racismo como el obstáculo más determinante en un país donde la sociedad está aferrada a un imaginario que rechaza aceptar la presencia del racismo y la discriminación racial cuando aún se trata de un fenómeno cotidiano". "

Un estudio científico para no perder de vista 1/26/2018 Alma Mater: "Es un estudio teórico de la autora Gisela Arandia, con el cual alcanzó a la categoría de Doctora en Ciencias Filosóficas. En la investigación Estudio teórico sobre el racismo, un modelo de análisis epistésmico y político para el contexto cubano su autora ofrece «una síntesis que permita superar la negación del racismo como el obstáculo más determinante en un país donde la sociedad está aferrada a un imaginario que rechaza aceptar la presencia del racismo y la discriminación racial cuando aún se trata de un fenómeno cotidiano»."

Especialistas en Cuba llaman a desamericanizar los estudios afro 12/24/2017 IPS: "Así trascendió en un conversatorio convocado por la Cátedra de Estudios Afrodescendientes del estatal Centro de Investigaciones Psicológicas y Sociológicas (CIPS) y que tuvo como invitado al profesor cubano Alejandro de la Fuente, director del Instituto de Investigaciones Afrolatinas de la Universidad de Harvard, en Estados Unidos. "Un reto actual es desamericanizar el campo de estudio y producir preguntas, historias y epistemologías desde nuestra región", comentó De la Fuente en su presentación, efectuada el pasado 19 de diciembre. "Podríamos y deberíamos preguntarnos, cómo cambia el estudio de la desigualdad racial cuando nos posicionamos desde el Sur", subrayó."

Libro editado en Estados Unidos aborda la racialidad en Cuba 12/1/2017 IPS: "Publicado en inglés por el sello editorial de la Universidad de Oxford, el texto de 272 páginas lleva la rúbrica de Danielle Pilar Clealand, una investigadora del Departamento de Política y Relaciones Internacionales, en la Universidad Internacional de la Florida… En sus estancias, dialogó "con varias personas que están abordando este tema con mucha dedicación y son parte del movimiento antirracista cubano actual", dijo. Entre ellas, mencionó al intelectual Roberto Zurbano, la escritora y periodista Gisela Arandia, la cineasta y activista Gloria Rolando, además de los investigadores Tomás Fernández Robaina y Tato Quiñones."

Activistas afrodescendientes de Cuba estrechan alianzas con la región 10/9/2017 Genesis Cuba: "El encuentro, efectuado este sábado 7 de octubre, contó con la participación de la activista nicaragüense Dorotea Wilson, coordinadora general de la Red de Mujeres Afrolatinoamericanas, Afrocaribeñas y de la Diáspora (RMAAD), espacio de articulación y empoderamiento creado en 1992. La reunión, realizada en la sede de la Federación Democrática Internacional de Mujeres en la capital cubana, también tuvo como panelistas a Isabel Moya Richard, especialista en género y comunicación, Sergia Galván, fundadora de la RMAAD, así como a la periodista y activista social Gisela Arandia."

¿Por qué el boom de la afrodescendencia? 5/10/2017 IPS: por Gisela Arandia - "En Harvard afrodescendientes del movimiento antirracista cubano" - "Un segundo elemento que contribuyó a enriquecer el intercambio fue el papel que han tenido determinados sectores de Estados Unidos en ofrecer financiamiento para tratar de subvertir el orden en la sociedad cubana, utilizando como pretexto el tema de la racialidad. Quedó claro que las intenciones de grupos disidentes afrocubanos ponen énfasis en un cambio de sistema y no en la deconstrucción del racismo como secuela de una historia colonial que ha ganado espacio en la actualidad. En tercer lugar, fue visibilizado un ingrediente sociológico: la presencia de un grupo de personas afrodescendientes emprendedoras, algunas con más éxito y otras con avances moderados. Ello determina un aporte importante a los desafíos de la actualidad, cuando la mayoría de las familias con más oportunidades proviene de la clase media blanca y recibe apoyo de sus parientes, sobre todo desde Miami."

"Negar el racismo es una manera ingenua de perpetuarlo", dice investigadora cubana 12/8/2016 Negra Cubana: "Es Gisela Arandia, quien dedicó el acto de defensa de su tesis en opción al grado de Doctora en Ciencias al prócer independentista Antonio Maceo (1845-1896)."

La racialidad cubana al debate 6/14/2016 IPS: por Gisela Arandia - "En Cuba, la metáfora de la utopía revolucionaria suponía que, con la creación masiva de programas de equidad social, el racismo y la discriminación racial desaparecerían de manera espontánea."

El movimiento antiracista cubano inicia la batalla por una plataforma común. (Primera Parte) 5/6/2016 Afromodernidades: "Desde días atrás, Gisela Arandia, a nombre de la agenda cubana de la Red de Mujeres Afrolatinas, Afrocaribeñas y de la Diáspora y al amparo del artículo 63 de la Carta Magna de la República de Cuba que establece el derecho ciudadano de dirigir escritos y peticiones a las autoridades, había convocado a varios intelectuales, juristas, académicos, miembros del movimiento LGBTIQ, ARAAC y otros grupos comprometidos con la lucha contra la discriminación racial en Cuba a una reunión para el miércoles 4 de mayo en la Casa Social de la Unión de Juristas en Miramar. El objetivo era elaborar un "llamado de atención" dirigido a los Consejo de Estado y Ministros de la República de Cuba frente a lo que la versión del documento leído en esta cita considera: "la presencia de manifestaciones lesivas a nuestra dignidad", refiriéndose a: "expresiones racistas que han prosperado en los últimos tiempos en la sociedad cubana". Y cuya redacción contó "con el asesoramiento del personal calificado en asuntos jurídicos"."

Global Summit to Address Root Causes of the Attack on Black Lives 9/3/2015 Charleston Chronicle: "An Afro-European delegation, the leader of the Caribbean reparations movement, Black Lives Matter activists, and members of the Pan African Congress and the African Union will highlight Valuing Black Lives: The First Annual Global Emotional Emancipation Summit to be presented by Community Healing Network (CHN) and the Association of Black Psychologists (ABPsi) on September 17 and 18, 2015… Confirmed Summit panelists include: Professor Gisela Arandia, Cuban activist; Sir Professor Hilary Beckles, Chair, CARICOM Reparations Committee; Professor Ikaweba Bunting, The Pan African Congress; Dr. Ramona Edelin, author, We the Village; Momodou Jallow, Vice Chair of the European Network Against Racism (ENAR); Dr. Wade Nobles, Institute for the Advanced Study of Black Family, Life and Culture; Erika Totten, founder and president, Black Lives Matter DMV and To Live Unchained; and Dr. Paul Zeleza, former president, the African Studies Association."

Afrocubanas en la Primera Cumbre de Lideresas Afrodescendientes 8/16/2015 Afrocubanas: "Del 26 al 29 de junio se realizó la Primera Cumbre de Lideresas Afrodescendientes en Managua, Nicaragua con la participación de 270 mujeres afrodescendientes de 22 países de las Américas y el Caribe, organizada por la Red de Mujeres Afrodescendientes, Afrocaribeñas y de la Diáspora (RMAAD) presidida por la Sra. Dorotea Wilson Thatum, Coordinadora General de la Red… contó con la presencia de la Segunda Secretaria de la Embajada Cubana en Nicaragua, compañera Takanor Bonilla, con quien pudimos compartir unos minutos. La delegación cubana estuvo integrada por tres representantes: las licenciadas Gisela Arandia Covarrubias (UNEAC, enlace Cuba), Norma Guillard Limonta (Sociedad Cubana de Psicología) y la Dra. Rosaida Ochoa Soto (MINSAP), las cuales formamos el grupo coordinador de la Red de Afrodescendientes de Mujeres, Capítulo Cubano."

Mujeres afrodescendientes buscan combatir racismo en AL 6/28/2015 Nuevo Diario, Nicaragua: "Las mujeres latinoamericanas afrodescendientes se reunieron ayer por primera vez en una cumbre, en Nicaragua, para definir una estrategia que combata la exclusión y marginación de la que, alegan, son víctimas. La llamada Primera Cumbre de Lideresas Afrodescendientes de las Américas fue celebrada en un hotel capitalino con la presencia de más de 250 mujeres de 22 países en busca de mecanismos a favor de sus derechos y de que sus futuras generaciones tengan una vida digna, en igualdad de condiciones que el resto de las personas. "Estamos sentando un precedente porque es la primera vez que hay una cumbre de mujeres negras", expresó el enlace en Guatemala de la Red de Mujeres Afrolatinoamericanas, Afrocaribeñas y de la Diáspora, Gloria Núñez."

La lucha de las mujeres afrodescendientes latinoamericanas 6/27/2015 EL Tiempo Latino: "Las mujeres latinoamericanas afrodescendientes se reunieron por primera vez en una cumbre, en Nicaragua, para definir una estrategia que combata la exclusión y marginación de la que, alegan, son víctimas… Gisela Arandia Covarrubias, enlace en Cuba de la Red, sostuvo que el racismo, la discriminación y la violencia hacia la mujer son fenómenos globales que la sociedad no quiere asumir, porque siempre son procesos dolorosos que implican conflictos y la gente prefiere evadirlos."

SiriusXM's Joe Madison The Black Eagle Airs Live from Cuba in Historic Broadcast 6/11/2015 PR Newswire: "SiriusXM today announced that SiriusXM host and human rights activist Joe Madison's special broadcast of his show, Joe Madison The Black Eagle, aired live today from Cuba in the first national American radio talk broadcast from the island country in more than 50 years… The broadcast, from the Taino studios in Havana, included guests spanning the worlds of academia, culture, entertainment, and social activism including Professor Arnaldo Coro, Cuban radio host, radio aficionado, and professor at the University of Havana and DeWayne Wickham, USA Today columnist and veteran print journalist… During his weeklong stay in the Caribbean country, Joe Madison is scheduled to meet with and interview legislative leaders; artists; journalists; and black leaders in Cuba including Dr. Esteban Morales, Gloria Rolando, and Gisela Arandia. A weeklong documentary of highlights, which will also focus on the role Afro-Cubans in Cuban society and offer a glimpse at the history of shared interests with African Americans, will air on SiriusXM Urban View channel 126 beginning Monday, July 6, 2015."

Cuban scholar: 'We have a common history' 4/15/2015 Daily Star, Oneonta, NY: "On Wednesday night, Hartwick hosted scholar Gisela Arandia of Cuba for a presentation on race, ethnicity and human rights that drew more than 50 students and community members. With the help of a translator, Arandia told listeners that President Barack Obama's recent decision to remove Cuba from a list of state sponsors of terrorism filled her with "joy," "wonder" and "huge emotion.""

Activistas realizarán dosier sobre discriminación racial 4/5/2015 Afrocubanas: "En opinión de Gisela Arandia, coordinadora del capítulo cubano de la Articulación Regional Afrodescendiente para las Américas y el Caribe (Araac), resulta urgente transmitir a las instancias gubernamentales serias preocupaciones sobre el tratamiento del racismo y problemáticas afines en los medios de comunicación."

Cumplir la dueda con las mujeres mambisas 12/15/2014 AfroCubaWeb: por Gisela Arandia - "En víspera del Decenio Afrodescendiente a partir del 1 de enero del 2015, el Doctor Eduardo Torres-Cuevas dedicó una conferencia al paradigma MACEO-GRAJALES, en el contexto de la PRIMERA JORNADA CUBANA CONTRA LA DISCRIMINACION RACIAL donde exhortó a reivindicar, investigar y visibilizar el papel de las mujeres mambisas, negras, y cubanas en general durante la independencia de Cuba."

Música y más contra la discriminación racial 11/29/2014 Radio Cubana: "Organizada por el capítulo cubano de la Articulación Regional Afrodescendiente y con el apoyo absoluto del Ministerio de Cultura, la Jornada se extiende desde el 15 de noviembre hasta el 5 de diciembre, según dijo a la prensa una de las coordinadoras, Gisela Arandia, con el objetivo de "sensibilizar a la población, abrir un proceso, que es lento, de concientizar, dar un abrazo a todas las personas que luchan contra la discriminación"."

En Cuba I Jornada contra la discriminación racial 11/19/2014 Cubarte: "En un encuentro con la prensa efectuado en la sede que el proyecto cultural comunitario La California, de Centro Habana, comparte con ARAAC, Gisela Arandia y Gisela Morales, ambas del equipo coordinador de la jornada, dieron a conocer las actividades que desde el pasado día 5 de noviembre se han venido realizando."

Celebran I Jornada Cubana Contra la Discriminación Racial (+ Programa) 11/18/2014 Cubadebate: "Sus organizadores aspiran a promover entre los jóvenes el reconocimiento del legado de la africanidad y la importancia de la igualdad y el respeto a la diferencia. Asimismo pretenden visibilizar aspectos de este tema que aún no encuentran espacio suficiente en las agendas de los medios, académicas, de debate público como lo que debería ser: un "diálogo cultural a favor de los derechos para la construcción de una ciudadanía con más inclusión y equidad", reza la presentación de la jornada, que además se suma al movimiento contra toda forma de discriminación."

CUBA. I JORNADA CUBANA CONTRA LA DISCRIMINACION RACIAL 11/10/2014 Alba Movimientos: "EQUIPO COORDINADOR: Loreta Zerquera, Gisela Morales, Norma Guillard, Maritza López, Gisela Arandia, Bienvenido Rojas, Naima Torres, Tomás Fernández Robaina."

Presentan en Cuba Decenio de los Afrodescendientes 8/20/2014 Escambray: "Gisela Arandia, representante del Capítulo Cubano de Articulación Regional Afrodescendiente para las Américas y el Caribe, afirmó que Cuba tiene la oportunidad de haber creado instituciones que permiten enfrentar la discriminación y ejemplificó en el área comunitaria con la red barrial, existente en el municipio capitalino de La Lisa."

ARAAC Cuba y el Cumbre de CELAC 2/17/2014 AfroCubaWeb: por Gisela Arandia

Espacios para dejar sin espacio el racismo en América Latina 6/1/2013 Jiribilla: "Uno de los pasos más recientes que se han dado en Cuba con el propósito de incentivar la lucha contra cualquier tipo de discriminación fue la constitución, en septiembre de 2012, del Capítulo Cubano de la Articulación Regional Afrodescendiente de América Latina y el Caribe (ARAAC), que celebró el pasado 20 de mayo una reunión donde la organización presentó sus objetivos, propuestas y ejes de trabajo. La conferencia fue ofrecida por intelectuales y líderes comunitarios que se han destacado en las luchas contra la discriminación racial en Cuba. La propuesta central de ARAAC, como afirmó en aquel momento la propia investigadora Gisela Arandia, radica en "disminuir las zonas del racismo en Cuba no solo con las instituciones, sino desde los proyectos comunitarios…" En el contexto de LASA 2013, Arandia Covarrubias, quien fuera además coordinadora del proyecto "Color Cubano", estará presente también con su libro Población afrodescenciente cubana actual. El volumen es resultado de una larga investigación realizada por su autora durante la cual entrevistó a más de 40 personalidades de la política y la cultura, entre otros, Leyda Oquendo, Nancy Morejón, Nisia Aguero, Tomás Fernández Robaina, Graciella Challoix, Harry Belafonte y James Early."

Amplia presencia cubana en evento académico de EEUU 5/31/2013 Marti Noticias: "Varios trabajos abordan el tema del racismo en la isla, por un lado, Gisela Arandia de la oficialista Unión de Escritores y Artistas de Cuba (UNEAC) lleva la ponencia "Racialidad en la Cuba hoy, retos y avances". Por otra parte, un panel integrado por intelectuales de la oposición y organizado por Juan Alvarado, editor de la Revista ISLAS, expone el estudio "Los afrodescendientes en la nación cubana", de Manuel Cuesta Morua; "Tradiciones referenciales socioculturales y relaciones interraciales en la Cuba actual", de Leonardo Calvo; y la investigación de Rafael Campoamor de la ONG EmpoderaCuba sobre "Los afrocubanos como parte de la familia de los afrolatinos". Miguel A. Barnet, miembro del Consejo de Estado, del Comité Central del Partido Comunista de Cuba (PCC) y presidente de la UNEAC, participa en el congreso representando a la UNESCO y a la Fundación Fernando Ortiz. con el tema de las representaciones históricas y el actuar institucional en el tema racial en Cuba."

Expertos pidieron mayor atención para problemas de racismo en la región 5/30/2013 TeleSur: "Arandia quien basó su ponencia en el tema de la "Racialidad en Cuba hoy: retos y avances", coincidió en que se trata de un fenómeno global y transnacional y su dimensión en la isla fue reconocida desde el inicio por el líder de la Revolución Cubana, Fidel Castro. Al respecto puntualizó que muchos no comprendieron cuando en 1959 Fidel Castro afirmó que se trataba de uno de los problemas más graves de la Revolución. En opinión de Arandia las autoridades cubanas han realizado muchas acciones para enfrentar el problema, pero aún se requiere más comprensión. La Revolución, dijo la investigadora, logró avances importantes para toda la población en temas como la salud y la educación públicas, sectores en los cuales se discriminaba a los cubanos de origen africano."

Construcción de consensos 4/13/2013 Jiribilla: por Gisela Arandia - "¿Podrá la sociedad cubana construir un consenso para romper con el racismo actual e histórico y, al mismo tiempo, aprovechar las oportunidades revolucionarias?"

Black Cubans are still faced with racism 3/30/2013 Dallas Morning News: printed in 1998, featuring Clinton Adlum and Giselia Arandia

21 de marzo, crónica de una fecha 3/22/2013 Jiribilla: "La Casa del ALBA Cultural, en La Habana, fue el escenario de un conversatorio donde estuvieron presentes más de cien personas representantes de ARAC-Articulación Regional Afrodescendiente de América Latina y el Caribe, constituida en el acápite cubano en septiembre del 2012, un espacio que busca poner énfasis en propuestas concretas para eliminar la discriminación racial."

Racialidad y conciencia histórica en Cuba 10/7/2012 IPS: "Los discursos políticos y la investigación necesitan revisitar la historia nacional para lograr una comprensión más extendida de la problemática racial en Cuba, sostiene en su libro "Población afrodescendiente cubana actual", la estudiosa y activista Gisela Arandia."

The Race Problem in Today's Cuba 11/24/2009 Havana Times: "I've had the opportunity to participate in several forums dealing with the problem of racism in Cuba. The most recent one was on November 18 at the Sacred Trinidad Episcopal Cathedral at the invitation of the Oscar A. Romaro Reflection and Solidarity Group. In it, a panel of experts made up of Gisela Arandia, Maria Ileana Faguada and Luis Carlos Marrero approached the problem from a historical angle and in its relation to the Catholic and Protestant churches."

Sobre Color Cubano 10/3/2009 AfroCubaWeb: de Gisela Arandia - "El Proyecto Color Cubano ha desaparecido como tal. Paralelamente se ha creado una Comisión orgánica de la UNEAC que será dirigida por el compañero Heriberto Feraudy, la cual se integra a la estructura de trabajo establecida por la organización. La decisión fue tomada por la dirección de la Unión de Escritores y Artistas de Cuba y se llevó a cabo, luego de un proceso de análisis y estudio sobre el Proyecto, realizado por un grupo de trabajo evaluador, dirigido por Nicolás Hernández Guillén. El dictamen de ese trabajo tuvo en cuenta aciertos y dificultades, así como recomendaciones. En términos generales la valoración de ese grupo de trabajo argumentó el impacto positivo de Color Cubano, en un contexto social donde el tema prácticamente estaba ausente del debate público institucional."

Breaking the Silence Around Race in Cuba 7/11/2008 Walter Lippmann: "Constructed as a taboo by traditional historiographers, racial identity has been branded a forbidden topic since the colonial period, as national identity was being formed. Silence around racial issues not only constitutes an archaic approach in the conceptual sense, but is also a part of an outdated concept in its philosophical essence and is alien to the perspective of contemporary society. As a theoretical focus, the refusal to address the issue of racial identity lacks a scientific foundation; moreover, it represents points of view absolutely contrary to true socialist ideology. The rejection of the issue is part of the historical record supported by classist and discriminatory propositions that consider the Cuban condition as one of struggle waged almost exclusively by the white population."

La fórmula de Issac Delgado 1/14/2002 Encuentro: Solar California is a very famous old solar, or neighborhood, consisting of a large building which has recenlty been remodeled thanks to an operation managed by Gisela Arandia of UNEAC.

Strengthening Nationality: Blacks in Cuba 6/1/1994 Contributions in Black Studies: by Gisela Arandia - "The study of blacks in Cuba, as in the case of other so-called "minorities," encounters obstacles from the very beginning. It is well known that we have not reached the stage ofdevelopment in Cuban social sciences to deal with this subject adequately. In contrast to highly developed studies in medicine and biotechnology, Cuban social sciences have been subject to the prejudices of Eastern European research interests and the legendary indolence towards studying racial attitutdes born with the Spanish colonization. These obstacles are compounded by Cuban subordination to the United States until 1959. Spanish and U.S. policies alike were directed at maintaining the Black Cuban population as second class citizens."



La Habana, abril 6 del 2011.
Por Gisela Arandia

El pasado lunes 1 de abril falleció en la ciudad de Nueva York el destacado intelectual afroamericano Manning Marable. Con este acontecimiento la comunidad de estudios afrodescendientes acaba de perder a una de sus más destacadas figuras. Su desaparición física resulta sorpresiva y penosa ya que había manifestado su deseo de visitarnos próximamente para presentar su último libro sobre la vida de Malcom X.

Fue profesor y director del Departamento de Estudios Negros de la Universidad de Columbia en Nueva York, por muchos años. Como filósofo, politógolo, editor, escritor, documentalista y activista social, su vida y obra constituyen un ejemplo del intelectual comprometido hasta las últimas consecuencias en la lucha por la justicia social, equidad racial y contra el capitalismo.

Amigo de Cuba Manning visitó la Isla por última vez en 1999 y preparó un dossier, para la revista Souls, que fundó y dirigió donde recoge importantes análisis de un grupo de personalidades como James Early, Lisa Brock, Clarence Lusane y otros destacados intelectuales, su ensayo titulado "Raza y Revolución en Cuba: perspectivas afronorteamericanas", trataremos de publicarlo en breve.

También estamos traduciendo su ensayo "El problema de los estudios étnicos" publicado por la revista Renacimiento Negro del año 2000, editado por la Universidad de Nueva York.

Su visión de unir los estudios académicos al compromiso político lo llevo a ser una de las personalidades destacadas de la Tercera Conferencia Mundial contra el Racismo y Discriminación, realizada en Durban en el 2001, donde tuve la oportunidad de dialogar con él y me expresó como siempre su enorme admiración por Cuba.

En la actualidad tenía la ilusión de compartir con nosotros, su obra más reciente, una exhaustiva biografía sobre el líder negro Malcom X, en la cual estuvo trabajando por más de dos décadas, donde plantea una relectura del ideario político de ese importante luchador, asesinado mientras que pronunciaba un discurso en Organización de la Unidad afroamericana, el 19 de febrero de 1965.

Con la muerte de Malcolm X, explica el Dr. Marable las corrientes burguesas de derecha pretendían borrar y desarticular el movimiento de liberación nacional del pueblo afrodescendiente. En su libro el escritor argumenta con testimonios de primera mano que el asesinato a Malcolm X fue un crimen político, diseñado para impedir el acceso generalizado de la población afroamericana a espacios de equidad social, particularmente de la clase obrera negra.
En su ensayo "Raza y Revolución en Cuba" 1999 Manning Marable dice:
"La histórica Iglesia Bautista de Harlem estaba repleta a desbordar la noche del domingo 22 de octubre de 1995. Una inundación de dignatarios se las arregló para abrirse paso dentro de la iglesia…El reverendo Calvin O. Butts dio la bienvenida a su audiencia de 1300 personas y describió al huésped de honor como "uno de los grandes lideres del mundo" Alguien informó sonriendo: Castro tiene familia aquí entre nosotros!!! La audiencia rugió su aprobación"

Dice más adelante el Dr. Marable "Castro ha regresado a su hogar en Harlem. La entusiasta aclamación que recibió Fidel Castro esa noche fue absolutamente genuina. Ningún líder político blanco,…recibiría esa aprobación por parte de la comunidad afroamericana. Y agrega: "Sólo Nelson Mandela, de Sudáfrica sobrepasa la autoridad moral y la credibilidad política que Castro podía reclamar dentro de la Norteamérica negra…Cuba y Norteamérica negra son, según la mayoría de los criterios sociedades muy diferentes; sin embargo, también comparten ciertas experiencias históricas y características sociales comunes. Estas similitudes, sociales e históricas dice Marable, forman el contexto para un diálogo político continuado entre los pueblos de ambas naciones"
Este Manning Marable es la persona que estamos hoy diciendo adiós, aunque sabemos que será en realidad sólo hasta luego, porque sus ideas seguirán viviendo en la lucha común por la emancipación social. La triste noticias de la pérdida del Dr. Marable, con solo 60 años, establece el compromiso ya previsto de ante mano de publicar su ensayo de 1999 sobre Cuba y otros textos.

A través de estas modestas líneas lleguen a sus familiares y amistades nuestra solidaridad y reconocimiento en este momento de dolor.
By Ricardo Chavira
The Dallas Morning News
September 17

Government panel studying problems

HAVANA - As a young man in the early 1950s, Clinton Adlum once made the mistake of walking through Miramar, a residential enclave of gated mansions and verdant gardens.

"Because I'm black and that's where the wealthy white people lived, guards stopped me and asked what I was doing there," Mr. Adlum recalled recently. "I had to leave."

Such stories were common in the virulently racist Cuba of those years. But with the triumph of Fidel Castro's revolution in 1959, blatant discrimination was supposed to have been swept away.

Reality, says Maria Fragua, is something else. Ms. Fragua, a black historian, married a white man a few years ago and moved to his neighborhood.

"I was the only black person there. So, when my relatives and black friends came to visit, our neighbors wanted to know who they were and what they were looking for," she said.

What the two stories illustrate, say Cuban authorities, is that while Mr. Castro and his government greatly improved the lives of blacks by ending official discrimination, informal racism survives in this heavily black nation.

Only now, they say, is the mostly white Cuban leadership coming to grips with that reality. A special commission is assessing the problem.

"There is no official racism here anymore," said Mr. Adlum, a retired diplomat. "But there is still a culture of racism. The mistake was to think that just by having everyone integrated, racism would fade away."

African slaves were brought to Cuba for three centuries, and slavery wasn't abolished until 1886. During those years and beyond, blacks were barred from white schools, neighborhoods, social clubs and other institutions.

Afro-Cubans endured high unemployment rates, and when they found work were relegated to the lowest-paying, most arduous jobs.

Early attempts by blacks to gain recognition were crushed. In one notorious 1912 incident, government troops killed about 3,000 blacks in fighting that erupted after an Afro-Cuban political party was declared illegal.

Just months after taking power in 1959 the revolutionary government outlawed housing and workplace discrimination, banned all-white country and social clubs and, perhaps most significantly, granted free universal access to higher education.

Mr. Castro, signaling the changes, announced that "in the schools white and black children must be together so that later the white man and black man will be in a position to earn their living at the same workplaces."

Pablo Diaz, a black foreign ministry official, said never before had a government so directly taken on racial discrimination. "You can't overestimate the positive impact that had on blacks," he said.

"My family was very poor, and before the revolution, nobody even dreamed of attending a university. Today, we have engineers, economists and doctors in my family. And there are many, many other black families who experienced the same change," Mr. Diaz said.

Rafael Belicer, 56, credits the revolution for changing his fate.

"I'm an educated black man who can speak four languages - English, Portuguese, Italian and Spanish," he said. "I have a degree in civil engineering, and I'm driving a French Peugeot. . . . The revolution has been very good to black people in Cuba."

Gisela Arandia, a University of Havana researcher, said that blacks weren't entirely singled out by race but by circumstance. "Because they were so marginalized, blacks and mulattoes made great advances in the early years of the revolution," she said.

In a more controversial undertaking, the Castro government sent thousands of troops and advisers to African nations. About 70,000 African students were brought to Cuba for free educations.

But many here say the government have made no further moves to root out subtle, intractable racism. Some blame the government's Marxist bent.

"The socialist commitment and strictly fair nature of the new regime would eventually assure the gradual and spontaneous resolution of the racial question," wrote Osvaldo Cardenas, a former Cuban official.

Further, as long as Cuba maintained hostile relations with the United States, "it was officially determined that any reference to race relations represented a threat that could divide the population along racial lines," according to Mr. Cardenas.

Even today, said Ms. Fragua, government-issued documents don't specify race.

Ms. Arandia said that practice stems in part from the centuries-old tradition of distinguishing between blacks and persons of mixed white and black ancestry, or mulattoes.

"You have many people here who are don't think of themselves as black, [but] who in the United States would definitely be black," she said. "So you don't have anything like the level of black consciousness that you do in the United States. It also means you limit the possibilities that race will be discussed frankly."

Ms. Arandia, who is black and has studied race relations in America, said that Cuban racism shows itself in many ways.

There are, for example, no blacks among the most important leadership posts, and only six of 24 top Communist party jobs are held by Afro-Cubans.

In the burgeoning tourist industry, management jobs mainly have gone to nonblacks, say many Cubans. Blacks largely are relegated to menial jobs, such as kitchen helpers and hotel maids.

"Just look around here," Ms. Arandia said as she sat in the patio of the luxurious Hotel Nacional. "All the people working behind the counters are white."

Black actors and actresses frequently find themselves playing the role of servants or slaves, as in the current popular soap opera, Echo of the Stones.

Said Ms. Arandia: "We see these racist images that don't reflect reality. We have thousands and thousands of black professionals who are not portrayed in the media."

While no statistics are available, experts here say most of those imprisoned for criminal offenses are black.

"The army is heavily black, but blacks get only so far in rank," Ms. Fragua said. "There is just one general."

The crushing economic crisis that has engulfed Cuba since 1989 has hit blacks disproportionately hard, many here agree, because most emigrants are white. "Relatives abroad send home dollars, and few blacks receive them," said journalist Marta Rojas.

Some white Cubans harbor anti-black sentiments, attitudes often openly expressed.

At a dinner gathering here a few years ago the white host, a retired factory worker, lamented his neighborhood's ramshackle state. "It was beautiful until Fidel let all those blacks from the countryside move here," he said angrily. "They didn't care to keep up their apartments."

Roberto de Armas, a foreign ministry official, offered a different view in a recent interview. Some blacks who had lived in poverty, he said, had no idea how to care for their apartments."

"Merely changing their social situation is not enough. You have to educate them," said Mr. De Armas, who is white.

For all the evidence of racism, visitors to Cuba often are struck by how fully integrated Cuban society seems to be.

Cubans of all hues mingle in public and socially, and intermarriage is not unusual. "In that regard, we are further along than the United States," Ms. Arandia said. "There, blacks and whites generally don't sit down together. I've had African-Americans visit here, and they just don't understand how this happens."

And popular Cuban culture - especially music and dance - is strongly rooted in West African traditions. Santeria, an Africa-derived religion, rivals Catholicism in number of followers.

Only now, and at the insistence of black intellectuals, is the Cuban government quietly reassessing the state of race relations. The commission formed to study the situation is expected to produce a report sometime next year.

Whatever the report's conclusion, many blacks say, the ultimate solution lies in changed attitudes. "In truth, 1959 to today is a very short time to cure an illness that is centuries old," Ms. Arandia said. "Cuba, and every other country on Earth, has to get beyond race. If we do, there will be no problem."

© 1998 The Dallas Morning News

Cuban Writer Studies American Society by SUSAN FERRISS, © 1997 San Francisco Examiner

SAN FRANCISCO, May 16, 1997 -- Ask Afro-Cuban writer Gisela Arandia her first impressions after she arrived in the United States to research black life here.

She pauses, then frowns, and tries to be diplomatic.

"Well,'' she says in Spanish, "it was surprising to me that just to be around black people, I had to get on a bus in Miami and travel to a very specific place.''

"I'm not saying Cuba doesn't have problems,'' she adds, trying to avoid outright criticism of de facto
segregation in America. "But it was surprising.''

Arandia was here Thursday as part of a tour sponsored by Sister to Sister, a San Francisco group that advocates breaking the U.S. embargo on Cuba and arranging meetings between Cuban and American women.

The writer is on a three-month fellowship in Miami, where Florida International University and the Rockefeller Foundation are sponsoring her research on black Cuban exiles there.

For the rest, see http://www.latinolink.com/art/art97/0516awri.htm
La Guerrita del Doce, noventa años después
Granma, 6/17/02
Alden Knight y Gisela Arandia,
(c) 2002 by Pedro Perez-Sarduy
GRAZIELLA POGOLOTTI
Mucho queda todavía por indagar acerca de nuestra república neocolonial, antecedente inmediato del proceso revolucionario.
A las deformaciones estructurales de la economía, a la dependencia del imperialismo, al saqueo del tesoro público por parte de los políticos de la época, se añade una dolorosa herencia de agudizados conflictos sociales, con su consecuente influencia en complejas relaciones interraciales.
En efecto, la lucha independentista cubana, con la decisiva participación de negros y mulatos, fue una vía para el logro de una progresiva democratización. La disolución del ejército mambí y la intervención norteamericana frustraron, a un tiempo, el logro de la verdadera independencia nacional y la formación de una república "con todos y para el bien de todos".
Como quien elude el roce del candente hierro curativo con una herida recién abierta, hemos querido olvidar, durante noventa años uno de los más vergonzosos episodios de nuestra historia, conservado en la memoria colectiva con el nombre de Guerrita de los Negros o Guerrita del Doce. El diminutivo siempre presente revela el tono despectivo asumido por la sociedad cubana en su afán de reducir al mínimo las repercusiones del acontecimiento.
A los diez años de promulgada la república, los negros y mulatos, atrapados en el rejuego de los partidos tradicionales —liberales y conservadores— no habían encontrado un espacio político donde canalizar sus reivindicaciones sociales y económicas que correspondían, en su conjunto, a las demandas de los sectores más preteridos. Con vistas a las elecciones, Estenoz e Ivonnet se proponen crear el partido de los independientes de color. La ley Morúa prohibía la inscripción de partidos políticos organizados en torno a una raza o a una clase social. Cerrado el camino de la legalidad, los promotores optaron por la rebelión.
La represión alcanzó una violencia extrema. Las investigaciones realizadas hasta el día de hoy, no han podido precisar la cifra exacta de las víctimas. Según los escasos testimonios que han llegado a nuestras manos, el color de la piel era razón suficiente para ahorcar a los hombres.
Al cumplirse noventa años de la Guerrita del Doce, el proyecto Color Cubano de la UNEAC patrocinó un seminario sobre el tema, abordado desde una perspectiva interdisciplinaria. Historiadores y científicos sociales, en conferencias y mesas redondas analizaron los contextos epocales y las repercusiones del hecho, visto también mediante la memoria afectiva con un documental de Gloria Rolando, tuvo como cierre un recital de Rogelio Martínez Furé. La presencia de un público muy participativo demuestra el interés existente por un tema poco debatido hasta ahora, indispensable para entender los complejos procesos que intervienen en la formación de la conciencia nacional y para consolidar la imagen de nuestra propia identidad.
US Visit, April 2015
Presentation proposal: Opportunities and Challenges for Cuba's Afro-descendant population in the new scenario of Cuba-US relations, 2015
Propuesta para una exposición: Oportunidades y Desafíos para la población afrodescendiente cubana en el nuevo escenario de relaciones Cuba-Estados Unidos", 2015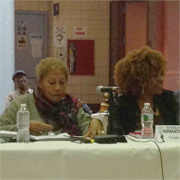 NY National/International Reparations Summit, April 9-12
Gisela Arandia The idea that 'Latin America=mixed race' has only served&sustained white racism @afrocubaweb @IBW21st
UMass Amherst, April 20-24th
For other presentations, contact giselaarandiaXgmail.com where X=@.
US Visit, Feb - May, 2014
Gisela Arandia Covarrubias US Visit

BOSTON
February 25 Arrival
February 26 12 pm Hutchins Center for African and African American Prof. Louis Gates Jr.
February 27 11:45 am - 1:15pm Presentation Northeastern
February 28 From 2 pm to 7 pm… Comments at Boston University Linda Heywood
March 9 Departure
_____________________________________________________________________________
N.Y.
March 9 Arrival
March 12 Rutgers University
March 23 Departure
_____________________________________________________________________________
KENTUCKY
March 23 Arrival
March 25 University of Louisville
March 26 Departure
_____________________________________________________________________________
N.Y.
March 26 Arrival
March 27 CUNNY
March 30 Departure
____________________________________________________________________________
TENNESSEE
March 30 Arrival
March 31 T. University (Event March 31- April 3)
April 6 Departure
____________________________________________________________________________
Los Angeles
April 6 Arrival
April 7 Presentation Loyola Marymount University
April 11 Departure
_____________________________________________________________________________
Santa Barbara
April 23 Arrival
April 24 Presentation Global Studies Social Sciences
April 26 Departure
_____________________________________________________________________________
Washington
May 4 Arrival
May 5 Informal Presentation American University
___________________________________________________________________________
Chicago
From 21 to 24 LASA
May 25 Return Miami-Havana

Gisela is in Harrisburgh, Cincinnati, NY, Washington, and Miami this March, giving talks on her new projects with Color de Cuba
The Institute for Policy Studies
Invites you to another stimulating brown-bag (lunch time) lecture and discussion forum on:
"Colors Cubano; Race Relations In Cuba"
Featuring Gisela Arandia Covarrubias from the National Union of Writers and Artists of Cuba, (UNEAC)

When: Wednesday, March 28 at 12:30
Where: IPS, 733 15th St. NW, Ste 1020, W.D.C.

About the speaker:
Gisela Arandia Covarrubias is a Graduate in Journalism at the University of Havana and a member of the National Union of Writers and Artists of Cuba, (UNEAC)

She began work on Race Relations in Cuba in 1989, where she had the opportunity to do in-depth work on Cuba's racial situation. In 1995 Ms. Covarrubias participated in a seminar at the School for Higher Studies in Social Sciences in Paris, with professor Elikia M'Bokolo focusing on African Civilization. Ms. Covarrubias is currently director for the Havana Community Project focusing on the areas' black and mulatto families and is project leader for "Cuban Colors", funded by UNEAC.

About Colors Cubano:
The project "Cuban Colors" is a project in discussion with Cuban citizens and government officials. This project is exploring the concept of "multi-raciality" in relationship to the definition of national identity in Cuba and in the context of the Cuban Revolution. The discussion with Gisela Arrandia Covarrubias provides an opportunity for North Americans to better understand concepts and policies about race in Cuba and how Cuban citizens and the Cuban government address these issues and establish policies.

For more information call IPS at (202) 234-9382 ext. 229
US Trip, September - Fall '99
Gisela Arandia presented her work at the September 16th and 17th Conference on Afro-Cubans in Cuban Society: Past, Present and Future at the Center for International Policy in Washington DC. She remains in DC until the end of the month unless called upon to give a presentation elsewhere. She then attends an international symposium, "Slave Routes: The Long Memory," to be held at NYU and other sites in the New York metropolitan area from Tuesday, October 5 through Saturday, October 9, 1999. She will be in a panel, "The Impact of the Slave Trade on the Social, Spiritual, Political and Economic Development of Europe, the United States, Asia, South America, and the Caribbean" from 6 to 8 PM.
Ms. Arandia has very interesting presentations:
the future of race relations in Cuba
Cultura Comunitaria: grass roots cultural organizations in Cuba
the presence of AfroCubans in the mass media
Black women in Cuba
Her schedule so far is as follows:
Oct 4 - 9: NY, Slave Routes Conference
Oct 11: Rutgers University, New Brunswick, NJ
Oct 13: Salem State College, Salem, MA
Oct 14: UMass, Boston, Department of Africana Studies
Oct 20-30: Puerto Rico, dates available
Oct 31-Nov 14: Miami, dates available
Gisela Arandia at Rutgers

Gisela Arandia will be giving a talk on Cultura Comunitaria and grass roots AfroCuban organizations in Cuba.
Rutgers University, New Brunswick campus
Douglass College Center
Meeting Room B, 7 PM, Oct 11, 1999
corner of George and Nichols

Free and open to the public


Gisela Arandia in Boston

RACE RELATIONS IN CUBA

UNEAC AUTHOR AND RESEARCHER ON RACE AND SOCIETY BASED ISSUES WILL SPEAK AT SALEM STATE COLLEGE ON WEDNESDAY OCOTOBER 13TH.

Having conducted a study of Black Cubans in Cuba and Miami, Ms. Arandia will continue her study in New Jersey, California and New York. She plans to do a comparative study of successful (business, academia, artistic) Blacks in the United States and in Cuba. Please Join us to Welcome Ms. Arandia To Salem.

Presentation begins at 10:45 A.M. at Bates Complex Meeting Room, South Campus, Salem State College.
negracubanateniaqueser.wordpress.com/negras-cubanas/gisela-arandia-covarrubias/
www.lajiribilla.cu/autor/gisela-arandia
observatoriocriticodesdecuba.wordpress.com/tag/gisela-arandia/
In Cuba:
Calle 52 4920 entre 49 y 51. Playa.
Ciudad Habana 11400, Cuba. Teléfono: (537) 203- 74 82 casa /05 390 08 49 móvil
Email: colorcubano_AT_cubarte.cult.cu
Electronic mail

acw_AT_afrocubaweb.com [replace _AT_ with @]
[AfroCubaWeb] [Site Map] [Music] [Arts] [Authors] [News] [Search this site]
Copyright © 1997 AfroCubaWeb, S.A.